What Price Hollywood?
Hard work, mostly.
Boleslawski's famous exercise asks the novice to hear a mouse in the corner, Constance Bennett acts this out. Ken Russell has the no-show in Savage Messiah and the waitress turned movie star in Valentino. The sophisticated Easterner contemptuous of Hollywood is a frequent pose of film critics.
"Just a bit of Hollywood in tired old New York" (L.N., New York Times).
"A fan magazine-ish interpretation of Hollywood plus a couple of twists" (Variety).
"Funny, moving, and unusually honest" (Geoff Andrew, Time Out Film Guide).
Halliwell's Film Guide has "fairly trenchant" etc.
The foundation of this is assuredly The Royal Family of Broadway (dirs. Cukor & Gardner).
A Bill of Divorcement
The reason for the break is given as lengthy absence in a lunatic asylum following on shell shock suffered in the trenches, an absolute break for a new life.
The ailment is hereditary, the overpowered wife is not prone to it, their daughter is.
So father and daughter while away the time poring over his unfinished piano sonata, the prophetic element is no doubt responsible for John Farrow's 1940 remake.
"Intelligent, restrained and often stirring", said Mordaunt Hall of the New York Times, he admired the acting and Cukor's direction as well.
Variety spoke of an "Ibsen Ghosts theme". Tom Milne (Time Out Film Guide) has "skillfully canned".
Halliwell's Film Guide coincides with Milne, "now very dated".
Little Women
All the schools should teach this film, because you can see from the first frames that Cukor knows how to make a movie, and it's as good as any. Cukor believes that directing means being direct. This gives him means whereby an action scene (a lapdog plunging onto the floor, a girl skidding on snow) registers itself simply, and when Jo March wants a moment of privacy, he is there with his camera already waiting. Time passing is a luxurious stretch in a sleepy actress, and drama is what thespians do. Cukor is there to record it as best he may, with his camera.
The acerbity of Alcott's view of history, when it comes to the making of an artist (or its birth), has precisely the transparency always fancied by Cukor. The lighted screen full of images coming from somewhere you watch in a dark room, "it's a system, girls," as Moe Axelrod says.
The Personal History, Adventures, Experience, & Observations of
David Copperfield
the Younger
The original of Bergman's Fanny and Alexander, father of Hitchcock's Rebecca, sire of Lean's Dickens and Reisz' The French Lieutenant's Woman ("dancing on the edge").
These are but a few of its virtues.
The absolute horrors that turn to sunshine in a moment, or not.
W.C. Fields as Micawber. "We are now ready to tackle Dickens. We are now ready to embrace Dickens. We are now ready to bask in Dickens" (Nabokov, Lectures on Literature).
Variety nattered at it somewhat, like a dog with its bone.
Andre Sennwald of the New York Times popped his buttons with praise, "the most profoundly satisfying screen manipulation of a great novel that the camera has ever given us... a genuine masterpiece."
The Catholic News Service Media Review Office, "outstanding family fare."
Geoff Andrew (Time Out) confesses, "one of those rare things, a blend of Art and Hollywood that actually works."
Leonard Maltin in return, "Hollywood does right by Dickens."
It even invents Ken Russell as Mr. Dick, "sharp as a surgeon's lancet," he of the great intellectual affinity for King Charles I.
"Of all the boys in the world, I believe this one is the worst."
Meanness, falsity, cruelty, to be avoided.
"The finest boy—in England!"
But one must be educated, and for that there is Mr. Wickfield and a certain Heep, clerk in his office. So it is that the second part is a mirror to the first and its Murdstone. Which is to say, in childhood a Murdstone is as a mountain, leaving school we discover a whole Heep.
By coach to London and The Enchanted Bird, "perhaps, if my aunts permit."
And of all things, it even begets Losey's The Go-Between. "Deceit and treachery" and Gyp. A writer's life. A recipe for turtle soup.
"They seem rather obstinate oysters" (cf. Richard Donner's Twinky, or Lola).
The mirror of Murdstone breaks into Heep and Steerforth.
According to Variety, "the mechanically melodramatic shipwreck scene," so vital to Lean and Altman, "might easily have been left undone."
Halliwell's Film Guide hallelujahs, citing Agee against Fields and Basil Wright for all, "perhaps the finest casting of all time."
Sylvia Scarlett
A film ahead of its time, worked out later by other directors including Cukor (Heller in Pink Tights).
The Pink Pierrots play the seaside, and that is how a British artist meets the half-French ideal girl, whose father's a plunger in lace.
So it goes, immensely complicated, earning its tribute from Variety, a candid avowal, "hard to understand," Sennwald of the New York Times nearly likewise.
Romeo and Juliet
The analysis is in two parts, the first is defined by the casting of Barrymore as Mercutio for precise weight. "Your houses," says he, and the "infectious plague" strikes, which is the instrumental pivot to the second, la mort et l'amour.
Cukor has not much use for these houses, grand and fine as they are he sees something finer, as noted by Frank S. Nugent in his New York Times review. The analysis is Cukor's basis of filming, next is the poetry, and then the actors.
Some critics, including Graham Greene and Alberto Cavalcanti, have taken issue with the film rather shortsightedly, there are masterpieces by Castellani and Zeffirelli to consider as well.
An influence on Olivier is probably discernible here and there.
Camille
Here is the basis of technique in Gaslight for the milieu in the opening shot and My Fair Lady for a unique inattention to anything that is not the actors except in the one pictorial shot at the gaming parlor, where the entire situation is exposed by means of composition. In a private room, Marguerite is humiliated (lower left), the scene is divided by an open doorway (right, top to bottom) in which Armand stands crowned by the chandelier in the background which may be said to figure in Karel Reisz's The Gambler.
Cukor elsewhere situates his actors in front of the camera to do business, Greta Garbo and Lionel Barrymore are the acrobats and stars of this, Verdi is forgotten, each member of the cast is treated very attentively in various backgrounds toward which they extend like comets' tails. This is especially notable in a gathering of the demimonde that resembles backstage life at The Blue Angel, they are floaters in a pool recognizable with Prudence as that of Toulouse-Lautrec's Elles, the Baron sustains Marguerite but flees her sickness.
Armand is there every day, the diplomatic service awaits him, his father brushes aside the tender obstacle. Cukor's attention to the facts of the drama in terms of dialogue spoken in settings as described is unwavering, a million associations are enkindled along the way, he lets them recede, sink back into the drama, like the marrons glacés of Cyrano de Bergerac ordered specially by Armand and never delivered.
The final scene is remembered by Fritz Lang in Die 1000 Augen des Dr. Mabuse.
A masterpiece admired in its day. If Little Women ought to be run in cinema schools, Camille is for artists.
Holiday
That vacancy in a man's mind at a certain age, very young, is a woman's province.
Cukor heightens the bet with everything Columbia has to offer, a palatial house nominated for an Academy Award more than justly.
The girl who wants him takes him (Women in Love).
A brisk venture, droll and virtuous, played like a violin, "the padded cells of the well-to-do."
The Women
Even if you imagine how funny women can be, conceived as a pure sex in a laboratory environment or bouncing like balls on green baize, you were better served to like them, although in the abstract they are devious, cunning, subtle, etc. The dithering world of an imagination unkept by any discourse, the plum of all puddings, the rational equivalent of a divorce filing read as comedy filler.
It's a blisteringly hot comedy on the worm (Norma Shearer) turning, and in which Adrian rises to a diapason of increasing visual intensity. Fellini couldn't touch it (nobody could), so he incorporated it as the foundation garment of Giulietta degli Spiriti.
Susan and God
"Enid, if you want a real beauty hint, this lipstick is known as Fireman's Underwear Red, guaranteed not to come off, even on a fireman."
The "new order" and one appointed to "lead", or how Ibsen reached O'Neill (The Iceman Cometh).
The problem is grave, Chaplin has The Great Dictator at this time, Stevens Woman of the Year a bit later.
Cukor saves the day by imagining it here, a near thing. Pinter's The New World Order and Party Time resemble the theme.
Bosley Crowther looked for a "beating" that never came, and found the rest for his money "vapid and inconsequential" (New York Times). Variety had not much idea of it.
Halliwell's Film Guide quotes Pauline Kael of The New Yorker as seconding its opinion, "not a good comedy," Kael wrote, "but it has a certain fascination," etc.
Shatner's The Final Frontier (Star Trek V)  has exactly the same theme.
The Philadelphia Story
An enormously influential film. Ken Russell completely absorbed it for Women in Love and even Gothic (Tracy naked on the roof), there's something of an echo and more in John Huston's Reflections in a Golden Eye, even if it's only coal-miner Kittredge struggling to mount his horse, and alcoholic Haven forms the basis of Cukor's A Star Is Born.
The settings are even more exquisite at M-G-M than Columbia's for Holiday, where the theme is a man's mind and its terra incognita, here a woman's mind discovers its polar opposite.
Here you have all the makings of a critique, or a riposte to a critique, The Painted Word played out and run up the mast for an ensign. Even if you are not disabused, why, you have been invited.
Macaulay Connor the Poet looks at Tracy Lord and says, "that's the blank, unholy surprise of it", the screenplay is of uncommon brilliance and justifies the ancient glory of a now lamentably forgotten playwright.
Viridiana is a fine mocking analysis. When, in Cassavetes' Big Trouble, Alan Arkin and Robert Stack enter the vault piled high with golden bric-à-brac and objets d'art, this is the "hock shop on the side" referred to by James Stewart that the Lords "must be running" on that extensive sideboard.
The calm of Philip Barry's elaborate, refined construction, which is one of the ingredients of Edward Albee's Tiny Alice, is brought to bear on the performances with rich results. Connor must marry Liz ("Mrs. Joe Smith"), despite her pinchin' from Uncle Willie. George Kittredge the Self-Made Man is sent empty away. Mr. and Mrs. Lord are simply parents. Dinah the Bridesmaid watches the Rape of Tracy in a comic anticipation of Robbe-Grillet's Le Voyeur, and delivers her punchline at the wedding, where Sidney Kidd of Spy must be reduced to taking snapshots.
C.K. Dexter Haven the Skipper, for whose aid and benefit Barry modernizes the Shakespearean villain as Kidd, must come safely to harbor.
Cukor's Hollywood lighting is like the sun that shines on rich and poor alike. He finds sport in a couple of images, Tracy out of her Little Lord Fauntleroy pantsuit taking an elegant dive into the pool with that toy boat True Love, Uncle and Sis trotting off in a little pony cart.
A Woman's Face
The Galatea motif recurs in My Fair Lady.
A film greatly elaborated with painstaking minuteness in every setup. The actors benefit by this very unusual treatment, exceedingly rare in films.
The Hitchcockism of the cable car sequence is notable and surprising, a deep study reflected and set off as it were by a light sketching-in of the Rebecca motif highly artistically, followed by the Ben-Hur sleigh chase.
The features of the German political situation gradually seem to appear, a scarred people, a criminal leadership, Hindenburg... a picture of the war concluded, finally (the fatal shots are from The Man Who Knew Too Much, Cukor's film represents a murder trial).
"But one cannot make a silk purse out of a sow's ear," said T.S. of the New York Times, identifying a "penny thriller" beneath "psychological overtones."
Variety was suitably impressed by the form, a succession of witnesses.
Dave Kehr (Chicago Reader), "baroque weepie... more strange than good, yet its self-conscious treatment of the politics of beauty seems eerily prescient," and he doesn't mention Franju's Les Yeux sans visage.
Geoff Andrew (Time Out) sides with T.S., "an absurdly melodramatic story," but gives the palm to "Cukor's civilised handling".
Leonard Maltin, "exciting yarn... taut climax."
Halliwell's Film Guide, "curious, unexpected but very entertaining melodrama..."
Kaper's delicate score and Planck's complicated cinematography demand mention, also a Swedish birthday party seemingly emulated in Bergman's Fanny and Alexander (any relationship to Welles' Citizen Kane is purely coincidental, the two dancing ladies recur in Bertolucci's The Conformist).
Two-Faced Woman
The ski instructor from Snow Lodge, Idaho, takes on a New York magazine publisher, her husband.
"Are you writing me a poem?"
She can be as devilish outré as any lady playwright, a regular Camille for men, and... he sees through her little game, "a female Jekyll and Hyde."
Still, he's in love, and falls down a mountainside to prove it.
Hilarious reviews for a hilarious film, led by Variety, "had the script writers and the director, George Cukor, entered into the spirit of the thing..."
Dave Kehr (Chicago Reader), "not a bad film, really... I still wouldn't hold it up as a sterling example of American wit," you hold your sides to keep from splitting, "but it has its moments," too late, and so Tom Milne (Time Out) cannot be cited here.
Halliwell's Film Guide, "no great shakes".
Her Cardboard Lover
The lady loves a brute and takes a beard, who's goofy over her.
One of Cukor's most spectacularly virtuosic displays is a swift run-through for Keeper of the Flame at the start of the war.
"There's a blitzkrieg in the basement!" Cf. Edward F. Cline's Hook Line and Sinker.
Cukor works all along to reach the revelation, along the way he springs his other theme, the lady's mind, which spills over into the conclusion.
This is the Wyngate-Wodehouse version of Deval's play, with assistance from John Collier, Anthony Veiller and William H. Wright.
"Just a lot of witless talk... close to ridiculous" (Bosley Crowther of the New York Times).
Which Halliwell's Film Guide cites all but verbatim as its own estimation.
Rare and unusual performances from the cast, especially Sanders as the brute.
Keeper of the Flame
A reportorial investigation à la Citizen Kane into the man behind the headlines is balked when the great man's widow fails to cooperate. She's rightly suspected of killing him, he was a Fascist with massive plans to take power, this fact is made known by the Press.
The reporter (Spencer Tracy), the great man's greatest admirer, bears the same relationship to his colleagues as Huntley Haverstock in Foreign Correspondent. The widow (Katharine Hepburn) is first seen in white replacing chrysanthemums below her late husband's glowering portrait.
Critics have had so much trouble with this that Cukor had to partially disavow it as a failure. Sarris in The American Cinema evidently has it confused with Capra's Meet John Doe, for instance.
The apparatus of fame is identified with the work of advertising agencies, hero-worship with godlessness. France and Poland are specifically mentioned.
The technique is very close to Gaslight in luminous interiors with a special leaning to enigmatic views of foreground objects in the great man's mansion gone out of focus.
A second theme is the utilitarian aspect of the political wife signified in several ways, the reporter gets a room at the crowded hotel by signing the register as a lady colleague's husband, for example.
The debilitating effects of idolatry are medical and psychiatric. The great man's mother is a fount of information, as far as it goes.
He wasn't always a Fascist, the wife notes, he simply "changed". The structure is acknowledged in Touch of Evil as a murder investigation mysteriously correct.
Gaslight
Dickinson's witty original is largely stripped of its humor. The best analysis of the result was made by Polanski in two different ways, a very close study as Repulsion, and the larger scheme of Rosemary's Baby. It will be observed that the theme is stood on its head in Repulsion, which absolutely clarifies the structure for the useful registration of certain effects, such as the oppressive ceiling.
A prima donna has been strangled, her niece takes up singing as well, unknowingly marries the pianist who murdered her aunt, and is persuaded by him that she's losing her mind, while he rifles the attic each night for a set of crown jewels given the victim by an admirer.
The Italian music lesson in the shadow of the cathedral is a reconsideration of the scene in Naughty Marietta (dir. W.S. Van Dyke) that gives birth to the song, "Ah, sweet mystery of life, at last I've found you." The Dance of the Blessed Spirits, "happiness is better than art."
The estate agent opens the door at No. 9, Thornton Square. "This lock needs oiling." The house is ten years vacant, the view is priceless, a narrow hallway, dark as gloom can be, a veritable hell of torments awaiting.
Cukor gives himself up wholeheartedly to the demands of this singular nightmare, compared to Little Women, for example, the style is photographic and exclusively governed by chiaroscuro, as will be seen in the morning freshness of Inspector Cameron's rooms. Night and fog are the world of No. 9, in which the white gown, gloves and hat of the wife are like a cloud out of season. The saturation of darkness is correlated with a richness of attention to the period in costumes and décor, Cukor uncharacteristically is made to stand still, or sit in his director's chair, rather than be ahead of his game in prompt movement, therefore he lades every shot with a permanence of aggravation, precisely what makes the nightmare.
On the other hand, it is thoroughly characteristic to find all the acting equally fine, according to its varying demands. The allegory is presently understood to be of the world war, and just as tenaciously of the artist.
Winged Victory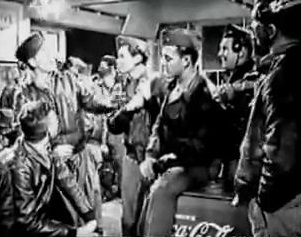 A B-24 Liberator in the South Pacific, strictly from Brooklyn (and Mapleton, Ohio, etc.).
The long arduous training.
A plane-happy kid dies or gets hit in the head to make the Army Air Force.
Wives and sweethearts.
Christmas Day.
Bosley Crowther of the New York Times, "they have pictured, from the earthbound looker's viewpoint, all the wonder that the 'wide blue yonder' holds." Variety, "an honest understanding of American youth". Leonard Maltin, "less stirring today than in 1944." Film Society of Lincoln Center, "now comes off as a revealing document of a long-gone period in Hollywood history." TV Guide, "the plot, what there is of it..." Hal Erickson (All Movie Guide), "while the patriotic elements of Winged Victory have faded in the intervening five decades..." Halliwell's Film Guide, "flagwaver", citing James Agee, "I suppose it is all right..."
A Double Life
The artist's life, shockingly portrayed in the very height of poetry.
Half of this is Colman, the rest is brought up to his pitch.
On October 2nd, 1897, G.B.S. reviewed Hamlet with Forbes Robertson in the lead, and found "a continuous charm, interest, and variety which are the result not only of his well-known grace and accomplishment as an actor, but of a genuine delight—the rarest thing on our stage—in Shakespear's art, and a natural familiarity with the plane of his imagination."
G.B.S. reviewed it again on December 18th of the same year. "The performers had passed through the stage of acute mania, and were for the most part sleep-walking in a sort of dazed blank-verse dream."
When you talk about the Southey school of criticism, you have a Satanic vision of the Shakespearean villain, when he is a catalyst in truth for a consummation devoutly to be wished in the face of (in the case of Othello, another variant of King Lear, or vice versa) mere good manners.
Edward, My Son
Whose proper name is l'entre-deux-guerres, whose life is just that long, got off on the wrong foot...
The very beautiful Lubitsch touch of the two whiskey glasses passing in closeup as Miss Perrin whisks them to the bathroom sink is to be remarked in a generally reserved style that nonetheless identifies itself at the outset as belonging to the cinema after Welles' Citizen Kane. The splendid virtuosity of the "millionaire's love nest" is exactly undercut by the reserve and no mistake, to name an instance. Again Lubitsch in the millionaire's offscreen exit from this scene, illustrating how Cukor brings his machinery to bear upon the play at certain points. Lady Boult's solicitor is a Wimpole, she communicates with him by telephone from the Riviera.
Which of course is A Bill of Divorcement. Spencer Tracy's role is in perfect and entire counterdistinction to Captains Courageous.
"A spoiled child" to Variety, praising Tracy, Kerr and Hunter.
Bosley Crowther of the New York Times could not get Robert Morley out of his mind and that was that.
The Riviera scene shows (as earlier in the film) the influence of Welles' The Stranger, again with a certain reserve that again creates a very brilliant effect, here pivoting on Deborah Kerr's invention of the character "in the round".
The opening shot ("1919") is repeated toward the end ("1939").
"Do you think there's going to be a war with Germany?"
Halliwell's Film Guide concurs with Crowther.
"Well, the point is their son's dead, Sir."
"So are the other members of his crew."
Polanski's Chinatown takes note of the postwar ending. Jack Benny memorably lampooned the film on radio.
"Edward, my son!"
Adam's Rib
This Lear is very cool and very funny because, if truth be told, Shakespeare's is cool and funny likewise, or so Yeats thought.
The technical competence of Cukor figures in two scenes, the ten-minute take of Judy Holliday's jail interview, and the static camera on Tracy and Hepburn hurriedly dressing for dinner. A foreglimpse of the later Cukor might be seen in Holliday's complicated response to her handiwork at the scene of the crime.
This is a benchmark production, and Cukor knows it. Any failure to rate it among cinema's masterpieces would be a naïve delusion, or rather an inability to grasp or even perceive so vast a composition at one go, and a foxy cry of sour grapes.
At least part of the breadth and spaciousness of Nichols' Who's Afraid of Virginia Woolf? comes from a long consideration of its well-meditated gags at several points of congruence.
The idea that taking the law into your own hands is tasting Eden's forbidden fruits must be considered among Garson Kanin & Ruth Gordon's most elegant.
A Life of Her Own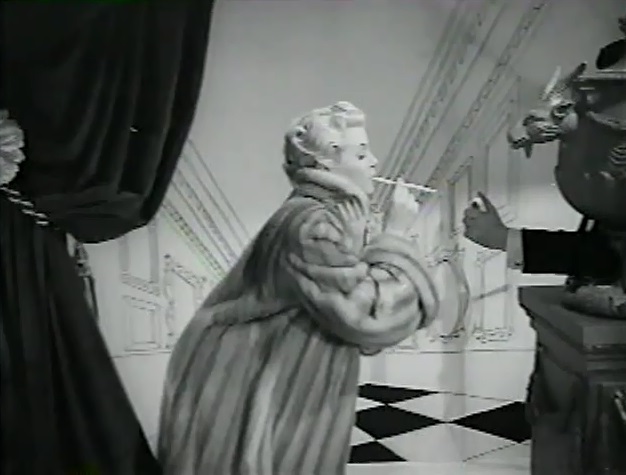 The New York equation, as formulated, Kansas fashion model, Montana copper magnate, his crippled wife.
Hitchcock undertakes a complete analysis in Vertigo. Cukor's virtuosity with long takes spectacularly in evidence here and there, amidst the dazzle of a model agency, an intimate nightspot, an airport farewell, a drunken party. Russell emulates the ennui of evenings with the nurse in Lady Chatterley's Lover.
A pair of legs without one to stand on doesn't add up, is what it amounts to. The deliberate, studied echo of Welles' Citizen Kane at the crisis is among the countless details not noted in reviews. The ending is in turn a particular study for Blake Edwards, the foundation of Days of Wine and Roses.
Andrew Sarris (The American Cinema), "he is a genuine artist." Bosley Crowther of the New York Times, "its cliches, its lush inanities and its vacuum-sealed preoccupation with the two-bit emotions of one dame." Variety, "spotted with feeling and character, also a lot of conversation that doesn't mean much." Leonard Maltin, "MGM fluff." TV Guide, "not a particularly intriguing story". Halliwell's Film Guide, "from the pages of a women's magazine," citing the Monthly Film Bulletin, "belongs to the realms of soap opera."
Born Yesterday
It happens every day in Washington, someone gets wise and publishes the truth, nothing maybe comes of it but a wedding.
A film about not knowing any better, then knowing any better.
The famous perfections are almost beyond Cukor's ability, but he makes do.
The mogul's character has been somewhat ill-appreciated in reviews, on the contrary, everything is sharpened to an exact point for the film.
"When I say I want a whole floor, I don't want one wing, I don't want two wings, I want the whole bird."
For Cukor, this is Keeper of the Flame as a comedy.
The Model and the Marriage Broker
Ill-favored, graceless girls are a drug on the market, the department store mannequin has a married beau.
Cukor's long takes are a breath of style in a very well-observed New York.
"Wuthering Depths."
A philosophy. "Anybody with four pintsa blood that can stand on their two feet long enough to say 'I do' is in a position to get married."
Nabokov has a well-known poem on this theme in The New Yorker.
The model wins on face cards, the marriage broker through cunning and skill, "the resources of reflection" (Boulez).
The New York Times sent Bosley Crowther, "heavy and heartless...a pleasure, in short, withal."
The Marrying Kind
The refuge of wife and child against the batterings of a psychiatric model clinically presented by the Mental Hygiene Division of the Oklahoma State Department of Health in Ned Hockman's subsequent Ulcer at Work, which is a solid analysis.
The sterling dream sequence as a source of inspiration is meant to put skids (ball bearings) under the opposition and is thus nixed, the death of the son is Abraham and Isaac in Huston's The Bible, "daughter of Israel, you shall have your inheritance," says Gianfranco De Bosio's Moses the Lawgiver.
The director of Pat and Mike thus goes to Domestic Relations Court for "the sanctity of the home & the integrity of the family", his slumming flashbacks (from George Stevens' Penny Serenade) put him in the cinema capitals of Rome, Paris, London, each as beautiful as his New York.
Bosley Crowther of the New York Times compared it to King Vidor's The Crowd, "and that's the nicest compliment we can pay."
Variety, "a mélange of marital errors."
The Catholic News Service Media Review Office, "engaging melodrama".
Leonard Maltin, "bittersweet drama... talky script."
Time Out, "poignant little tragi-comedy."
TV Guide, "a sort of comedy with some heavy drama."
Hal Erickson (All Movie Guide), "a master blend of comedy, domestic drama, and sudden tragedy."
Halliwell's Film Guide, "works pretty well.'
Pat and Mike
This is a streamlined version, a re-arrangement or re-composition of Woman of the Year featuring the same cast of characters re-grouped for a more successful analysis. David Raksin doesn't have the trouble Franz Waxman had following the affair.
Nothing beats George Stevens' implacable camera in long static takes (compare Wyler's symphonic interludes), and it may be that Cukor's lengthy golf games and tennis matches reflect this.
The first shot of Hepburn in Woman of the Year follows Tracy through the door where the camera sees her leg, then tilts up to take in the rest of her. When it gets to the top it bounces slightly and dips back down for her facial response seeing him. That bounce, if one is not stretching the point, is everywhere in Pat and Mike, it's a very fluid camera, or rather a lively one.
Where the analysis insists on clarifying the point is Hepburn's rescue of Tracy from the thugs. The romance (the deal) is off, everything's gotta be five oh five oh, and that's when the major overhaul comes into play, turning the Gerald launched by Tracy into the Collier who wants to make Hepburn jollier. "Wrong jockey for this horse," says Tracy, and what could be plainer?
The Actress
The love of the stage, as perfectly distinct from anything else.
Such a miraculous study takes only four minutes, including the title credits and the prologue.
The rest takes a good deal longer, to get at the mystery of the title character. "I want to go on the stage," she says at seventeen, like that. Forty-five minutes later, by the clock.
No more sense to it, says Cukor, than why a cat loves to eat a Boston fern on the piano, when it gets the chance.
Bosley Crowther of the New York Times saw an Oscar for Tracy, even for Simmons.
Variety, "warm, humorous". Time Out, "a remarkable domestic comedy." It cost the studio a bundle, according to report.
It Should Happen to You
Paul Muni used to throw up every time he went to the theater and saw his name in lights, it's said.
Fanny Brice made her name putting on lipstick in Manhattan while the trolley waited on the tracks before her at noonday amid a throng.
A two-tier comedy. "A masterpiece." (Truffaut)
A Star Is Born
Sitting down to play cards with George Cukor is like meeting Orson Welles as Le Chiffre, flags, fireworks and hocus-pocus galore.
This is a variant of Wellman's Hollywood opus in widescreen, immensely beautiful, a deadpan arrangement of Kafka's The Metamorphosis played absolutely en règle about a star who finds he's a dung beetle "shoveling shit in Louisiana", raising up a girl to the heights while he expires.
It was nominated for everything and won nothing, that's what a poker face will do for you, at times.
Because it's absolutely sincere all the way through, "a lotta hard work" (Ken Russell, Valentino).
Bhowani Junction
The opening sequence comprises many scenes and capitalizes on flashback and voiceover to compress an exhaustive treatment of social and political conditions in India toward the end of the Raj, a fact that makes incomprehensible some critical asseverations that such matters are dealt with insufficiently. The significance of the opening is furthermore the introduction of Col. Savage at the railway station giving a concise image of the British presence in India.
The immensity of the film is the major obstacle to understanding, though we have before us Henry King's Love Is a Many-Splendored Thing as a clear precedent, giving the key of Bhowani Junction in the colonel's departure from India and planned return, this time for love.
Cukor's model for the vast scope of action and many details is Gone With the Wind. The finale in a railway tunnel cites The Third Man. Apart from these structural and strategic allusions are more succinct and fleeting evocations of The Rains Came in a rooftop dance and Anna Karenina in the heroine's despair. China Seas and Ziegfeld Follies are advertised at a movie theater.
The only limitation evident from the studio's re-cutting (as reported) is perhaps in two one-second inserts between the planting of dynamite on the railroad tracks and the scene of the wreckage. It is possible that Cukor's control of the form might be fuller in his original cut.
It seems likely that critical imperception of Bhowani Junction impaired the reception of Justine, as critical errors always multiply until they are corrected. Cukor's compositions favor the use of widescreen as an undefined field, articulated or not. The discussion of the colonel's return to England takes place at night with a background of indeterminate receding columns, a slight change of angle placing the heroine against a lighted window on the left, as she explains that her home is India. Isolated elements appear in other shots governed by lighting.
The dynamic construction of scenes is characterized by Cukor's enjoyment of the inner complexities of his film and by his sense of the overriding conclusion. Thus, the Sikh wedding takes a calmly realistic view of the ceremony and a revelatory close-up of the heroine as bride, followed by a vertical shot of the mandala-ceiling, and her withdrawal from the marriage.
Nowhere is Cukor's felicity of invention more eloquent than in the railway strike. The long exposition has set forth the terms of this encounter, a daylight exterior at the station with crowds and troops and train. A voiceover supplies the final touch, the drama is set, and two surprises avert it, the colonel's response and the heroine's reaction.
The scene of the attempted rape by night has steam on the actors as a train crosses the low overpass, an effect from Renoir or Lang.
Lionel Jeffries as the lecherous junior officer is impeccable. Several of the performances have been noted, such as Bill Travers' stationmaster and Abraham Sofaer's Brahmin protester, for their brilliance, but none of the acting is less than brilliant. Ava Gardner is in a class by herself, owing to the combined work of makeup, hair, director and actress to present a visually stunning effect in her opening scenes as a counterpoint to the running narrative commentary. Stewart Granger's sharp rendering of the colonel is beyond praise.
It all takes place as a conversational flashback aboard a train, like Buñuel's Cet Obscur Objet du Désir. Godard in Cahiers du Cinéma named it among the ten best films released in France that year, with Welles' Mr. Arkadin, Renoir's Eléna et les hommes, Hitchcock's The Man Who Knew Too Much, Logan's Bus Stop, Dwan's Slightly Scarlet, Sternberg's The Saga of Anatahan, Bresson's Un condamné à mort s'est échappé, Rossellini's Fear and Quine's My Sister Eileen. British critics have been particularly reluctant to see its merits, cf. on the other hand Huntington's Death Drums Along the River for an understanding of it.
Cukor's scene of the railway demolition begins after help has arrived, tilting down from the wrecked engine to bodies arrayed beside the tracks. The drama of the various characters is not lost in the monumental handling of the rescue, as the colonel urges the heroine (an Army lieutenant seconded to his station detachment) in her new white sari to do her duty, the stationmaster wields a crane to tear the roof from a burning railway car and jumps inside while hoses play over the flames, and the whole thing is filmed with sureness and authenticity.
Les Girls
French, British, American, in that order.
Who flopped out, who did what, with reference to the war?
A dance troupe working the Continent.
Cukor's masterpiece of masterpieces works itself down to the central issue at length, greatly entertaining all the way, what with Kelly remembering his early routines, a Naum Gabo ballet, and of course "Ladies in Waiting".
Orry-Kelly won an Oscar, John Patrick won the Writers Guild Award.
"As rich as can be" said Bosley Crowther (New York Times). Variety gave it a rave.
Geoff Andrew (Time Out Film Guide) couldn't follow it but agreed, "a highly entertaining piece of entertainment."
Halliwell's Film Guide finds it "disappointing."
Heller in Pink Tights
The Great Healy Dramatic & Concert Company.
The film describes a sort of conversion that takes place beside a stream outside Cheyenne, Wyoming, and the foundation in nearby Bonanza of a dramatic institution called Healy's Theatre.
The two are intimately bound, gains ill-gotten before the conversion go to purchase the building initially, and are returned on the security of long-term success.
Beautiful Helen of Troy (La Belle Hélène) and Mazeppa are among the repertoire.
The film is terribly difficult, went at a flying pace over critics' heads, and still does. What is worse, it went over studio executives' heads, which meant a "stupid" recutting excoriated by Cukor that accomplishes nothing but to cost the film some sharpness of point. As Healy says, "these amateurs are the curse of my life."
It has been compared to Renoir's Le Carrosse d'or, Ozu's Floating Weeds is more like it. Still, as Cukor's only Western it's unique, and this also has been pointed out.
Ozu had an idea about actors, something about a locomotive stalled resembling a tea kettle on its flame. The local madness of a theatrical troupe in the painted desert, wending its way across tracts of waste in a wagon full of costumes, with Anthony Quinn and Sophia Loren, from Louis L'Amour.
Let's Make Love
The ideal poem of wealth and power, happily ended in a perfect rhyme.
Nascitur non fit, though you buy the very best as teachers, and learn by rote an excellent composition from Milton Berle. Discover the secret of dancing from Gene Kelly, learn to croon from Bing Crosby, you have just begun.
And so on, a complete consideration of the difficulty. You have other accomplishments, perhaps, even if they are landing your assets in a tub of money.
The circumstances are such that the blue of the Paris sky is seen in a pair of eyes by a poet who never wrote a line.
Reviewers were generally confused, with the happy exception of the one from Variety, who saw it a great deal better than most writers then or since, as it happens.
The Chapman Report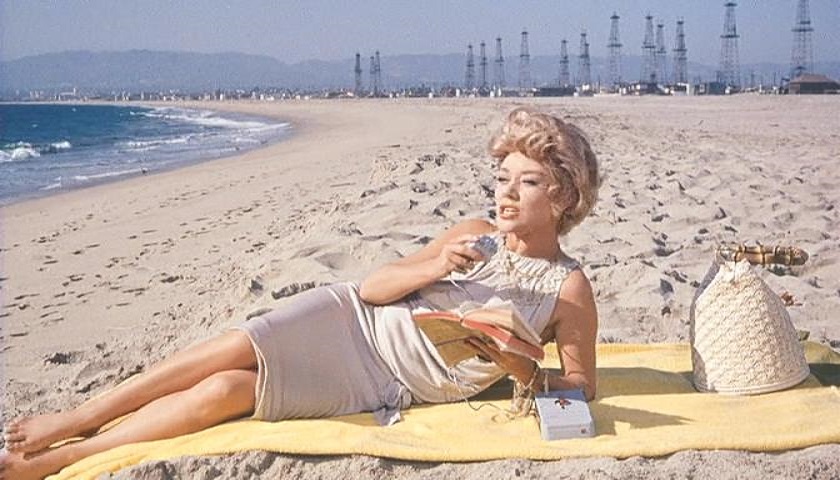 The Women, Les Girls...
A lady reporter at a White House press conference asked President Kennedy a rather long and earnest question culminating in a desire to know what his Administration was doing for women, looking rather haggard he replied, "obviously not enough."
The æsthete's wife, the businessman's wife, the divorcée, the widow.
A ride on POP's bubbles.
A.H. Weiler of the New York Times would have liked to go along, "Cukor cannot be faulted... solid performances... meaningless after a while," quoting Dr. Chapman's assistant.
Variety, "talky". Time Out, "something of a mess." Halliwell's Film Guide, "melodramatic... takes itself far too seriously," quoting Cukor on a studio hatchet job.
"Here's to art, and life."
"Right!"
The lampshade is a fine allusion to A Streetcar Named Desire.
This is precisely what Lubitsch intended in That Uncertain Feeling.
Godard (Cahiers du Cinéma), Ten Best Films released in France that year, among Bresson, Buñuel, Hitchcock, Rozier, Ford, Resnais, Jerry Lewis, Billy Wilder, and Minnelli.
Something's Got to Give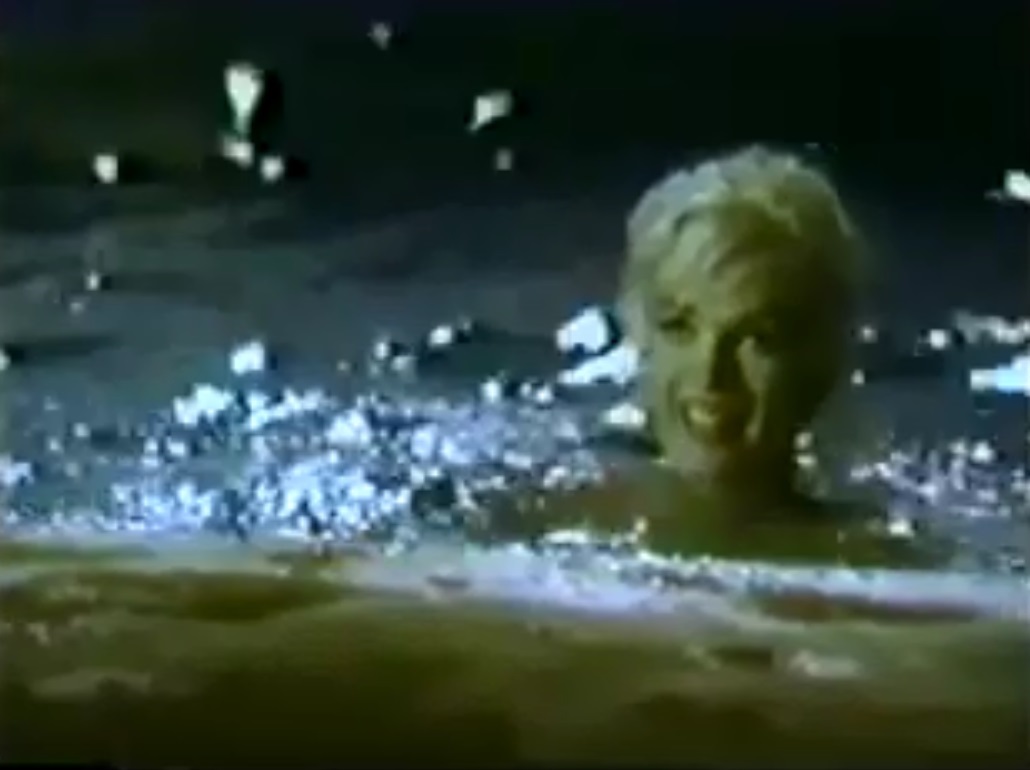 The remnant shows why Cukor did a remake of Kanin's perfect comedy, My Favorite Wife, it was to have Charisse on her honeymoon night upstairs and Monroe in the swimming pool (the unanswerability of Gardner in Bhowani Junction and Aimée in Justine) and Martin helpless in-between, a close study of style. Miss Tic the Swedish maid shows the provenance from Two-Faced Woman.
Even the other actors (Steve Allen, Phil Silvers, Wally Cox, John McGiver) respond extraordinarily to this arrangement and give unusual performances, a rare comic feast.
The hearing before Judge McGiver would appear to show Cukor's known technique most evidently, if assembled by other hands.
Tom Tryon as "Adam" takes his flying leap not from the available high board but the prow of a power yacht nearby, surrounded with bathing beauties.
I, Claudius and Something's Got to Give, fragments of unfinished works. To watch the actors in the rushes means shaping and fitting and joining of parts held up to view in the studio at work and on location (cp. What Price Hollywood?).
My Fair Lady
This is Gigi, from Lerner & Loewe, by way of Shaw.
Cukor has to deal with Pygmalion, which he mostly does by leaving it alone, letting the Americans handle it.
It drops out, to coin a phrase, on the revelation described in Minnelli's film.
And there you can leave it, unless you're a goddamned critic.
The supreme joke is that Marni Nixon sings the part, the girl with the perfect ear.
Justine
The Jewish wife of an Egyptian Copt under the British and then a Moslem government, her intrigues for a safe haven in Palestine.
For Cukor, a top variant of Bhowani Junction, signaled by the very same formal device at the outset (Anouk Aimée is given the force of overwhelming beauty for her initial appearance).
Canby was so taken by the novels that he could not see the film, which he nevertheless reviewed graciously, under the circumstances. Ebert was under the impression that Cukor, having previously directed "nothing remotely like Justine," had therefore ingeniously "made a movie that seemed to have a plot, but didn't."
Travels with My Aunt
It will be seen that the final result is to redeem an English schoolgirl's honor (Henry and Augusta are two sides of a coin).
"One must know when to spit in the censers" (Debussy).
Gare de Lyon, incipit in both senses, for Augusta is supplied with memories that mirror the form.
Orient Express to Istanbul or nearly, Entführung aus dem Serail (la Quindicina).
M. Dambreuse and his "two-fold security".
Redemption on N. Africa's coast, by grace of Modigliani.
No attempt having been made to consider the complicated form and intricate structure, the film has rather languished in critical estimations.
The Blue Bird
The poor woodsman's two children are invited, commanded really, by an old woman who is beautiful Light to seek the Blue Bird.
They are accompanied by the living souls of Bread, Milk, Sugar, Dog and Cat.
Their adventures would fill a book, or a very long poem, or a play. The characters represented are Night, Time, Oak, Luxury, and so on.
Grandfather and Grandmother, some time dead, are Will Geer and Mona Washbourne.
For no particular reason, except it seemed like a good idea, this is a co-production with the Soviet Union. The script is in English with some verses.
Exactly the equivalent of Cukor's genius (for this is unmistakably a Cukor film, pace the reviewer for Time Out Film Guide) is the fantastic gift to humankind of Vincent Canby's review in the New York Times, which speaks like a character in Doctor Zhivago "of Maurice Maeterlinck's old, numbingly high-minded fairy-tale parable", and goes on from there.
Rich and Famous
Two lionesses of American letters battle it out, in the culminating image amidst the New York literary scene, over a teddy bear.
It spills its guts all over the screen.
The Algonquin and the Waldorf-Astoria.
The play had been filmed by Vincent Sherman (Old Acquaintance), this is Cukor's all-encompassing satirical variant of Little Women.
Critics did not embrace it.