Bataille du rail
After the introductory material, the film opens on a sight that instantly identifies it with the European and the Scandinavian position, a sign forbidding Jews to enter the occupied zone.
From that point, the Maquis have their allies among the railwaymen of Frankenheimer's The Train, who risk their lives to impede the Germans at every turn.
Furthermore, it is a question of communications across the two zones set up by the Germans, transporting men and mail in secret.
After D-Day (le débarquement), operations are intensified to prevent reinforcements arriving in Normandy.
On stolen bicycles and horse-drawn wagons, on foot (and with a last stab at utilizing the rails), the Germans depart France one and all.
The magnificence of the resources placed at Clément's command is no less surprising than the ease of his mastery, he has all the German soldiers and equipment needed, trains, tanks, cannon, even an armored train that goes over the side at full speed.
Le Père tranquille
The chef du groupe in Moissan is a colonel who sells insurance, assurances, and in his spare time grows notable orchids.
The influence of Wyler's Mrs. Miniver seems evident, if possible, and the germ of an idea for Jeux interdits also.
The magnificent technique displayed, indeed lavished effortlessly on this masterpiece, is pure Clément.
Time Out Film Guide's remark, "overall it's too tendentious to take seriously," is one of the most astounding constructions ever foisted on a work of art.
Le Chateau de Verre
The love of a Switzeress and a Parisian, met by the sea in Italy.
Paris, "c'est pas une grande ville," he tells her in a taxi, "c'est beaucoup de petites villes." Cf. Dearden's The Bells Go Down.
A hotel in the Palais-Royal, even if the proprietress says so the elevator doesn't work.
"An imitation of rigor and elegance," thought Truffaut.
She's married to a judge with a most amusing case, the points of reference are Anna Karenina and Brief Encounter, he's a traveling salesman...
View from the Pantheon. Score Baudrier, conductor Jolivet. Cinematography Le Febvre. Novel the incomparable Vicky Baum.
Ahead of Monsieur Ripois, Clément dans les rues. Litvak has Goodbye Again, a remote memory.
Dr. Roman Colbert was asked by a student to explain je vous aime and je t'aime, "before and after," he said, thus the Palais-Royal, "now I recognize it."
The title is a souvenir d'enfance.
Jean Marais, whose specialty is the tour de force, Michèle Morgan.
Godard and Rivette arrive at the Gare de l'Est.
Jeux interdits
A complete, devastating satire of France in 1940, top-to-bottom, all the way around. It couldn't be more absolute if Daumier had drawn it.
For half a century, it was misunderstood as a childhood sob story or tract, effectively damning Clément's subsequent work.
Only John Osborne in England has the same cry of rage tempered by humor of the best sort on a total disaster.
Monsieur Ripois
It leaves the London office et voilà the New Wave, as Rimbaud would say.
English girls, Truffaut had his nose in the book and missed them, crossly, but made l'homme qui aimait les femmes (and, to be sure, Deux Anglaises et le continent), cf. Edwards' The Man Who Loved Women.
Godard might have taken his inspiration from the rainy rendezvous with Norah for Adieu au langage (Flicker perhaps remembers it at the end of The Troublemaker, to say nothing of Gilbert likewise for Alfie).
And does not Schlesinger in Midnight Cowboy remember Clément's Hyde Park? The citation from Wyler's Carrie is just rounded off to fit nicely, and in this scene amongst the prostituées one recognizes Ophuls' La Ronde, which is what Dali would say is quite a pirouette (Malle has the "Prince de Galles" in Atlantic City).
The "heteroclite" library of Cadet-Chenonceaux has Touchez pas au grisbi, among other things (Queneau's Le Journal intime de Sally Mara).
Lovers, Happy Lovers, "an odd and interesting film" (Bosley Crowther of the New York Times).
Time Out does not go so far as to suggest Losey's The Romantic Englishwoman, but only just.
Mallarmé's Swan appears in his own right as well as the poet's (the critic John Simon is said to have done his thesis on "Hérodiade"), "son pur éclat..."
"A little Waterloo never killed anyone," but observe how close the hero comes, after several arduous and disagreeable conquests, to winning the fair.
Bresson famously emulates his end in Une Femme douce, "il s'immobilise..."
According to Truffaut, "Hémon's Ripois was a monster, Clément's is a cynical buffoon," for Crowther the latter was "the lowest form of human heel", even worse than Pal Joey.
This Angry Age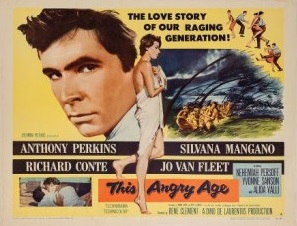 How ya gonna keep 'em down on the farm after they've seen Bangkok?
A firm called Legros makes a bid on the place, Legros fils for the daughter.
The son makes bold to leave, the sea wall breaks, a lover is stranded, he recommends concrete.
A lady whose paramour drinks and falls asleep at the cinema, not "following the affair" (an American crime drama, Yankee culture gets a ribbing).
The lover is a disgraced merchant mariner, blamed for a shipwreck.
The brother returns home, the man of the house. The sister departs for Portugal with the lover, construction work. Cocteau's Les Parents terribles and Les Enfants terribles (dir. Jean-Pierre Melville) figure visibly in the composition.
The typhoon is rather like John Ford's Hurricane, Clément's greatest effect is simply an impromptu lunch on the river.
Bosley Crowther of the New York Times, "there is considerable truth in this film, if you care to look for it." Leonard Maltin, "ludicrous mishmash". TV Guide, "to no avail". Halliwell's Film Guide, "moments of interest and even beauty."
Plein soleil
The title means "full sunlight", though in English it is heightened as Purple Noon, and suggests among other things George Stevens' A Place in the Sun. The plot developments more closely resemble Richard III, Olivier's film is certainly a memory of the war. These are the steps by which the level of thought in Clément's film is comprehensively obtained.
His remarkable steadiness of nerve has been noted, along with a resemblance to Clouzot in Les Diaboliques on that account, relieved by a kind of diabolical humor.
Everything has been hammered out to beaten gold, the sense of refinement is a long clear look in the light of day.
Quelle joie de vivre
Clément has seen and admired Joannon's Utopia with Laurel and Hardy, evidently.
It gives him a basis on which to examine anarchists ("libre totalement volontairement solitairement libre") and blackshirts strictly from hunger in Rome at the start of the Twenties (cf. Bolognini's Libera, amore mio... ).
"Qu'est-ce que c'est que la liberté, hein?"
"Mais la liberté c'est, euh, pas aller en prison."
"C'est lamentable."
Le Trou Sylvestre, from Becker. The exquisitely refined technique serves in a comic mêlée and at the setting of the anarchist bombs as well. Ulysses the Spanish graveyard and his exploding cauliflower. The magic lantern show from Shoeshine (dir. Vittorio De Sica). The title song in a Roman ristorante ("Che gioia vivere"). The arrival of the generals from the Four Powers.
Fascist tools at the Foire de la Paix ahead of Dearden's The Assassination Bureau and Friedkin's Deal of the Century (cf. Gilliat's Left Right and Centre for the structure overall).
Homage to Piranesi.
The Day and the Hour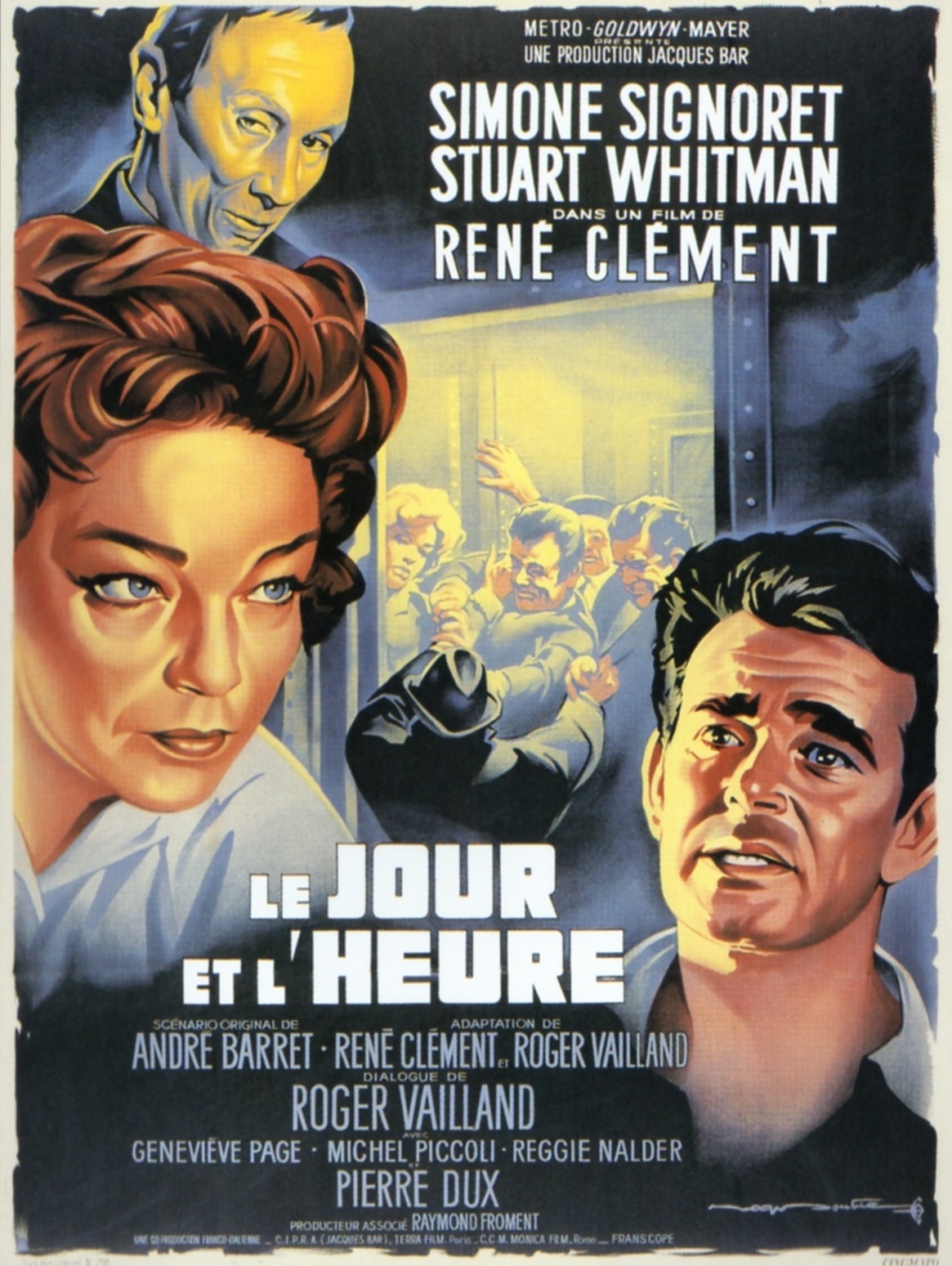 Occupied France. "The war doesn't interest me."
"Aren't you interested in the fact that we're defending you against Communists, plutocrats and the Jews?"
"No."
Two slaps. "And that—that interest you?"
Cf. Asquith's The Yellow Rolls-Royce. "Who is to be the big hero, you or me?" The "Swede, lives in Montparnasse, a painter, he had a show in New York," is of course Max von Sydow in Hannah and Her Sisters (dir. Woody Allen). Bombed in Paris playing Louis' blues (Au Revoir les enfants, dir. Malle), drunk as James Dean. Losey has Mr. Klein, Rossellini a certain General Della Rovere, Clément "the famous Sophie" in the hands of the French police who want one Titus (cf. Cassavetes' Gloria, or Lumet's). "In the Gestapo they have the latest scientific methods." Partisans, O.S.S., Spain, D-Day.
Howard Thompson of the New York Times, who found the romance not to his liking just as a predecessor of his objected to Dassin's Reunion in France, "reflects the visual wizardry of the director." Hal Erickson (Rovi) speaks of "fellow undergrounders" and does the lady a disservice.
Andrew Sarris in The American Cinema ("his two best films—Lovers, Happy Lovers and This Angry Age—were both English-language productions") makes a point of not admiring it (Is Paris Burning? he calls "disastrous dullness"), with Signoret and Whitman in the dub.
Joy House
Like The Big Sleep, a marriage fantasy, but not a film noir, though the flashlight scene is a joke on this.
The structure is punctuated with hallucinatory jokes, a cast-iron key ninety years old and big as your forearm down a lady's front for safekeeping without a blink, an infuriated motorist on two wheels who lands on all four and remonstrates, the woods are full of them.
An affair with a gangster's moll, then on the lam at Villefranche-sur-Mer with a widow and her lover and her cousin in a mansion "neo-Gothic".
A close precedent for Altman's That Cold Day in the Park. "Dismal claptrap," said Howard Thompson (New York Times), "pure, pretentious baloney," a close precedent for John Simon's review of the Altman.
Is Paris Burning?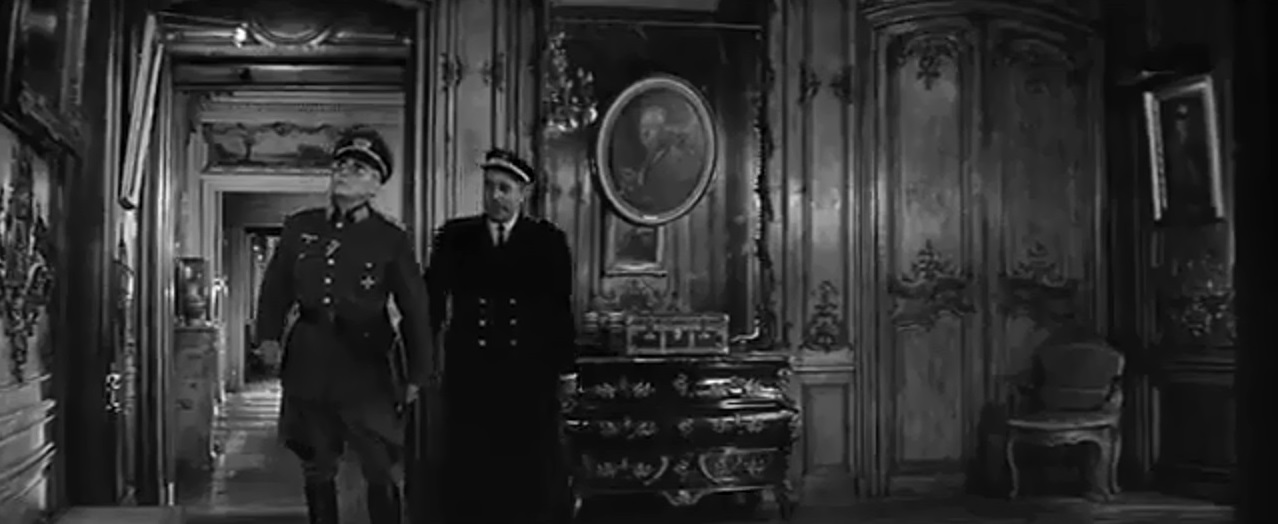 "My God. Gentlemen, you have heard which way the wind's blowing." The great division in the main factions of the Resistance is dealt with briskly, Catholic Youth meet Young Communists in a Gestapo trap. The screenplay is thus most economical, and yet lavish in its beauty and precision. "Brad," says Kirk Douglas as Gen. Patton just apprised of events there, "what the hell's going on in Paris?" He's on a field phone to Gen. Bradley, a brave Resistance fighter has traveled to the Normandy front with news, crossed the lines and been led to Patton in his tent (Douglas evokes Patton without mimicry, an heir of Grant).
The city is mined on Hitler's personal order. The German officer who receives this order knows the Führer is mad, nevertheless the charges are laid. Resnais' Von Choltitz figures in On Connait la Chanson. The example given in a German newsreel is Warsaw, "it was here that the Polish terrorists first fired on German troops... a lesson not only to the Poles, but to the world... Warsaw no longer exists, and it will never exist again."
Orson Welles appears as Swedish consul Nordling in the film's great set-piece on the Occupation regime. It plays from the Hotel Meurice by Dantean degrees to the train platform for Buchenwald, ending with a Daumier tracking shot in the rain.
Belmondo takes the Matignon by force of character, Cassel storms the Meurice where Fröbe dallies, Montand fights a tank duel on the Place de la Concorde, and so forth. There were cameramen in Paris, they shot footage Clément makes use of.
The title (Paris brûle-t-il?) is asked in German (Brennt Paris?) over the telephone from Rastenburg or Berlin in an effort to determine whether or not Hitler's orders are being carried out, while bells are pealing and the lights come back on.
It stands to reason that such a history would require an extraordinary film for its depiction, and it stands equally that the critics were utterly unable to receive it.
Bosley Crowther of the New York Times could not follow it at all, "it leaves one exhausted and irked... do you wonder you're likely to burn?" Time Out, "has scarcely improved with age." TV Guide, "a fairly entertaining, action-packed film which seems continually in danger of collapsing under the weight of its own pageantry." Hal Erickson (All Movie Guide), "seems more weighted down than weighty." Halliwell's Film Guide, "muddled, scribbled, tedious and confusing attempt at a thinking man's all-star war epic."
Le Passager de la pluie
Clément now, naturally, looks at France resisting, twenty years after Jeux interdits and ten after Plein soleil. She is hard to find, hard to discern, hard to explain.
But there she is in all her glory à la Mrs. Miniver, raped, revenged, plucked out of an angry whorehouse, restored to home and hearth.
All Movie Guide has it "confounding the audience at every turn," Time Out Film Guide adds "glossy direction from Clément" as a consolation.
Tony Mastroianni of the Cleveland Press, who always sits on his hands, brought them up to applaud Rider on the Rain "like the Hitchcock films of yesteryear," to be sure, "not the recent Hitchcock."
La Maison sous les arbres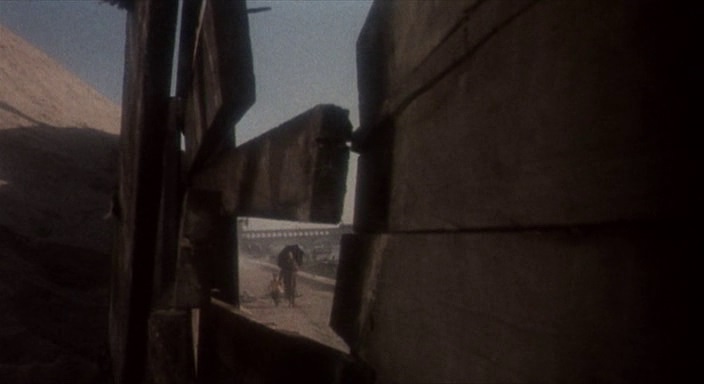 A very celebrated journey by barge canal (L'Atalante, dir. Jean Vigo). Que diable allait-elle faire dans cette galère?
After Le Passager de la pluie, the question is how or why. One is not rich but well-off, dealing in images, probability and statistics, wife has a psychiatrist and a memory problem...
A considerable light is thrown on Furie's The Naked Runner.
Clément throws everything into consideration, but everything, properly. The result from its first frames is one of the great works of the cinema.
The offer, when it comes, is after the manner suggested by Becker in Touchez pas au grisbi, a contract... The Deadly Trap. The pivotal image is from Ken Russell on Isadora Duncan, the Biggest Dancer in the World. The works of Jean-Pierre Melville may profitably be consulted. Tout simple, Resnais presents the job offer in Vous n'avez encore rien vu, from Mon oncle d'Amérique. Americans in Paris, later on it's Frantic (dir. Roman Polanski)...
M. le Commissaire asks dispassionately if she has thoughts of suicide. Forbidden Games in a simultaneous perspective, as it were. Consequences naturally for La Baby Sitter... and in the present instance from Thérèse Desqueyroux (dir. Georges Franju).
If you like, a simple case of kidnapping for industrial espionage, though Vincent Canby of the New York Times had doubts, "all of it is so arbitrarily muddled you begin to believe the film means to demonstrate other things... nothing really works, though." Halliwell's Film Guide is the very definition of arbitrary muddling, "smoothly made thriller which spends rather too much time being chic."