otley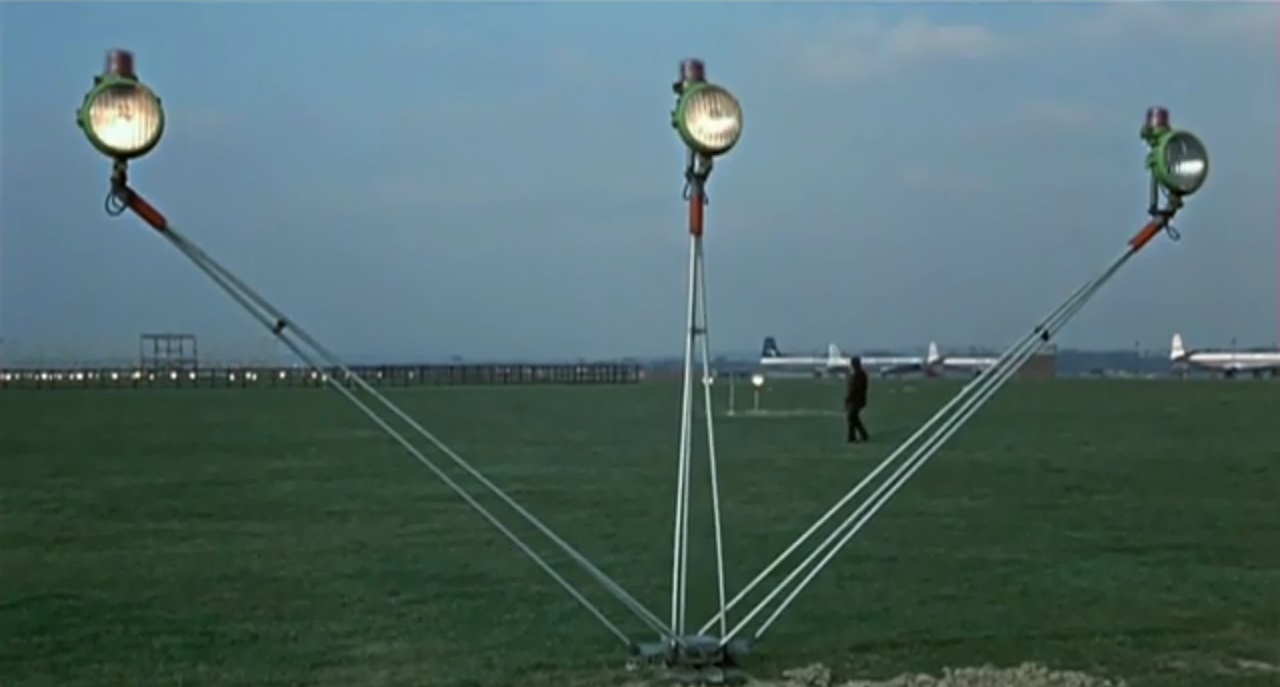 Out and back off the Portobello Road ("you've gotta be careful with this Persian stuff, most of it's made in Paris") one raw February by way of the spy service inadvertently, the man with the Man Ray shave in beautiful cinematography by Austin Dempster (editor Richard Best), like James Joyce wondering if the photographer were good for a fiver. A particularly brilliant view of The 39 Steps, in that vein entirely unnoticed by Vincent Canby of the New York Times who pronounced heavily upon it, and by Time Out Film Guide somewhat more lenient. Hitchcock thanks Clement, a hugely resourceful and thoroughly capable and remarkably fluent director to say the least, in Frenzy. The fatal shot through a coffee pot is by way of Frankenheimer's The Manchurian Candidate, the empty railway station from Walter Forde's The Ghost Train with Arthur Askey, and there follows quite naturally Val Guest's The Runaway Bus with Frankie Howerd, not to mention the peripatetic harp of Charles Frend's A Run for Your Money, which turns up outside the Playboy Club (the lad with the ray gun, "pishoo, pishoo", is again by way of The Trouble with Harry). The saga of a skiver in the toils of espionage and murder involving "one of those bent civil servants", if the cowboy in command is an Indian chief one has "homeless bones" (cf. Amiel's The Man Who Knew Too Little).
So Gerald Arthur Otley leaves the Trad (No. 67, Clement is a genius at signs and posters throughout the film, his many jokes and asides are thematic, the entire construction and each scene as well) for the Thames like Gully Jimson before him, a regular Billy Fisher in London, as Canby did notice after all or very nearly. Philip Proudfoot ("a bit Baghdad Hilton for my taste") of I.C.S. World News Organisation ("London-Chicago-Tokyo") is right out of Brooks' The Producers, a higher-up in the hostile force and a "great fairy", a bloody great London poofter in the latest with a hulking henchman rather out of it ("he's got a thing against youth") who vets for him. "Now hang on, that's a bit primitive. By the time you realize I know nothing, I'll have taken a hammering. You're a sophisticated sort of a villain, wh-wh-wh-what about the drugs, the truth things, the old pentothal then? Have a go at me psyche, leave me body alone!" The Writers' Guild of Great Britain gave it the award for comedy. "How is your wife?"
"Oh, she's still the same sweet gin-sodden bitch that she always was." Otley escapes when an I.C.S. underling ("I'm their assassin") on the mystery tours ("d'you know we're offering 14 days in the Dolomites for 36 guineas?") is hoist with a petard, he has himself arrested (North By Northwest) and is recruited for a large sum. It's all a question of official bumf for sale and loyalties in doubt, it ends with the investiture of a knight at Buckingham Palace, observed from beyond the pale by Otley, whose services are no longer required ("the night was coming" says Beckett, "in which no Murphy could work"). He isn't even worth the trouble of killing. "Generally pretty funny," says Halliwell's Film Guide, "but not entirely certain of its own motives," stating the critics' confusion.
Dan Pavlides (All Movie Guide), who has our Gerry a "British secret service agent called in to investigate", finds it "confusing". Thus Variety, "in seeking to avoid overheroics as well as the pitfalls of parody, the film has an uneasy lack of a point of view and fails to focus viewer's attention on any particular character or plotline philosophy." Catholic News Service Media Review Office, "gets lost in its own intrigues". Film4, "very hit and miss." Britmovie, "uneven". TV Guide, "spotty".
The critical quandary went unabated even after the magnificent central scene in which Miles, whose name is Rollo ("Miles is head of M.I.5, isn't he, that's what M stands for"), explains everything very patiently, which gives you an idea of the quandary. "God you're a charmless lot," Otley exclaims, "how do you trust each other?"
Or to put it another way, "they'll never believe this in the pub," kicked out of bed by the Irish landlady, have a go with a smashing bird at a health farm in the country (cf. George Pollock's Kill or Cure with Terry-Thomas), back in town find digs amid the corpses of blackmailer, murderer, traitor, "you know."
A Severed Head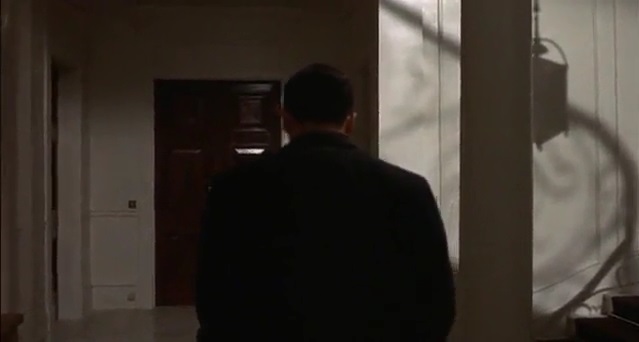 In which it is made manifest that from Lubitsch (The Marriage Circle) one arrives at the films britanniques of Resnais by way of Clement.
Again six figures, husband-analyst-brother and wife-mistress-bint, mathematical permutations like a slot machine paying off variously, with cross-relationships en route that are of great interest. The vintner and the love interest, the trick cyclist and the bit on the side, sculptor and wife, these define the proper relationships as understood by the authoress, not as the world sees them (the middle ground or no-man's-land has married man and artsy bit, artist and design teacher at the Royal College, therapist and neurotic ball-and-chain).
The critics notwithstanding, Shelley explains the title platonically, "a poet is indeed a thing ethereally light, winged, and sacred, nor can he compose anything worth calling poetry until he becomes inspired and as it were mad; or whilst any reason remains in him."
Screenplay Murdoch-Priestley-Raphael, décor Richard Macdonald & John Clark, costumes Sue Yelland, cinematography Austin Dempster, score Stanley Myers.
Bosley Crowther of the New York Times, "plodding, faithful, doggedly unimaginative... I have rarely experienced such desolation". Variety, "intellectually snobbish". TV Guide, "sexual escapades of the upper crust". Catholic News Service Media Review Office, "purports to be a sophisticated comedy of manners". Clarke Fountain (All Movie Guide), "sophisticated black comedy sex romp". Halliwell's Film Guide, "tolerably sophisticated for those who don't know the original."
Catch Me a Spy
The Soviets launch one of their British operatives toward a French schoolteacher living with her uncle, the shadow foreign secretary, in London. There is a wedding, the honeymoon in Bucharest is interrupted by secret police, the bridegroom is arrested and flown to Moscow. He is to be exchanged for a spy caught by the British.
That is one-half the story, the rest became the critics' nightmare in its real and seeming complexity.
There is another agent, a courier really, smuggling book manuscripts out of Russia, he becomes entangled with the wife.
This is the height of comedy, going back to Clarence Brown's Flesh and the Devil at one point, with Sacha Pitoeff and a joke from Alain Resnais setting up The 39 Steps at an empty hotel in Scotland, a parody of Terence Young's From Russia with Love on a lake between the two Germanies, Tom Courtenay as a filing clerk sent into the field, the Cold War one winter.
Marlene Jobert, Kirk Douglas and Trevor Howard, with Richard Pearson as the head of British Intelligence, "no-one's supposed to know that."
To Variety, "a straightforward spy thriller" with humor. Time Out Film Guide did not wish "to imply that anyone might care."
Water
A superb complex analysis of modern affairs that covers all bases from regional poverty to a rock concert at the United Nations, "designer water" and oil and everything else.
Brenda Vaccaro's performance as the island governor's wife deserved an Oscar and was vilified by Variety and the New York Times.
Beneath all the bullshit, Clement wants to say (with a devastating satire of Margaret Thatcher), there is something worth something.