Restrictions on production and distribution imposed by the Office of Price Administration governing certain materials vital for the war effort are flouted by a Midwest combine of "chiselers, saboteurs and traitors" selling beef.
The Chance of a Lifetime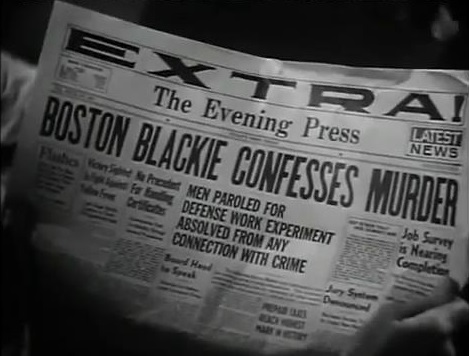 The rare, obscure mystery of a wartime dilemma later examined by Asquith (Libel) and Hutton (Kelly's Heroes). "Who," as Huston asks in The Life and Times of Judge Roy Bean, "did the killin'?" Question of able convicts for war work, "released into the custody of Boston Blackie", set to take the rap for one in a murder case.
"Are you proud of being a fugitive from a brain?"
Castle's first feature, typically profound and masterful.
Leonard Maltin, "proficient".
The royal carpet, the dumb waiter, the lever of love, "the two most efficient scrubwomen in our fair city..."
"I'll bet you haven't got that insured."
"No sir, ain't had it long enough, ha-ha."
Halliwell's Film Guide, "a loyal following."
"You're going down to headquarters and tell Farraday exactly how Red Taggart was killed."
"In your ivory hat I will... we're on a fast express, Blackie, and the next stop is your apartment." The man with the gun. "Why don't you go hide in a doughnut." The tables turned. "Arthur, you're like the United States Marines."
The Whistler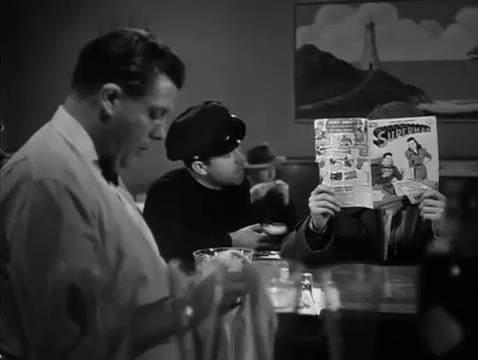 Murder for hire, 1944. Masterfully remade as The End (dir. Burt Reynolds). "Studies in Necrophobia (Exaggerated Fear of Death) by Ira B. Franklin, M. D., Ph. D.", an assassin's reading. "Did you hear someone whistling?"
"I didn't notice."
Bosley Crowther of the New York Times, "Columbia's little nosegay... weary, illogical imitation". Leonard Maltin, "tense and moody".
The rough-shadow, "hard on the nerves" (cf. "The Hitch-Hiker", dir. Alvin Ganzer for The Twilight Zone). "Yeahhh... maybe I'm on the track o' sump'n big, sump'n noo inna art o' moida. No fusss, no musss, huh. Yeahhh..."
"Suppose he doesn't drop dead?"
"My gun won't be empty." Cp. Guest in the House (dir. John Brahm), The Passage (dir. J. Lee Thompson). The killer in Bed 13. "Rats in this place as big as beavers. They won't hurtcha, but you're liable to trip over 'em in the dark." On the docks, cf. Litvak's Out of the Fog, amongst other things.
Halliwell's Film Guide, "a fairly workmanlike series of second features".
Betrayed
"Formerly known as When Strangers Marry". In America, no-one is a stranger.
For ten cents, Hugo the Mental Marvel identifies the pianist-stenographer-nurse and the reporter-lawyer-works in a bank, or does he? "Better acted and better directed" than Double Indemnity (dir. Billy Wilder) or Laura (dir. Otto Preminger), according to Orson Welles in his newspaper column. Touch of Evil remembers Mrs. Baxter at the hotel, numerous tints of mysterious fear are transposed into The Stranger.
James Agee said it encouraged him as only William Castle could, and "the Val Lewton contingent".
Castle's study of Hitchcock is quite thorough, from the engine-scream of The 39 Steps to the tone maintained in Shadow of a doubt, with a mainstay of Foreign Correspondent in the push that doesn't come to shove and the man who is not what he seems.
Agee certainly could not resist the opening on the King of the Jungle at the Hotel Philadelphia bar, later there's a Harlem café where the champ is escorted after a bout.
Hitchcock richly repays in Frenzy. End of a king in Philadelphia, partial expropriation of his wherewithal, sent to Atlanta from the Hotel Sherwin, New York City (Grantsville, Ohio and Grant's Tomb both figure in this). Or, a mortal attack for which the wrong party is suspected, a further attempt on the wartime bride.
Voice of the Whistler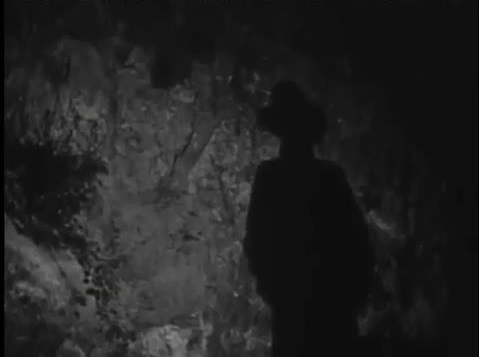 "A tale of loneliness and greed," with reference in this latter day to Welles (Citizen Kane) and Capra (It's a Wonderful Life) and Sirk (Slightly French).
TV Guide, "despite a good idea and the proper atmosphere, the story is not brought to the screen effectively, making for tough going as the plot drags itself out."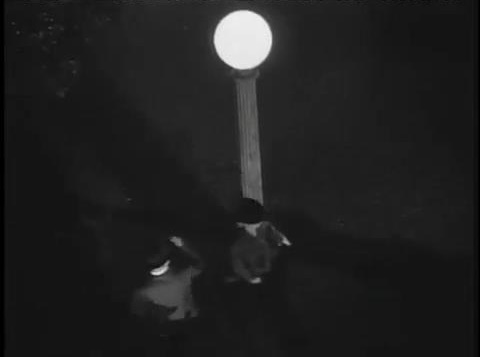 Mysterious Intruder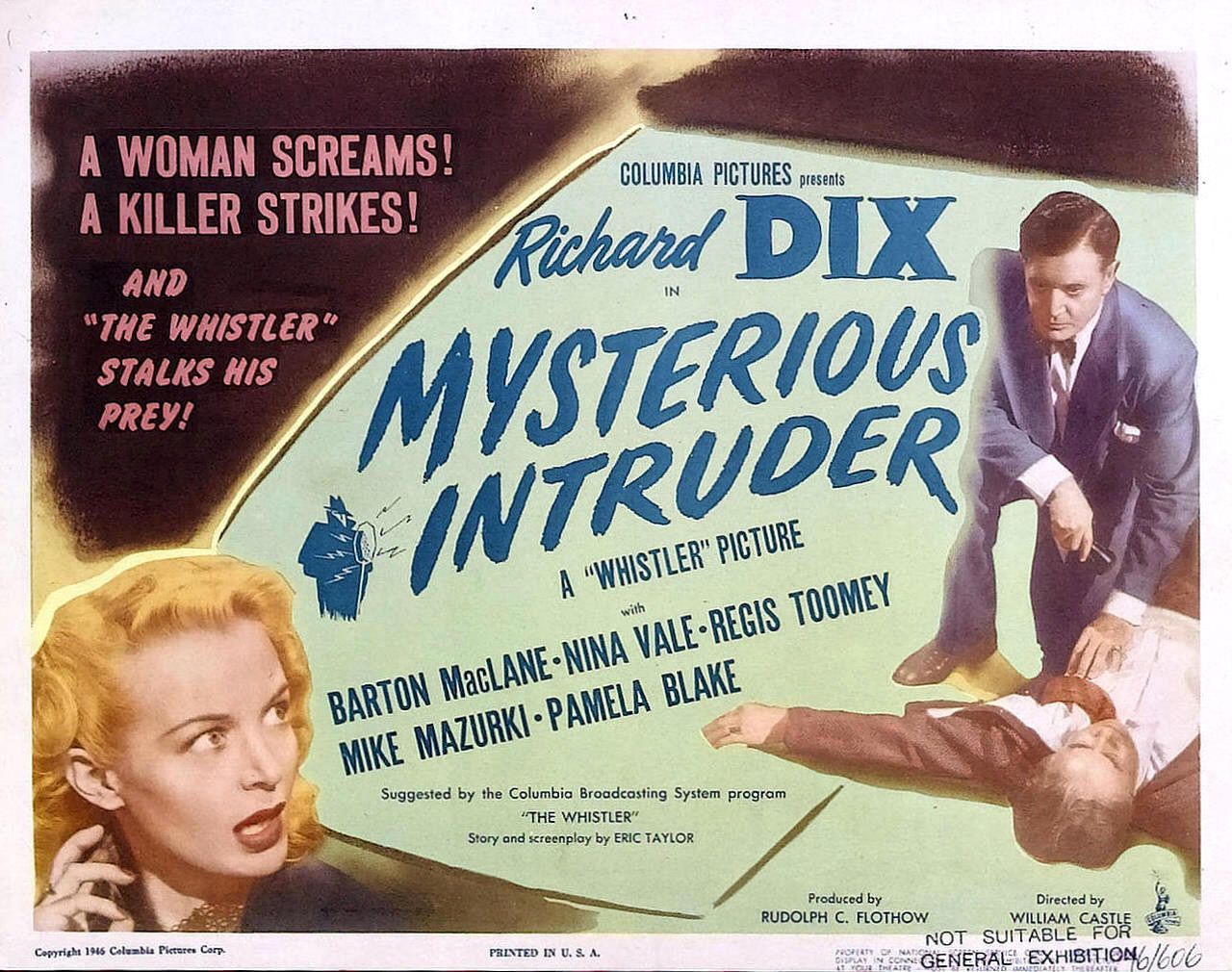 The Whistler relates a monstrous parody of The Maltese Falcon that pertains to The Swedish Nightingale.
A very brilliant concoction, very much in the vein of film noir. The private dick is Richard Dix posing for his private-eye portrait with one eye under his hat, presented by Barton MacLane as Detective Taggart to the woman behind the counter.
A notable précis of the Blindfold theme (dir. Philip Dunne).
The Crime Doctor's Gamble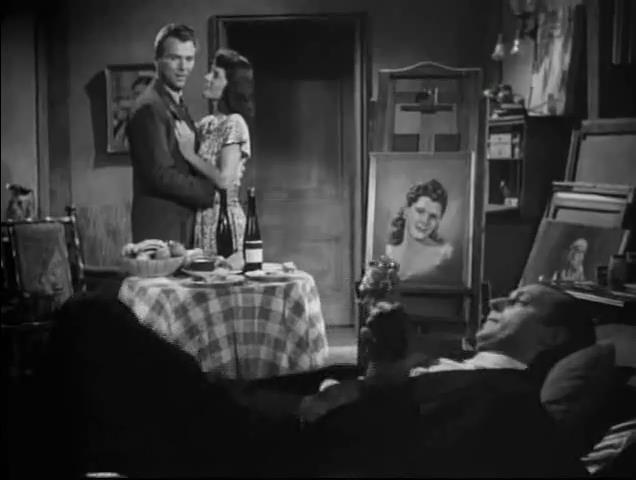 Dr, Ordway in Paris to give lectures on detecting the sociopath in custody and take in the nightlife, especially apache dancing and knife throwing at Le Coq Rouge. A case of patricide in hand at the Prefecture, young writer out of a concentration camp and a mental clinic, "his wife is the knife-thrower's daughter" disapproved of by the wealthy murder victim and painted by a rival for her affections. A criminal defense undertaken by the victim's lawyer.
"You are an American, are you not?"
"That's right, yes."
"Then you will understand, for many years I paint originals and I starve, now I paint copies and I eat!" The original, its detractors and apes.
The war is a recent memory. "Paris without its visitors is like an oasis without water," no tourists.
Texas, Brooklyn & Heaven
In Texas, you're on the Fort Worth desk of the Dallas News, nothing happens.
You (Guy Madison) go to New York to write your play, no-one reads it, a producer's kid nixes anything that doesn't stink of success in his view.
Brooklyn has a riding academy (run by Michael Chekhov) of stuffed beasts that rock before a sliding diorama backdrop. This is a bright idea to entertain the Cheever sisters (Margaret Hamilton, Moyna MacGill, Irene Ryan), grim old maids.
And there is the pickpocket who becomes your mother (Florence Bates).
On the other hand, the girl (Diana Lynn) you give a lift to in Texas returns with you to the Golden Horse Ranch.
An incomparable tale told by a New York bartender (James Dunn) to a customer (Jesse White) over four house specials, the last one's free.
Lionel Stander is the indolent bellhop at the Grand National Hotel in New York, a fleabag where the only phones are in the bar, to encourage the clientele.
Johnny Stool Pigeon
The West Coast drug trade (San Francisco), headed in Vancouver (Canada), worked out of Mexico by way of Nogales and Tucson.
The sheer elaborateness of this is answered by a Treasury agent gone undercover with the title character, a gangster in Alcatraz persuaded like Holly Martins with the dead in the trade.
Undertow
Out of the war, out of the racket, set up for a murder, a pawn in a syndicate takeover.
Classic film noir material, treated fairly and squarely, the theme however being that of Texas, Brooklyn and Heaven (the locations are Reno and Chicago, the desideratum is a small resort outside Reno, the Mile High Lodge, a fishing retreat).
The girl he left behind him is a kingpin's niece, no crumb in the business shall marry her. Uncle's dead, the frame's a perfect fit, there's a friend on the force and a girl met innocently at a crooked crap table on a schoolteachers' jaunt, she flies back to Chicago with helpful winnings, a second meeting (cp. The Lady Pays Off, dir. Douglas Sirk).
Halliwell found it "not at all memorable."
It's a Small World
A film in three parts, The Boy, The Woman, The Circus.
At its center are Dickens' Oliver Twist (dir. David Lean) and Todd Browning's Freaks. It nevertheless ends blissfully under the big top, "getting smaller each day", according to the title number.
Et Ô ces voix d'enfants, chantant dans la coupole!
Screenplay by the director and Otto Schreiber, cinematography Karl Struss, score Karl Hajos.
Leonard Maltin, "unnecessarily nasty". TV Guide, "off-beat". Hal Erickson (All Movie Guide), "obviously designed as an exploitationer."
The Fat Man
There is no civilization west of the Hudson, nothing but frying pans. Castle's film is an elaborate statement of this fact. As such, it is a work of pure genius, hardly noticeable at the time (although an anonymous reviewer in the New York Times, a fan of the radio series, liked it well enough).
Without Brad Runyon, gourmet and private detective, there would be no Jackie Gleason, Pat McCormick, or Frank Cannon.
Hollywood Story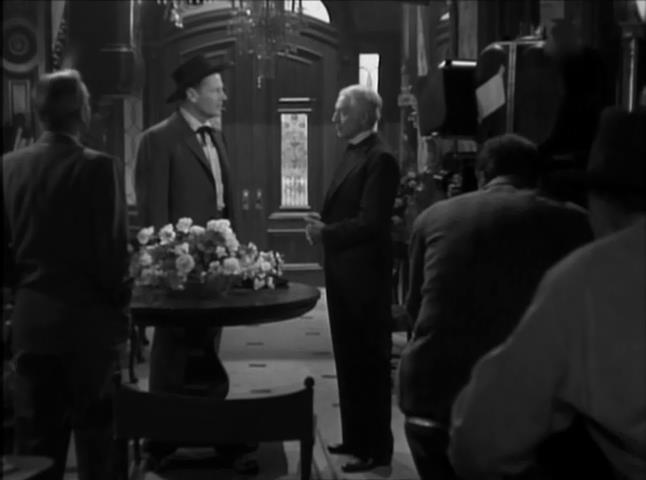 The town behind the credits. Kazan has the studio tour in The Last Tycoon. Death of the silent film director at unknown hands, New York producer looks into it, "good story here."
The disused studio looks like Chaplin's.
"How green was my moneyman."
Bosley Crowther of the New York Times, "the story itself is a bust." Hal Erickson (All Movie Guide), "holds no surprises". TV Guide, "could have been a much better film". Halliwell's Film Guide, "adequate potboiler".
Serpent of the Nile
The Loves of Cleopatra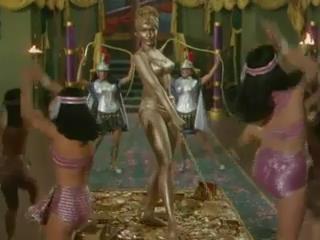 "Caesar was an old man, he wanted a woman of luxury. Antony is young, he wants the luxury of a woman." Julie Newmar's gilded dance not only goes into Goldfinger (dir. Guy Hamilton) but The Magic Christian (dir. Joseph McGrath) as well, with its lady centurions cracking the whip against slave girls hauling the great treasure before Mark Antony, Cleopatra, and General Lucilius, at their wine in Tarsus on the river Cydrus. This superb spectacle, under the musical supervision of Mischa Bakaleinikoff, evokes the golden dancer in Dieterle's Kismet evoking the Ballets Russes, and in one swift turning kick Picasso's Salome.
Nicely-judged casting splits the Roman mind between Lundigan and Burr, republic and empire, Philippi ongoing (the battle is represented with characteristically adroit stuntwork and Castle's mastery of motion in cinematic increments, the walk taken by Lucilius past soldiers to the tent of Cassius, for example, creating a sense of its stages). The legendary wealth of Egypt is expropriated from a starving people to buy Rome for the son of Caesar and Cleopatra.
Leonard Maltin, "good for a few laughs, anyway." Hal Erickson (Rovi), "quickie retelling".
The honorary general in Alexandria, "so was the Rome of Julius Caesar."
Egypt is a reed that cannot be leaned upon, "veneer... nothing, a shell," Antony's hope. Unsleeping virtue perseveres against the fatal gyp.
Bear wrestling, a sport for Alexandria's court. "Get out, get out, GET OUT," shrieks Cleopatra, Queen of Egypt. The Biblical parallel has Lucilius under house arrest walk past the drugged guards at his portal (Lundigan and Ansara have a dandy fight with spear and short sword and shield).
"She'll do to Rome what she's done to you," again from Dieterle (Madame Du Barry), in reverse, disguising the general reference to Roy Del Ruth's Du Barry Was a Lady. Where Caesar fell, a declaration of war.
A basket of figs fills the screen, an asp emerges. Antony makes peace for Cleopatra with his sword in vain, she finds no forgiveness with Lucilius but takes the asp to her bosom (Rhonda Fleming).
Conquest of Cochise
He makes war on the Mexicanos, the Gadsden Purchase puts an end to all that.
The spectacular filming in Technicolor has been noted by several writers, though not the fine stuntwork.
A great study or evocation of Apache culture and customs.
The highly complex, intricate and detailed screenplay is certainly typical of Castle's middle period.
Halliwell's Film Guide simply has "feeble western cheapie."
Slaves of Babylon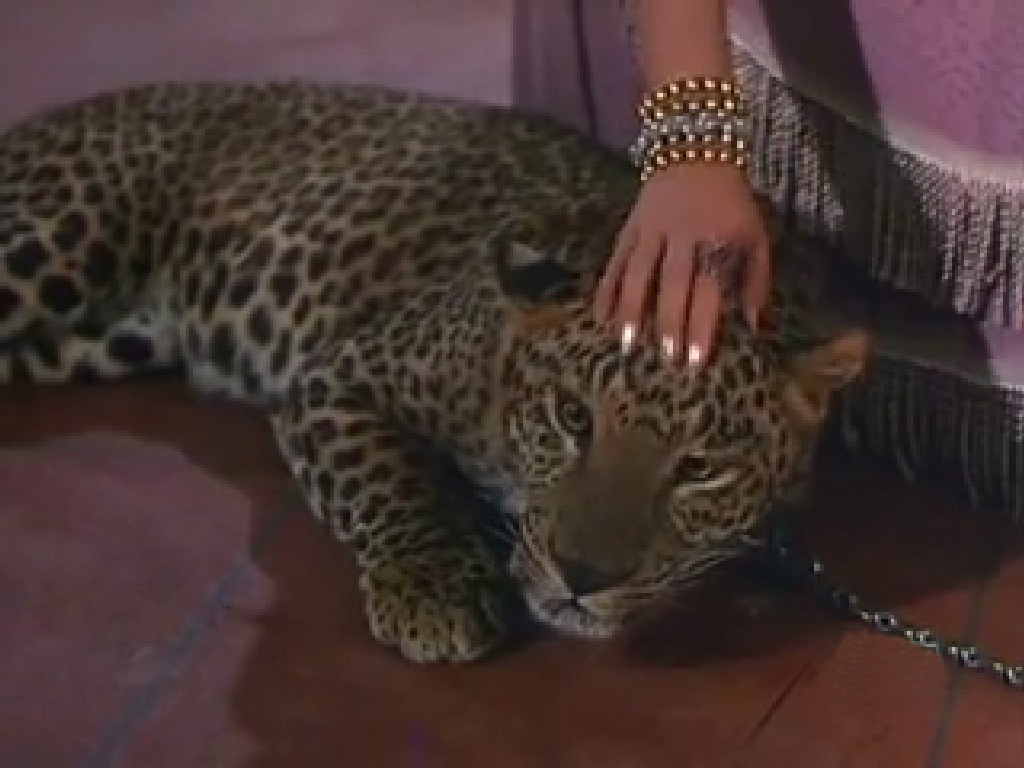 After the fall of Jerusalem (cf. Nicholas Ray's King of Kings), the star worn under Nebuchadnezzar, father of brutal Belshazzar.
The shepherd Cyrus, a help to Israel...
A prefigurement of DeMille's The Ten Commandments. "The wisdom of Daniel..." the den of lions. An eclipse remembered in Ben-Hur (dir. William Wyler). The fiery furnace, "it dazzles my eyes!"
The princess Panthea ("she is said to be the fairest woman in Asia"), beloved of Cyrus, betrothed to Belshazzar.
"To Nahum, traveling slowly with Panthea in the wake of Cyrus's army, the fall of Babylon could not arrive too soon."
"Tell me about your people."
"There are so many stories!" Nebuchadnezzar eating grass... "Great king," this addressed to Belshazzar, "Cyrus approaches with a vast army, and our army is not ready."
"I am ready." The high walls of the city, per D.W. Griffith (Intolerance). "Babylon will live forever under the protection of the all-powerful god Bel-Marduk!... I'll put their god to a real test," a second exodus against the siege.
The writing on the wall. A film remembered in King Vidor's Solomon and Sheba as well as Henry Koster's The Story of Ruth and John Huston's The Bible: In the Beginning... (the rainbow of the conclusion).
TV Guide, "depends upon too much dialog, and Castle directs in his usual way." Hal Erickson (All Movie Guide), "another 'instant epic.'"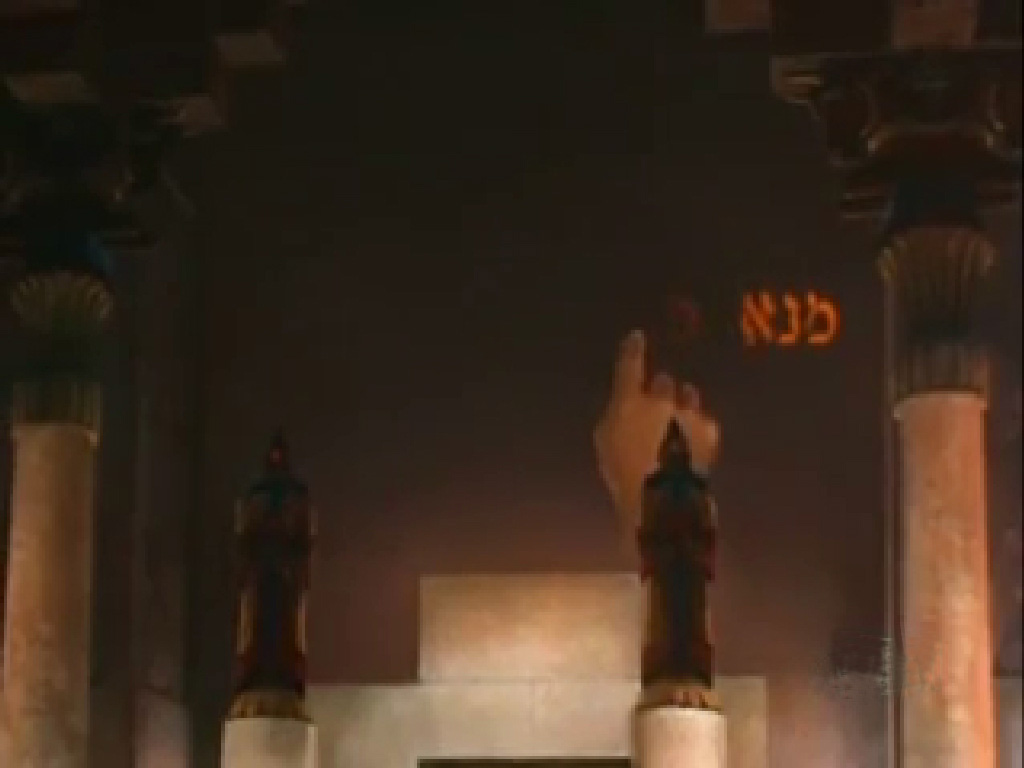 Battle of Rogue River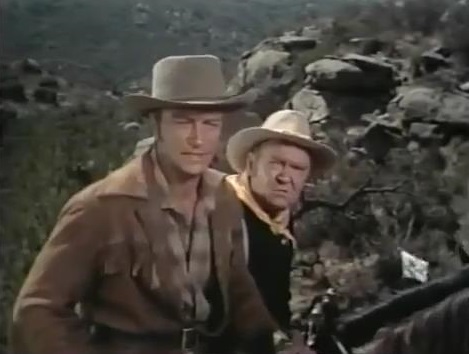 "Well, I never heard of a war where neither side was the aggressor."
"It's no secret, Wyatt, that there are men who oppose statehood for Oregon. Wouldn't it serve their interest to prolong hostilities?"
So Heyes' screenplay, one of the very fastest ever composed, dispenses its wisdom in coin before the battle, after many a lightning turn and loop that Castle, firm disciple of Ford (proper genius his own sphere) films with the greatest interest astride, as it were, a furiously bucking bronco.
It is, in all the bright confusion, the Flaubert position, successfully adopted and commended by Richard Brooks (Take the High Ground!), Joseph Losey (Figures in a Landscape), and Peter Yates (Murphy's War).
Castle adds a Matisse portrait of Martha Hyer to situate her in fauve country. As always, impressive and beautiful stuntwork is a sine qua non.
Trial by combat ends the hostilities, the two champions or litigants are a U.S. Cavalry major and a lying thieving weasel "under the cannon", as it were.
Leonard Maltin, "lopsided Western". TV Guide, "another of Katzman's cheapies." Hal Erickson (All Movie Guide), "B-plus western". Catholic News Service Media Review Office, "Western clunker".
Masterson of Kansas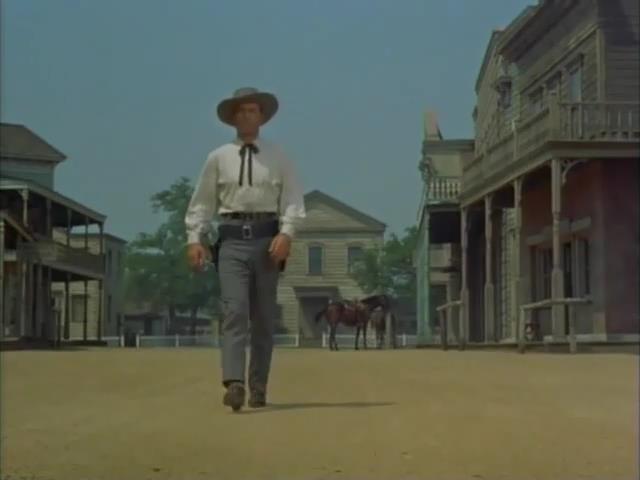 A kind of Poe poem on the vanishing red man and dying Doc Holliday as viewed by the title character and Wyatt Earp, for whom he is not a bitter despairing outlaw with a Parthian shaft for Dodge City (cf. Boetticher's Seminole).
Screenplay by Douglas Heyes.
"I'm offering you a business proposition, Doc, and all you're giving me is words."
"Perhaps those words are beyond your comprehension."
Leonard Maltin, "just standard." TV Guide, "slight script". Hal Erickson (All Movie Guide) sees "Doc Holliday as a borderline psychotic with a death wish." Halliwell's Film Guide, "two-bit".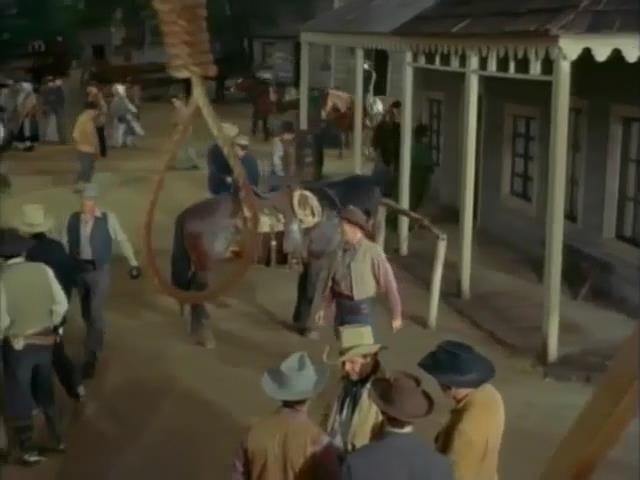 The Americano
The point is to throw a perspective onto the South American scene, and have one in return (A.W. of the New York Times considered this unnecessary and redundant, whatever the cost).
Tom Milne of Time Out Film Guide says Boetticher directed in Brazil and was replaced by Castle, he also says the result is "ponderously dreary".
The title character sells three Brahma bulls to a ranch in the Mato Grosso and has to take sides in a range war of cattlemen vs. nesters, this is highly revealing about a democratic neighbor, if you like, and of course puts the Western (any Western, on this theme) under the microscope, as it were.
The Gun that Won the West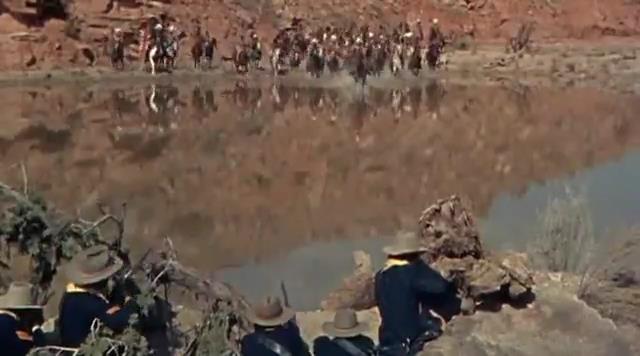 "This new rifle, as you know, was developed at the United States Armory at Springfield. It's a .50 cal. centerfire model, weighs nine pounds and it takes an 18-inch bayonet. After firing, this two-click tumbler extractor will throw the empty cartridge clear of the weapon. The ease of loading and extracting cartridges makes this the most practical breechloader yet manufactured. The weapon is of extremely high velocity, thereby making it ideally suited to long-range Plains warfare. This weapon can fire so far that it can cut down the enemy before he can get close enough to fire at you. There's no more powerful rifle in existence. This will be demonstrated for you now."
Leonard Maltin, "harmless". TV Guide did not recognize Wellman's Buffalo Bill, "consequently, there are a lot of mismatched tints between shots and unmatching grains," the Altman theme is very rich, as are the astute representations of the Sioux in their villages, at their rituals, and riding on the warpath, from Catlin. Hal Erickson (All Movie Guide), "inexpensive".
Question of averting a war, the Wild West is a profitable show back East that keeps a former scout in liquor, the reality along the Bozeman Trail is Red Cloud. "Did ye ever think much about the future?"
"Yeah, I did once." Siegel's Dirty Harry remembers the lecture-demonstration.
The Houston Story
A clever operator works out a scheme to tap Texas oil production, sells it to the Houston mob (run by a St. Louis boss), the "combine" has seen its profits fall, this is an opportunity to recoup millions.
There's even a pipeline to be laid for the mob's ships, against the cost of trucking.
The Houston boss goes back to Capone, they "detest violence" in St. Louis, unless necessary.
A brilliant film, at the Derrick Café the operator is nearly rubbed out and, wounded, sees the police arrive, behind him on the wall is a sign for a house specialty, "Frank and Stein".
Prices go up under the regime of the mobsters, astonishingly. "Tell 'em to raise the taxes," says the operator to a foreign buyer who balks, "that'll take care of me fine."
Macabre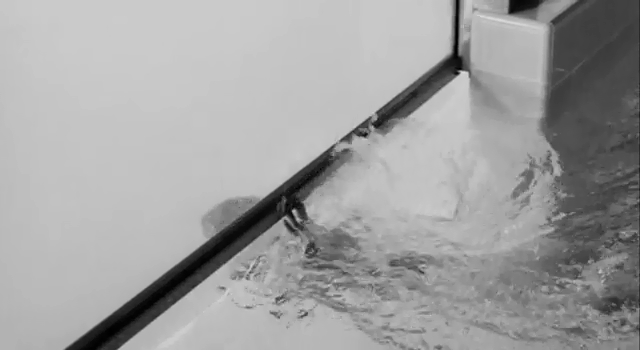 The striking form "now goes mainly backward" to reveal the basis of understanding in a succession of crimes to a single end that one is bidden as a member of the audience not to reveal (cf. Mervyn LeRoy's The Bad Seed). A major theme of Castle's later masterworks is here announced from Clouzot's Les Diaboliques, "fear itself", precipitated by a shock anticipating Hitchcock's Psycho against an increasingly morbid, melancholy and macabre stylistic treatment, cp. Dante's Inferno (dir. Ken Russell) for the exhumation, The Terminal Man (dir. Mike Hodges) for the gunplay in the cemetery.
Tom Milne (Time Out), "rather laborious". Leonard Maltin, "delivers little." Craig Butler (All Movie Guide), "an average affair." Halliwell's Film Guide, "unsuccessful", citing the Monthly Film Bulletin, "ineffective".
House on Haunted Hill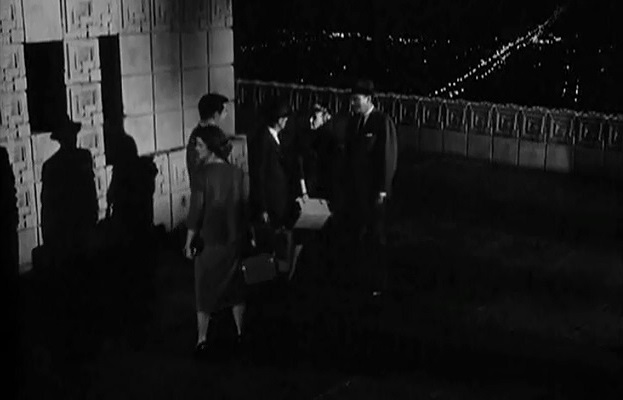 Frank Lloyd Wright's Ennis House above Hollywood, rundown with bars on all the windows and said to be the domain of ghosts, cp. The Old Dark House and Let's Kill Uncle.
A millionaire's wife gives a party with five invited guests (the two can't agree whose idea it is, even, the "loaded" champagne bottle he points at her is by way of Hitchcock's Notorious), he'll pay a fortune to any who survive the night locked in. "We've done it. The perfect crime. Beautiful."
The theme of fear continued from Macabre, and another of varied murders expressively taken up in succeeding films, cp. Strait-Jacket for example. Subsidiary motifs include the love of money or the bondage thereof, and something akin to Bluebeard's Castle (dir. Michael Powell) at times reflected in the score.
Howard Thompson of the New York Times, "a stale spook concoction". Variety, "the characters are interesting and not outlandish, so there is some basis in reality." Leonard Maltin, "campy". Jonathan Rosenbaum (Chicago Reader), "the best of the campy horror films that made his reputation." TV Guide, "good fun." Film4, "has a genuinely creepy atmosphere". Alan Jones (Radio Times), "silly spookiness... directorial crassness..." Catholic News Service Media Review Office, "tangled plot is full of holes." Halliwell's Film Guide, "outlandish".
The Tingler
The objectification of fear itself as a large spinal earwig quelled by an outcry and set loose in a silent movie theater, where the proprietress is deaf and dumb and thus perishes (spooked by the husband she's at fatal odds with), and it's this theater gone suddenly dark, where the film is Tol'able David but concerns an autopsy surgeon (Vincent Price) for the state with a criminal execution in the electric chair, and his unfaithful wife (Patricia Cutts) who is bored with his laboratory studies of fear, she keeps her sister (Pamela Lincoln) from inheriting so the poor girl can't marry the surgeon's assistant (Darryl Hickman) and make "the same mistake I did", cf. Sekely's Lady in the Death House.
13 Ghosts
The incisive wit of the screenplay sets up a question amid the skeletons of a past age at the Los Angeles County Museum's Paleontology Department, assembled to show the remains of birds and animals not seen in forty thousand years (here, the critics went out for a snack).
The solution fits right in with Beckett's reading,
comme si c'était d'hier se rappeler le mammouth
le dinothérium…
les périodes glaciares…
la grande chaleur…
…et oublier son père
…de quoi il est mort
on n'en est pas moins mangé…
Homicidal
The Shakespearean tale is of a girl raised as a boy to win an inheritance. Disguised atop her mannish persona as a Danish girl, she kills a justice of the peace and an old nurse in a wheelchair, witnesses to the deception.
To accomplish the first murder, she checks into the Hotel Ventura and marries a bellhop, using the name of her rival in Solvang, Miriam Webster, a half-sister.
If ever there was a genius in Ventura, it was Castle.
Mr. Sardonicus
His rictus mirrors his father's corpse, the treatment is the father alive to him still. The side effect is an inability to eat.
Castle's very funny satire on problems of faith is close to Huston's Wise Blood yet filmed in the Universal style. He pauses at the end to poll the audience like a Roman emperor for the fait accompli of a silent mocker.
Zotz!
Borges' magic coin and a few of his other tricks serve the turn of Castle's masterpiece, with its very accurate rendition of a college language department and a main rivalry.
Professor Jones (Ancient Eastern Languages) is played by Tom Poston somewhere between Van Johnson and Nicol Williamson. The very literate screenplay has him one of ten men in the world who can decipher a five-thousand-year-old coin, whereupon he is endowed with certain powers that mainly serve to highlight a position, a colleague's bluster, an enemy's attack, and with a finger he can incapacitate a foe.
The cocktail party scene with white mice and Margaret Dumont is only the warmup. Jim Backus is the rival (Modern European Languages), Cecil Kellaway the dean, Julia Meade a new colleague, Zeme North the niece and so blessedly on.
13 Frightened Girls
Diplomats' daughters at a girls' school in Switzerland.
That is precisely the way to describe the conduct of contemporary nations.
U.S. spy Candy Hull, age 16, code name Kitten.
Her adversary is a Red Chinese assassin, code name Spider.
All this is off her own bat, to save the career of a special attaché whose outmoded specialty is nowadays "done by machinery," as he observes.
A superb film, really grand, noticed by Cassavetes in Gloria and Cukor in Rich and Famous.
55 Days at Peking (dir. Nicholas Ray) or Spartacus (dir. Stanley Kubrick) answers the attack on Miss Pittford's Academy.
A film so little-known, and that little so badly misunderstood, it would be well to consult the experts, but alas, Bosley Crowther gave it the back of his hand in the New York Times along with films by Richard Rush, Samuel Fuller, and Paul Wendkos.
The Old Dark House
Femm Hall, a truly decayed manor house at Dartmoor, flying from its tower the letter F on a field of white.
The offspring of Morgan Femm the pirate gather each night at midnight according to his will, also an American cousin.
No more truly exasperating critic, not even John Simon, can ever have existed than Bosley Crowther, who on Halloween of 1963 panned this film in the New York Times along with De Sica's The Condemned of Altona, Resnais' Muriel, Shavelson's A New Kind of Love, Carreras' Maniac, and Annakin's Crooks Anonymous, though the last he said had a "droll finish", and to be fair, he blamed The Old Dark House on J.B. Priestley.
Strait-Jacket
Castle's masterpiece of virtuosity is assigned to a screenplay by the author of Psycho. Crimes of passion and madness and murder have a serene philosophical outlook thrust upon them, men and women are so many porkers and hens for the slaughter, anyhow.
But you can discern the story of one swinging lady who chops the heads off her husband and his paramour, and goes to an asylum, and is guardedly released twenty years later only to be framed by her daughter for more axe murders in a plot for money.
The identity of the killer can be guessed fairly soon, but the motive is kept for the end, with a stinging epilogue in which the lady packs up the daughter's amateur sculptures ("one of those galleries on the coast") forever.
The Night Walker
The dreamer, who sees her husband's stick and the whites of his eyes, and another man, and another man, her husband explodes, leaving a hole in the floor of the laboratory upstairs, she returns to her beauty salon (driving past Magoffin Typographers on Yucca Street) and marries again, her husband again, another man, another man, her husband, so the nightmare goes, a dream lover who might be real or an alter ego of the blind staring husband scarred by the explosion, or his attorney, or a private dick married to a girl in a beauty salon, a church full of dummies, abandoned, an apartment rendezvous, vacated, all gone through the hole in the floor of the empty house.
Bosley Crowther called it "eerie nonsense... totally unbelievable... a creaky gimcrack chiller" (New York Times).
I Saw What You Did
Castle has but the one great joke like a porcupine up against a fox, so he luxuriates in Hitchcock studies. Wiederhorn in Eyes of a Stranger profits from his Psycho variant with its bursted shower door.
The opening sequence comprising half the film is a parody of George Roy Hill's The World of Henry Orient so charming, accurate and well-contrived that the New York Times reviewer was ravished out of his senses, proclaiming wildly that Castle had no business deviating from it in the rest of the film.
The triple goddess has her wiles but old and young she meets her match, avatars beyond a certain point are however protected by statute.
There is a very precise rendering of an image from "Good-Bye, George" (dir. Robert Stevens) on The Alfred Hitchcock Hour (body in trunk in station wagon), after the next-door neighbor's spying eyes from "Nothing Ever Happens in Linvale" (dir. Herschel Daugherty). The trunk gets buried among leaves beside the road in woods, the snooping dog is there from Welles' The Stranger and T.S. Eliot.
Let's Kill Uncle
A millionaire industrialist's son, lately orphaned in what looks like an accident, is sent to live with his uncle on Serenity Island, once a prosperous tourist resort but now teeming all around with sharks.
The hotel is an abandoned wreck, the uncle lays out the ground rules under which he intends to kill the boy, for the inheritance.
A very precise construction, point by point identifying a very exact nightmare.
It stunned the anonymous reviewers of the New York Times and TIME into semi-consciousness, which is half the battle.
The Busy Body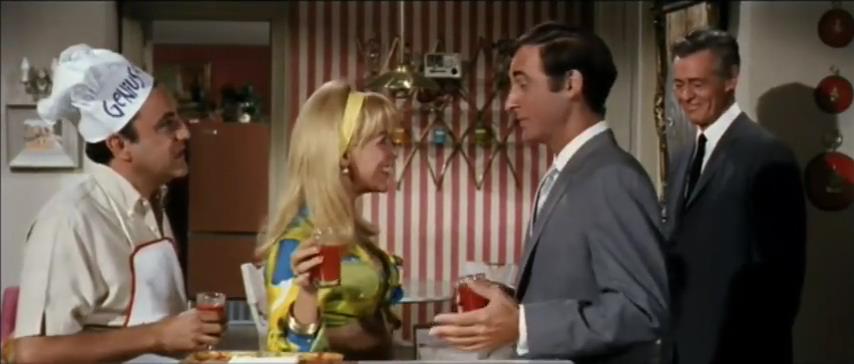 A million dollars in a blue suit, or what's a nice Jewish boy like you doing in a mob like this? Hitchcock's The Trouble with Harry. "Boss, Boss, when you—when you bury a corpse, you gotta do it in real style, i-if you read Esquire you'd know it." Recipe for a Scotch Sour à la Norton. "Being a widow is a—a very traumatic experience."
"Bar syrup."
"I went to the mortuary to discuss the upkeep of my husband's grave."
"Cracked ice."
"And seeing Mr. Merriwether dead, I—I suddenly became irrational."
"Lemon juice."
"For a moment I—I confused him with my dear husband. Uh, not too much lemon, please. You understand?"
"Yeah, not too much lemon."
"No, no, I mean about my husband."
"Oh, well, under stress, uh, certain people do certain things that they wouldn't ordinarily do."
"Ah, you're so profound."
"Shake vigorously." Cp. Dante's Inferno (dir. Ken Russell).
New York Times, "freewheeling if obvious scramble that blithely thumbs its nose at justice". TV Guide, "managed to inject a few laughs". Halliwell's Film Guide, "unfunny... laboured... in poor taste."
The Spirit Is Willing
The most brilliant of all comedies, and much too good for anyone to understand without appreciating late works as a genre of sorts, unique in that everything the artist knows is in them, refined or magnified.
It starts (in 1898) like Strait-Jacket, only the husband with a meat cleaver in his back completes the fatal triangle (13 Ghosts).
The haunted house gets a vacation rental that finally sorts everything out, and if that isn't genius, nothing is.
A continually funny comedy with a unique sense of pace, Castle at his most profound, far-reaching and inimitable.
The identification of a ghostly pact with life achieves a great analysis of the earlier film. Uncle George ("head of E-Z Flush") falls for the lonely virgin, which frees the husband and wife like the man and maid of yore, and their son is redeemed by the poltergeist as well.
Project X
A spy mission to Sinoasia, early in the twenty-second century.
The agent, a brilliant geneticist and historian of the twentieth-century's Fifties and Sixties, is brought back scrubbed and dead, his mind a blank, having broadcast the imminent destruction of the West.
His frozen body is revived, an elaborate apparatus is employed to recover his memory, a false past is given him to secure his participation, he is a bank robber on the lam in 1968.
A colleague on the assignment tries to break him out.
The feudalistic Sinoese (who are mass-producing male infants, ahead of the West) have a secret weapon, medieval plagues eradicated in the West like every other disease.
Treason, deception, and a remarkable foreglimpse of Russell's Altered States are part of the fabric reaching far back into the silents and the serials, partly by grace of Hanna-Barbera in animation sequences depicting action à la Méliès.
In the end, our man is yet another person entirely, an engineer three-days-married to a girl from the kineries (where dairy products are processed into pills).
Shanks
Castle was never able to make himself properly understood as a film director of genius but for a time he labored to make his pictures seen anyway, and this was a public service unless it be acknowledged that the Emergo skeleton of House on Haunted Hill, for example, adds zest to the flouting of public superstition as well as a sendup of studio publicity angles.
The appalling reviews his last film received were crowned by Jay Cocks' assertion that Marceau was a "gimmick", preparing Castle's epitaph.
The pure distillate of Castle's genius is seen for two-thirds of the picture, then he characteristically outdoes himself.
The agonizingly pleasurable luxuriance of the puppeteer's revenge on his cruel relatives finally is obtruded upon by "the outside world of evil... the dead fight the living... good versus evil," and the mime, taking Castle's part as impresario, lets you know it's all a show.