Short Cut to Hell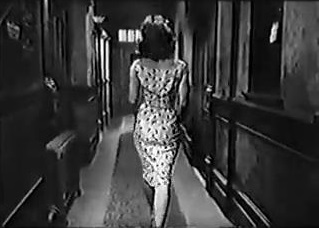 It opens with a rabbinical joke providing the analysis and giving the title, to walk behind a woman.
From Graham Greene, This Gun for Hire (dir. Frank Tuttle).
Death of a building inspector, "you're new, you don't know this crowd, they're big, they won't stop at anything, now get yourself over on their side before—it's too late," his secretary too, on the payroll, "unavoidable, a matter of business policy."
The hired gun is elegantly painted into prison with heated bills, all of which succinctly states the case against the organization in the first reel.
"Some kinda big shot" in Los Angeles, "a fat man who likes girls and peppermint patties." The police dick's girl, on her way there aboard the Sentinel Express, "another nightclub job, singin' for drunks who won't listen," he wants a wife and a law career.
And so, the analysis arrives at That Uncertain Feeling (dir. Ernst Lubitsch), not to mention The Perils of Pauline (dir. Louis J. Gasnier).
Question of a purloined five dollar bill.
A miser in a palace, the head of the organization.
The Ruby Room, a splendid spot, with a swift joke by way of Welles' Citizen Kane, the chanteuse rehearsing, "how'd ya like to love me, how'd ya like it, how'd ya like to kiss me, how'd ya like it," face at the window looking askance, the fat man's menial.
"Talent has an indefinable way of announcing its presence."
"Like money?" Question of "Southern California hospitality."
"Glamor gals all over the place, starlets, entertainers..." Not a railroad yard but a factory with an air raid shelter in the basement dating from the war and a cat and a newspaper, ALLIES POUND SIEGFRIED LINE, and a back way out of The Third Man (dir. Carol Reed).
Irving Lerner's murder by contract follows a year later.
Haskell Boggs in VistaVision, fine score, location work. Cagney's direction translates his style as a flourishing camera technique and continuous invention in the actors proceeding from the analysis, a brilliant style.
Critics have been hard-pressed to see the significance. Variety, "a crackling melodrama... packs enough gutsy action." Leonard Maltin, "generally taut, if uninspired". Hal Erickson (All Movie Guide), "though the film itself is nothing special, Cagney's direction is sharp and efficient." Halliwell's Film Guide, "less arresting than the original."