Straight Place and Show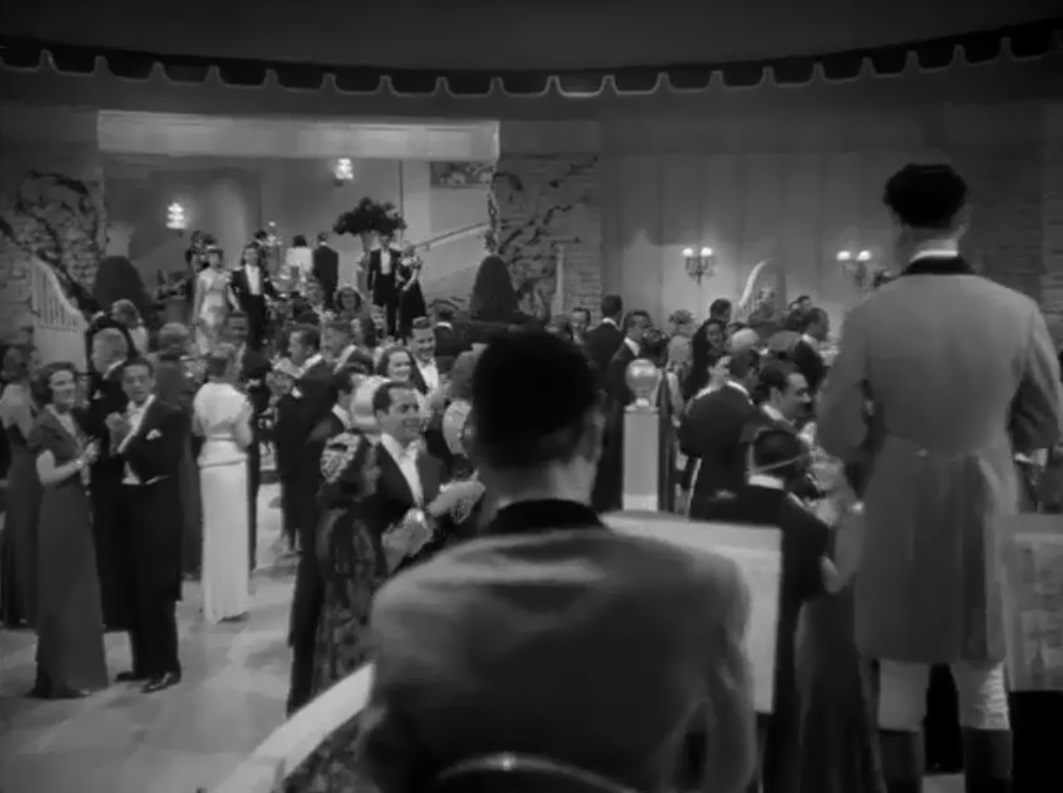 The girl loves a thoroughbred, name of Playboy, fiancé fouled up, society set.
By Damon Runyon, out of left field. "IF I'VE GOT TO HAVE A HORSE I WANT BOTH ENDS OF HIM", she wires a friend. Cf. Capra, Broadway Bill or It Happened One Night, also Castle, Texas, Brooklyn & Heaven.
The Ritz Brothers play themselves, almost beyond the ken of man or beast. "The guy rehearses one way, and wrestles another!" Cp. The Great Dan Patch (dir. Joseph M. Newman).
The famous question of a jockey...
Halliwell's Film Guide, "lively, unpretentious".
That's Right—You're Wrong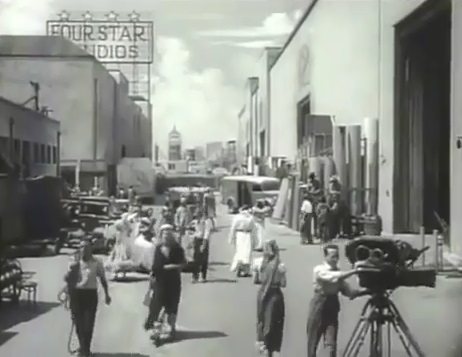 "Imagine a night in Venice, the Grand Canal, moonlight, slowly a gondola drifts into the scene and in it we see..."
And so, unmistakably, Max Ophuls' die verliebte firma. transferred to Hollywood with Kay Kyser and his grandmother May Robson (the original Apple Annie) for Adolphe Menjou and Andrea Leeds in The Goldwyn Follies (dir. George Marshall), and Menjou is assigned to this picture at Four Star Studios as producer, strictly from falling profits. "I don't feel very much like singing."
"You don't feel like it—did you ever hear of Pagliacci? Did he feel like singing?" The College of Musical Knowledge, Ginny Simms, Harry Babbitt, Sully Mason, Ish Kabibble and the two writers ("you know, uh, they won the Academy Award last year") portrayed by Hobart Cavanaugh and Edward Everett Horton, also Dennis O'Keefe the manager and Lucille Ball the glamour girl, "she thinks you're Jack Benny!"
"Aren't pictures fun?"
"Say, ya don't think—"
"Why not, there's a chance, isn't there?" Critics have had a good deal of trouble following the plot, TV Guide for example has it that "things look grim for the band until starlet Ball falls in love with band manager O'Keefe and insists that the band be included in her next movie. Yes, and it's a big hit."
Frank S. Nugent of the New York Times, "might have been a sprightlier spoof of Hollywood production methods than it is, and it might have been a more laborious and cumbersome one." Leonard Maltin, "amiable... much of the humor (and music) is dated, but there's plenty to enjoy in the supporting cast, including gossip queens Sheilah Graham and Hedda Hopper as themselves." Pat Graham (Chicago Reader), "the director is David Butler, who showed sparks of imagination early in his career... but never quite hit his stride." Catholic News Service Media Review Office, "dated musical comedy". Halliwell's Film Guide, "one of the best," citing Variety, "will satisfy as a bill-topper."
A great big sissy of a movie actor falls for the colonel's daughter.
Hollywood star satire ("oh stop, you sound like an unpopular song") goes no further than the fellow with an unregistered alien as housekeeper ("they have enough aliens"), two swimming pools ("that's last year's"), and a deathly fear of loud noises.
Bob Hope and Dorothy Lamour, with Lynne Overman his agent and Eddie Bracken his chauffeur.
Butler's rich style secures fast comedy in a peacetime training camp.
Road to Morocco
The polished dreamlike brilliance of the palace set invokes the Taj Mahal and Persian miniatures, costumes by Edith Head adorn the players, so that The Sheik and no other abducts the Princess.
A comedy on "smoking in the powder room", stowaways, shipwreck, slavery, astrology, tyranny, Liberty, and thespianism.
It's a Great Feeling
Hollywood is a very serious, real place where top people in the business ply their trade. Butler opens with four aces, Raoul Walsh, Michael Curtiz, King Vidor and himself to show this. The scene is Warner Brothers, cool and sophisticated, Western, modern. In its midst and strictly from hunger is Jack Carson, an emptyheaded windbag, a sharpie, a whirlwind no-one wants to work with, the antithesis of professionalism and artistry.
Mademoiselle Fifi has to be directed by him, he needs the money (cf. Douglas Sirk's Slightly French). Jane Wyman faints at the suggestion that she play the leading role, his co-star Dennis Morgan wants out and has a train ticket for New York with a new song for a show on Broadway.
Judy Adams (Doris Day) works at the commissary, the Green Room, she's trained for a break in the movies but no producer will listen. Variety publishes the story of Carson's first assignment as director, she forces an audition upon him and gets a job playing Mrs. Jack Carson to Morgan, who signs for the film at her pleading. "The usual malarkey," she's been promised a part, why not Fifi? They bug the producer with her everywhere, mount a publicity campaign as Yvonne Amour, "Star of the Comédie-Française", film a disastrous screen test, the producer has a nervous breakdown and cancels the film, cp. That's Right—You're Wrong.
On the train back home to Wisconsin, she sings alone at night in the club car. The insomniac producer is on a forced vacation ("who wants to put the knife in me?") and riding the same train, he is altogether impressed and wants to sign her to the restarted production, but she wants nothing better now than to marry her beau, Jeffrey Bushdinkel, who in the last shot is revealed to be the spitting image of Errol Flynn (cp. The Boy Friend, dir. Ken Russell).
This is a Butler specialty, that rare example of a film so agreeably well-made that it has passed notice as a masterpiece without gaining an unfavorable response.
The Story of Seabiscuit
Horse and jockey are specifically identified as a parallel unity, the fictional apparatus is a projection of the horse through a medium of understanding. The Irish trainer spots the colt in a bunch, culls it against disbelievers in its unusual conformation, the jockey loves his niece, she won't reciprocate because her brother died at the Grand National with his horse over a hedge and into the water. Peter Falk said of a similar case, "the fucker never come up".
Seabiscuit will beat anything but doesn't care to, "he's too friendly, too sociable for his own good." In the famous match against War Admiral, he's trained to come out of the gate at a gallop. Butler tints sepia to sort with the news footage, Seabiscuit leaves his great rival behind, eyes forward, flashing fire.
Around this portrait of the thoroughbred the film is built (the statue unveiled at Santa Anita has the same expression). The two leads are commandingly portrayed, Barry Fitzgerald is continually regarded as the man of genius in the force of circumstances, a Ulysses of resourcefulness. A dull Kentucky trainer doesn't know his business, the proprietor smoothes things out equably, "but where's the horse?" Off to California, a warmer climate, rich sporting couple, the Irishman's credentials, a fair shake and careful training.
The niece is a young lady of the Nineteen-Thirties, played by Shirley Temple in advance of la Bardot.
Lon McCallister portrays the jockey as working athlete (the rare appreciation of jockey arcana is partly a function of the dramatic arrangement), the rest of the cast is skillfully fitted by Butler into precise moments of the script revealing character and coping with the exigencies of the drama.
Butler is a director whom other directors know and admire. The niece is new in this country, studies nursing at a Kentucky hospital. The jockey picks her up after work, they converse beside his car in front of the hospital, the identical shot has them in front of her home, no-one will notice how easily her circumscribed life is shown.
"A.W." of the New York Times completely overlooked the film, Variety found it on the contrary quite good.
April in Paris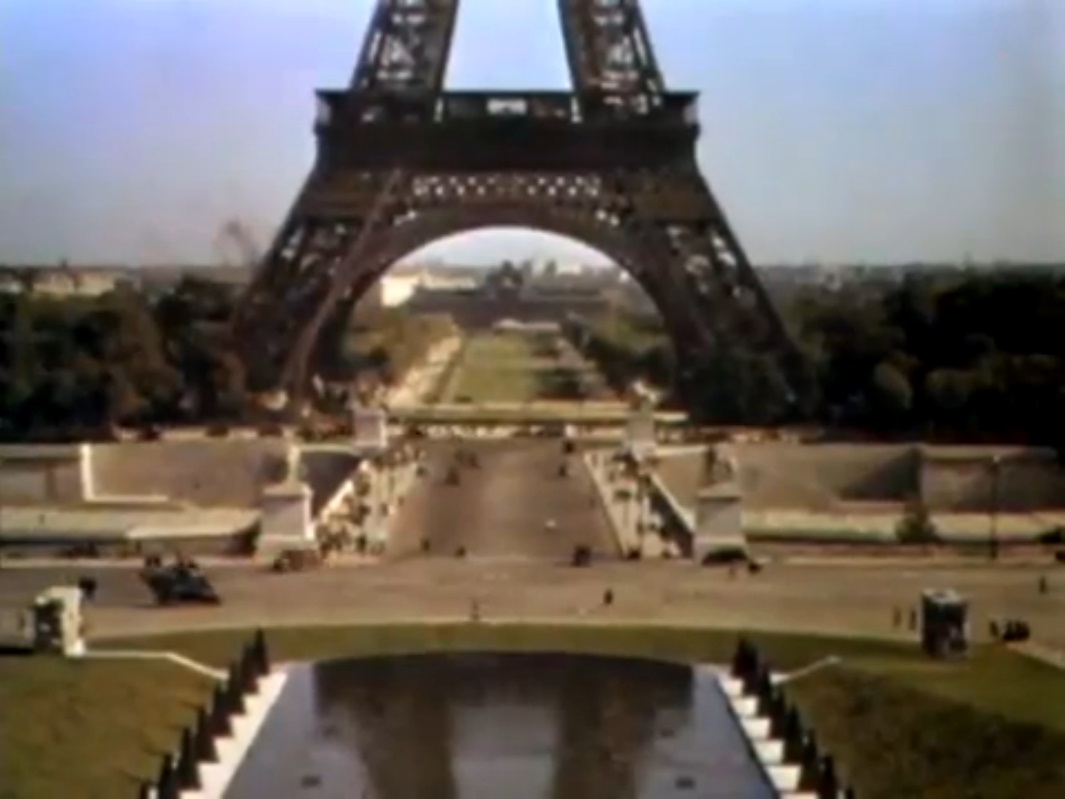 A sort of felix culpa in the State Department that gets a perfect ninny married. "Can you picture Ethel Barrymore playin' that fleatrap in Montreal?"
A certain "noble experiment" on their way to the International Festival of Arts. "To Ethiopia! And Afghanistan!"
The countertheme happily acknowledged from Capra's State of the Union.
A masterwork acknowledging the blissful blessing of its title number.
Bosley Crowther of the New York Times thought it odd "in New York on Christmas Eve" but found in it "other diversions for a person of undemanding wit." Leonard Maltin, "mediocre... unconvincing..." TV Guide, "mostly forgettable... ordinary... uproariously funny..." Catholic News Service Media Review Office, "charmless... thin... witless..." Hal Erickson (All Movie Guide), "the romantic scenes, however, fail to hold up: after all..." Halliwell's Film Guide, "wisps of wit."
By the Light of the Silvery Moon
Home from the war, victorious (doughboys dance in the train aisles wearing the Kaiser's helmets).
What to do about marriage? There's a daunting prospect, you're hanging out there like a turkey neck the day before Thanksgiving, she's already wearing the wedding dress.
Take a job at her father's bank, build a nest egg.
He's got to sign a French belle to the local theater (run by the bank, overseen by the church committee), cp. It's a Great Feeling. A malentendu has him in love with Marlene, or the bride with her piano teacher, and the wrong turkey on the table.
The heightened surreality of this left critics behind like a fast cab on Broadway, but it didn't matter. Butler has a complicated formula, old songs, a little hoke, great gags, silent films, the repertoire of accommodation to any period in Hollywood (which he extends stylistically to the whole film), so that 1918-19 dresses suddenly appear at the dance, perfectly noticeable and perfectly fashionable.
The Bard
The Twilight Zone
A teleplay by Rod Serling to remind one of the adverse criticism directed by Philip Roth at Albee's Who's Afraid of Virginia Woolf? ("I appeal to Philip assuaged!"), that it had nothing to do in any event with George and Martha Washington.
This sendup of scriveners, agents, sponsors and executives was the last, anyhow, of the fourth season.