Sredni Vashtar
A reel of silent film with voiceover narration by the director and producer and cinematographer, music by Debussy and Mahler, from Saki on "the great ferret" in Time's whirligig.
Peer Gynt
"Now there's nothing left but rubbish," is the saying on his return to Norway after so many adventures and curious. Bradley's masterpiece at a tender age, silent with intertitles and Grieg's music (with interpolations and the voice of the Boyg).
It has nothing to fear from Cedric Messina's production thirty years later for the BBC (dir. Alan Cooke), on the contrary, it has a real motor yacht. An exact counterpoint can be perceived in early Welles from The Hearts of Age.
The acting is of a piece with the rest, Charlton Heston's leading performance is very great. The effect is to remind one of Bergman and Josephson setting up shop in their salad days, and beyond that a note of Dreyer.
"Strangers, too?"
Julius Caesar
One director who might have taken notice of the storm etc. in Bradley's film is Peter Brook for both his versions of King Lear (directed by himself with Scofield and by Andrew McCullough for Omnibus with Welles).
The rapid style closes with the camera and opens onto the set, the subtle reading is quietly made a running commentary or objective correlative, Cassius a thing of malice, Brutus and Lucius.
"When they shall see the face of Caesar, they are vanished."
Soldier Field makes a fine setting for a director versed in the paintings of David (the BFI notes this, the location shooting around Chicago, "all this marble creates a far more authentic backdrop" etc.). Bradley pays especial attention to the line that so struck Borges, "how many ages hence shall this our lofty scene be acted over in states unborn and accents yet unknown!" The working theme stands revealed as that of King Lear, the tottering state dashed by girlish minds, worse still, "o judgment, thou art fled to brutish beasts, and men have lost their reason!"
Again, Bradley's $15,000 tragedy will stand comparison with Burge's million-dollar picture two decades later, again featuring Charlton Heston's Mark Antony (he has another discovery here in Jeffrey Hunter as a plebeian), and with Mankiewicz in Hollywood (who might remember the death of Cinna the poet in Suddenly, Last Summer). The BFI is naïve on Cassius and Brutus (not "comfortable") but grasps the genius of the Homeric battle (wherein the director "can deploy only a dozen extras").
Bosley Crowther went to see "the sombre and severe old drama of political intrigue and violence" and found "a conventional and unenlightening reading of the play" but "a resourceful pictorial exercise" (New York Times).
The directorial emphases include "this is not Brutus, friend."
Talk About A Stranger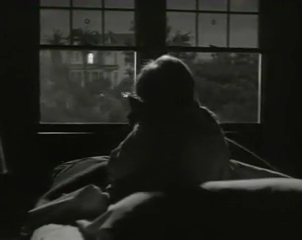 A model for To Kill a Mockingbird (dir. Robert Mulligan) in its opening scene of dark house, Halloween costumes, surprise and flight. The boy's survey of wall calendars certainly reflects the war posters of The Boy with Green Hair (dir. Joseph Losey) in its filming, elsewhere Our Town (dir. Sam Wood) is a mainstay, the influence of The Yearling (dir. Clarence Brown) and The Red Pony (dir. Lewis Milestone) is evident, also The Magnet (dir. Charles Frend) at Dr. Mahler's home on the beach in San Sala.
Godard (Soft and Hard) says a film can be made quite happily with next to nothing, here with top resources is one of the finest, a highly accurate description of childhood that finds its poetry in the accuracy of its expression, in contradistinction to the world of adults, something congruous to Robert Frost at several points. Mulligan mounts a great study with many details exhaustively examined, a film that cannot be surpassed but only compared, as to Pichel's wartime Happy Land, for instance, and his postwar Tomorrow Is Forever.
A tale of the orange and lemon groves around Citrus City in a cold spell, from the author of The Unsuspected (dir. Michael Curtiz) and Don't Bother to Knock (dir. Roy Ward Baker), screenplay Margaret Fitts, cinematography John Alton, score David Buttolph (citing Stravinsky's Shrovetide fair at the dog's entrance).
Leonard Maltin praises the "good use of California orchard locations, well-judged direction, and John Alton". Robert Firsching (All Movie Guide), "flawed but fascinating". Halliwell's Film Guide, "directed for more than its worth."
Dragstrip Riot
The beach movies were born with this work of genius on Malibu Beach, summer before college, convertibles, an irate motorcycle gang, and it's a musical for American-International.
Criticism is next to impossible, the profound understanding of Asher hasn't even begun to be noticed.
To go by Murdoch's TV Guide, "another piece of exploitation from American-International", but that would be a mistake.
The Chicago Reader can't follow the plot, "new kid in town" etc.
The Formula Libre road race couldn't be better in Technicolor. The three's-a-crowd motif is a good analysis of Rebel Without a Cause (dir. Nicholas Ray), undoubtedly the point is a memory of the war, in two parts (The Point is a beachside roadhouse). The leather boys are their own worst enemy, one of "the sports car boys" is blamed, the "all-American boy".
Gramps, whose own son was shot down in the war, finally sees the light, "attaboy, Rick!"
12 to the Moon
A highly complex little allegory of exploration under the International Space Order.
The specific instance cited is Lang's Frau im Mond for gold on the moon (of no interest beside the combustible "Medea stone" that, along with the meteor showers, figures in Haskin's Robinson Crusoe on Mars) among other details.
The dwellers beneath the lunar surface communicate via Chinese pictograms and like cats (Mimi and Rodolfo, from La Bohème) and study lovers (the Swede and the Turk) and discountenance human "evil" and are never seen except perhaps in Juran's First Men in the Moon.
The flash-frozen Earth cannot be warmed even with a hydrogen bomb in Popocatepetl, it's the moondwellers who thaw a bit on reflection and bid the Earthlings "come again".
Many subtleties and varieties of complexity have not been noticed, to be sure, but typically the director is first in his field on such niceties as the first footsteps on the moon (from "Lunar Eagle 1"), the various national types shortly reassembled for Annakin's Those Magnificent Men in Their Flying Machines, etc. The relenting is a major key to Shea's The Monitors.
A certain fondness for cats and aversion to space flight and the death in lunar quicksand of Sir William Rochester are very soon addressed by 007.
The Madmen of Mandoras
The sublime basis of They Saved Hitler's Brain, q.v.
They Saved Hitler's Brain
"I wonder if we're still being followed."
"Isn't everyone?" Bradley's great The Madmen of Mandoras with a new prelude on the death of two C.I.D. agents.
Rupert Murdoch's TV Guide, "one of the all-time worst... nearly unwatchable... unintentional comedy".
Question of a colorless, odorless nerve toxin, G Gas, that knocks down everything for miles and miles and miles, and the antitoxin. The head of the National Socialist Worker's Party still gives orders down in South America for "the conquest of the world." Las Dos Palabras, swinging little joint for a rendezvous. Question of "shaved cats".
Guillermin's House of Cards makes for a useful comparison. The agents are a special study that goes into Fargo's The Enforcer.
Two headless blackshirts enter the bunker where the professor is being interrogated... elsewhere, der Führer, unveiled like Lindsay Anderson's Genesis in Britannia Hospital, blinking like an apparatus. "Does it really give orders?" Some slight resemblance to Paul Winchell is indeed noticeable. "Mach schnell! Mach schnell!" A certain "rat" named David Garrick is part of the picture, he's killed by way of The Man Who Shot Liberty Valance (dir. John Ford), announced by the smoking flashback to 1945. The arrival of the plane is oddly forceful and echoes Riefenstahl's Triumph des Willens.
One of Bobby Watson's sendups is indicated, perhaps The Devil with Hitler (dir. Gordon Douglas).