Dernier atout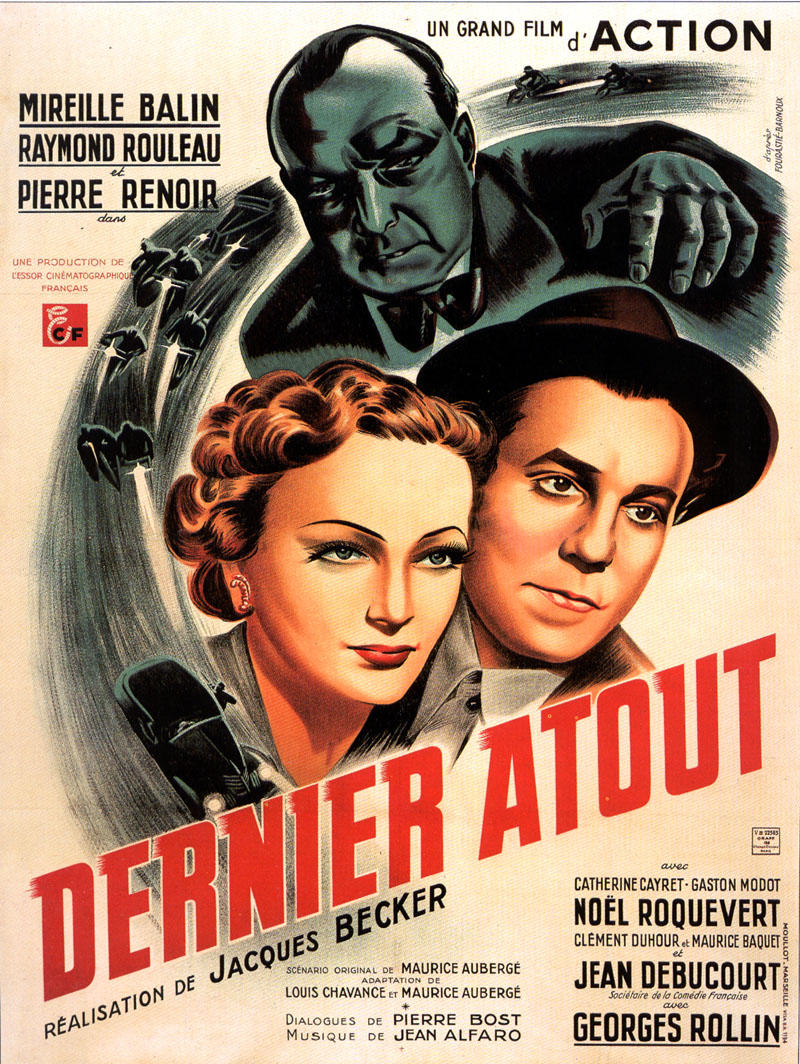 DIPLODOCUS in the crossword puzzle, sound of steady gunfire, target practice, "à CARICAL capitale d'un pays imaginaire", in 1942, the year of a more famous film, Casablanca (dir. Michael Curtiz), the title might be translated Last Trump, not target practice, a shooting match.
Godard (Cahiers du Cinéma) on The Perfect Furlough (dir. Blake Edwards), "rather reminiscent in its furbelows [sc. falbalas] of Becker's in Dernier Atout" (tr. Tom Milne).
The better shot observes, "spirituel comme une baleine," very like a whale. A couple of new arrivals (cp. Les Visiteurs du Soir, dir. Marcel Carné), "votre appartement est retenu." The crime is filmed with the utmost adroitness and later imitated successfully by Bresson (Une Femme douce), he "repeats the experiment" as it were. Scene, Hotel Babylonia. "Un crime de luxe, mon vieux." Detectives of "la brigade spéciale." The house dick thinks madame shot monsieur, not so the police, "faut jamais désespérer."
Public Enemy No. 1, the victim, in the U.S.A., mind you. "Bonjour, policier."
"Bonjour, belle suspecte," her Mickey Finn one ducks and dissembles. The Scarface theme (dir. Howard Hawks), leading visibly toward Touchez Pas au Grisbi. The influence of Huston's The Maltese Falcon is perhaps merely coincidental.
A very amusing pair of policiers, rather like The Super Cops (dir. Gordon Parks) or Freebie and the Bean (dir. Richard Rush), "pas ici, parce que c'est sinistre."
"Où ça?"
"Où ça? Au ciel!"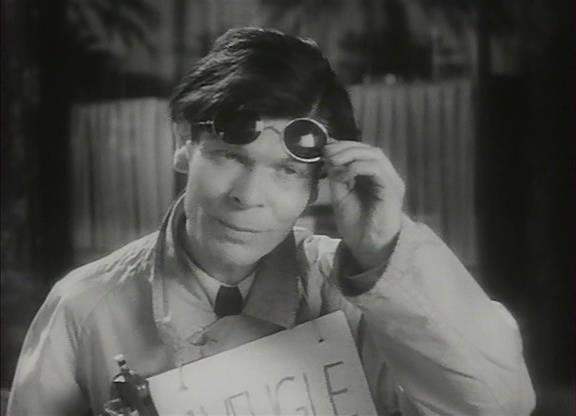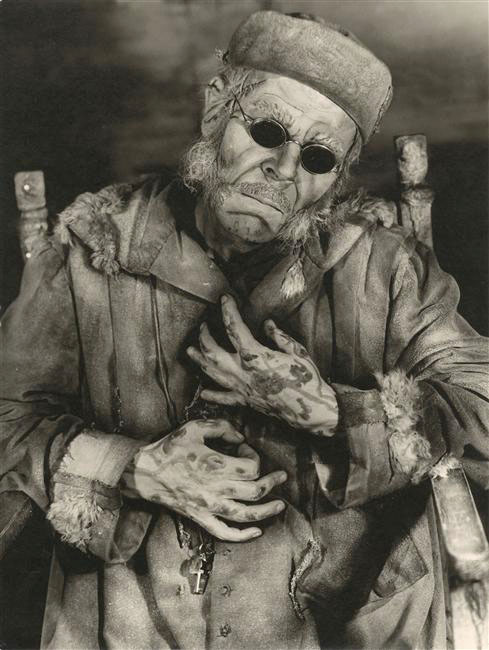 Roger Blin undercover, before Endgame, "histoire épouvantable!" Truffaut on Bogart, "the man at the microphone: 'Hello! Hello! calling all cars...'" the gag is from Hitchcock's Foreign Correspondent and elsewhere.
Goupi Mains Rouges
The foppish oppidan (he is Goupi Monsieur) returns in Delannoy's Maigret et l'affaire Saint-Fiacre, and this tells of a lady's murder as well, Goupi Tisane, all the Goupis have nicknames.
You can tell it was filmed under the Occupation, but you can't tell it much.
The title character's ruddy mitts...
A fucking riot as the English say, quietly.
"I went to Paris once myself, in 1931, during the Colonial Exposition. What a marvel!"
"The Colonial Exposition?"
"No, no, Paris, Paris."
M-G-M released this as It Happened at the Inn, subtitled. Bosley Crowther of the New York Times enjoyed it just before Christmas of 1945, "a truly crackpot fable."
In latter-day Chicago, a "noirish melodrama" (J.R. Jones, Chicago Reader). Likewise London, "bracingly mean-spirited" (Time Out).
And what is the meaning of this great work, the wisdom of the countryside? Same as Casablanca, "five centimes is a sou," same as Einstein.
"Sententious", said Goupi Crow Bait.
Falbalas
The Paris fashion designer (Raymond Rouleau) and the textile manufacturer's fiancée (Micheline Presle), a furious, brilliant comedy to begin with.
Les Parisiennes surtout, just after the Liberation, fresh from various newsreels.
The manufacturer is one Rousseau. Becker might have Lloyd Bacon's Footlight Parade in mind, certainly Cagney for the lead (or Fred Astaire, from William A. Seiter's Roberta), yet there is nothing more parisien de Paris, not even Ernst Lubitsch's Design for Living, for example.
The point is a very rapid style, swift.
The little pony cart from George Cukor's The Philadelphia Story and much else, besides.
What would you say to some Camembert? "Je m'en fous du Camembert!" This last from a jealous model, whose date orders the stuff after she walks out of the restaurant.
The couturier's former mistresses leave original designs in his cabinet, each dated in the war years and never delivered.
Gabrielle Dorziat is the right-hand woman.
"Today is your birthday," says another cast-off.
"What a memory you have," he replies. "In five years you've forgotten nothing."
It all takes a turn, pivots slowly to madness and death.
Becker, dix fois artiste, has the essential distillate of the theme as the man with designs.
Frills in English, Paris Frills.
In Time Out Film Guide, "a novelettish tale".
Antoine et Antoinette
Young married couple, hard-working, beset by bosses, win the lottery.
It's run by a veterans' organization for face wounds, which is to say they lose face every day, more or less.
There's a mixup in a borrowed book, and a dustup with a lecherous grocer (Antoine is knocked out, his unconscious mind tells him what he wants to know).
A singular masterpiece, ten years ahead of the Nouvelle Vague and the New Wave, ten and twenty more ahead of film technique generally, as sometimes happens.
It reminded Bosley Crowther of René Clair, but it isn't René Clair so he was disappointed (New York Times). For Aaron Cutler, "the dream called love" (Village Voice). Halliwell agrees with Crowther exactly.
If it isn't the greatest film ever made, it ought to be.
Richard Brody (The New Yorker) has "a clattery plot... with the blinding heat of erotic passion." Keith Ullich (Time Out New York) has "an evocative line between realism and fantasy." Film4, "enjoyable but slight" (echoing Halliwell's Film Guide, "a bubbly soufflé"), and "frantic antics".
Rendez-vous de Juillet
There is a most careful preparation, handwritten credits shown by hand, and then the sight and sound of Paris, you are there, pan right across it, cut to the interior setting at the studio, c'est comme ça, two shots, a whole film, table set for a semi-formal lunch, daylight in the translucently-curtained windows, valet putting last-minute touches on the place-settings, "comme ça c'est parfait."
Les jeunes gens, in French to be young is strictly from hunger or else la jeunesse is a trove and the rich are sent empty away, to cross the river no bridge in view (cf. Altman's O.C. and Stiggs), what is a diploma from the Institut des Hautes Etudes Cinématographiques beside the works of William Asher projected on a beach blanket, anyhow? Pygmies and rabbit traps at the Musée de l'Homme, acting school, the little theater...
Dave Kehr (Chicago Reader), "the emerging existentialist generation." Time Out, "very thin... rather uncertain." Between Capra's Broadway Bill and his Riding High that opening scene, Dad prefers French cigarettes ("Ask Dad, he knows"). The audience at the play's "not the thing but the effect it produces." Diabolus in musica, tonic.
An expedition to the Congo (Time Out says the "aspiring ethnologist is a fatally humourless and disagreeable hero," a fatally humourless and disagreeable misprision). Film4, "an interesting portrait of the period." Hal Erickson (Rovi), "has been credited as the first postwar European film to accurately depict the Continental 'youth culture.'"
And so forth. It gives Fellini an idea or two, observe our hero at the party, between Pythagoras and Rouault. Question of The Last Metro, yet. "Allo! A l'eau!"
A million perfectly-rendered observations, the director and cameraman stumbling through darkness in search of the "auteur dramatique", for example, because in the last analysis the subject is film production. "Alors c'était ça?"
Halliwell's Film Guide, "highly likeable..."
"C'est formidable!"
Edouard et Caroline
Le jeune artiste et le monde. Truffaut (Tirez sur le pianiste) identifies the plain terms in which Becker sets forth his arguments, "pretexts as slight as a lottery ticket or a dinner jacket..." a particularly intensive little study of young marrieds at home sets off this jewel, which might be a Guitry or a Stroheim, practically, or a Preminger (The Moon Is Blue).
A magnificent comedy, entre Denges (Pagnol's La Femme du boulanger) et Denezy (Resnais' L'Année Dernière à Marienbad). The gradual evocation of a soirée is magnified in Fellini's La dolce vita and Tati's Playtime.
An appointment on the Rue de Berri.
A.W. of the New York Times found it "much ado about very little," to coin a phrase. Halliwell's Film Guide, "slight, charming comedy" (citing the Sunday Times on "weighty trivialities" and "a world of enchantment").
Casque d'Or
The key to this otherwise obscure masterpiece is the very obscure casting of Gaston Modot in the role of an old veteran, for this is the soldier's death in slow-motion, an obscure gentleman who kills and dies for a certain someone who here is made to observe his death.
The mechanism of the screenplay, since we must pay attention to such amenities, has him simply brave and very heroic and finally determined in what is, with Becker, a tale of Paris scum, but for the soldier.
Pauline Kael made herself an ass over it in The New Yorker, missing the point as always, but that is no matter (so did H.H.T. of the New York Times, but that is neither here nor there).
"But Becker's best film, the one in which he rises above his own limitations, is Casque d'Or, which has unfortunately never been understood in France—a rapid, tragic, powerful film, every instant filled with strength and intelligence" (Truffaut).
Rue de l'Estrapade
From Passy and a view of the Eiffel Tower to the old strappado "near the Pantheon", because her husband is unfaithful, and it will be observed that the 17th-century staircase is Bossuet ("paroles d'étonnement"), a maid's room high up, formerly.
"Only Becker was, and is, French as France... splendid" (Godard).
A great affinity for Sacha Guitry, a considerable influence on Bryan Forbes (The L-Shaped Room), Renoir (and Hollywood) in the background.
The couturier on the Champs-Élysées is by way of Falbalas, the structure is very useful and serves for Away from Her (dir. Sarah Polley) in the fullness of time.
J.R. Jones (Chicago Reader), "good-hearted melodrama".
Hal Erickson (Rovi), "does not quite measure up to its predecessor".
Halliwell's Film Guide, "lightly likeable".
Touchez Pas au Grisbi
"Grisbi" means loot, 96 kilos of gold, stolen at Orly. Max (Jean Gabin) is retiring. The gangsters' world he lives in is settled and refined, squares are out, "tu" says everyone, one goes to bed early. It's as quiet as the office of Spade & Archer at the beginning of The Maltese Falcon.
His partner and old pal Riton (René Dary) loses his head over a dame (Jeanne Moreau), she tells Angelo (Lino Ventura) about the gold, and very quickly there's a war.
Mike Hodges did the best analysis, in Get Carter, whose subject is the European War 1939-45, with particular reference to the Normandy invasion. Touchez Pas au Grisbi is about the fall of France and the Liberation. Someone else wanted the loot, there was a terrible cost, the cops got it after all.
Riton is kidnapped. Max recollects their friendship. A woman telephones, out of the blue, he goes and sees her... Becker invents a variation of Mary Astor and Humphrey Bogart (the "fireplace poker" scene), emphasizing the beauty of it. Afterward, Max resolves to rescue Riton. The other major influence is The Big Sleep.
Never has a director been more conscious of his soundtrack. Every sound, footsteps, cars, cloth, dishes, everything, is precisely recorded at the correct tone, as a point of artistry but also to counteract the allegory ("on the banks of the Nile").
The new English translation calls machine guns "rods," gives "don't sweat it" for "n'insiste," and has Riton say "Take your own bed. I can crash here."
Becker's showgirls include la petite Moreau, avant tout. His gangsters spring from lethargy into furious action. His opening pan under the credits moves along the rooftops of Paris and finally settles on the Moulin Rouge (between Graff and Cyrano), to piano notes and string chords like Home Town Story. Denise Clair is a remarkable likeness of Thelma Ritter as Madame Bouche.
The mysteriousness of signs in Paris streets, Club Mystific (where the girls dance), Hotel Moderna (where Riton lives). "Sacré Max," a tough calls him, after the shootout.
Ali-baba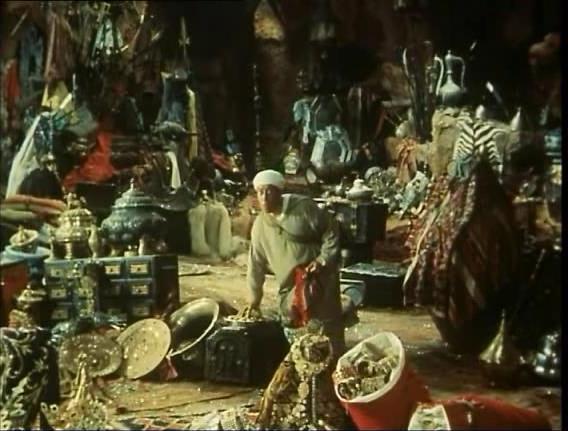 "Comédie-farce en Eastmancolor".
A night in A Thousand Nights and a Night.
On a commission from his master, he buys a girl in the bazaar, not so fat as expressly wished, but fair and more fetching a dancer than his master's jades. The girl is alarmed at patronly advances, Ali-baba allays them with a sleeping potion, how to amuse the girl? With a birdseller's parrot she admired on the way, too steep then at fifteen piasters...
Off he goes on his skittering ass to buy the beast in a real Araby.
The caravan is attacked, Misraki evokes Rimsky-Korsakov, Ali-baba hides in one of the camel baskets and so is carried off with the rest of the plunder.
"Sésame, ouvre-toi!"
The genius of the ages, and the comedy as well (when Ali-baba says, "open, sesame!", the parrot's cage door opens, then the treasure cavern).
For the role, Fernandel with his striking resemblance to Formby and Camus.
Delacroix and Ingres, which of course brings us to Robbe-Grillet's Arabian nights.
Ali-baba, trés riche, buys the girl. The master-that-was horns in.
The forty thieves.
Arab manuscript painters figure throughout and notably in the sumptuous interior of Ali-baba's newly-bought home.
"Pas mal, hein?"
The girl's father puts her on the market again. "C'est encore moi!"
The wedding guests are "peut-être nombreux," they fight each other to the death.
"La vie est douce, hein?"
"30 scènes de ce film sont éditées en relief et en couleurs par les Stéréofilms Bruguière".
Les Aventures d'Arsène Lupin
When Franju made Nuits rouges fifteen years later chez Feuillade, his technique reached the same conclusions as Becker here on his gentleman thief, "une célèbre personnalité parisienne."
"Mille regrets, Monsieur le Président, mais votre Michel Ange est faux!"
The manicurist, her bountiful father.
The German baroness.
The style is, as Truffaut would say, "images d'Épinal".
The gypsy-genius and the gadjo-gadget, Andersen's nightingale.
"Un nouveau fléau," Le Petit Journal announces, "LA LUPINITE".
A new plague, lupinitis.
And that is how the title character came to be kidnapped into the Deutsches Reich by the Kaiser.
A supreme work of genius, sans doute, sans doute, with very grand reference to Renoir (La Grande illusion).
Reden an die deutsche Nation, in her castle boudoir the baroness is reading, the Addresses of Fichte.
Bobby, the Kaiser's black panther, adds a note of Franju surrealism, perhaps.
A work, Lupin explains, of artistic and poetic imagination.
"Donnerwetter," exclaims the Kaiser. "Désolé Majesté... mais vos statistiques sont fausses!"
Die Baronin ist ein Scharfschütze...
Maxim's, "Au cours de la Saison", at midnight... the maharajah.
Truffaut the critic contrived to be bored. "Just compare a photograph of Becker seated at the wheel of his Mercedes with the opening shot of The Adventures of Arsène Lupin and you will see that Robert Lamoureux was his spitting image," Godard says.
Les Amants de Montparnasse
(Montparnasse 19)
The Academy is a rich mistress, exhibiting her nude in a gallery window brings the police and no takers, the American system of distribution is rejected outright.
A shrewd dealer waits for the right moment, watches the artist die and rushes to buy his pictures from the widow.
Godard's remarkable note (Cahiers du Cinéma 83) is cited by Truffaut.
Russell is in accord with that formulation, he reverses the breaking of the gallery window for Savage Messiah, cp. The Doctor's Dilemma (dir. Anthony Asquith).
"Hier... en 1919," Modigliani.
"These things are not explained," Bosley Crowther (New York Times) complained, practically quoting the screenplay.
Le Trou
Madame Gaspard's shotgun comes from Seiter's Sons of the Desert, that is the basis of the lark.
M. Gaspard loves her teenage sister, cause of the row. The girl is a bit of a coquette.
In prison, he falls in with a laborious escape attempt well-described by reviewers. Madame drops the charges, the girl is in England, escape is hours away.
So much attention has been paid to the superfices of the Rififi action, the point has been overlooked.
"A superb film, superbly conceived, written, directed, edited, and mixed" (Truffaut).