Jam Session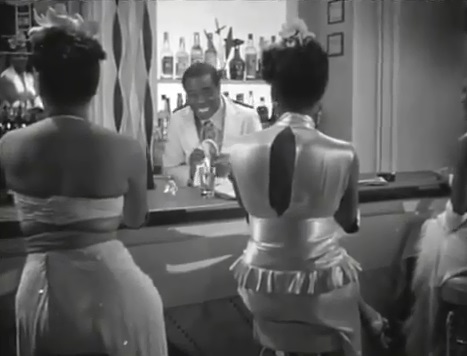 The magazine writer from New York and the hoofer from Waterfall, Kansas (no doubt remembered by Hitchcock in Vertigo) meet at Superba Studio for this very Jam Session eventually, with reference to The Goldwyn Follies (dir. George Marshall) in the studio head (his partner is Mr. Marley "after all these years!") who goes amongst the people, "helps me to keep my finger on the national pulse."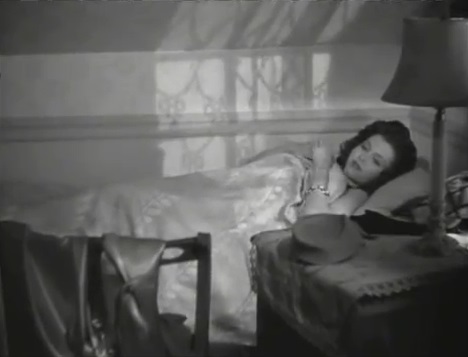 "I see," says he, "a light frothy something. Boy and girl, romance, a little comedy, and lots of music."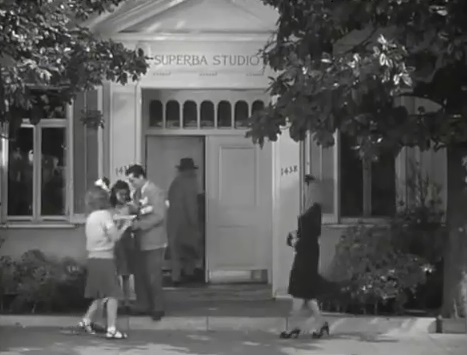 Wartime Hollywood is compared to Washington in its lack of accommodations (cf. George Stevens' The More the Merrier). "Maybe a little music'd cheer ya up."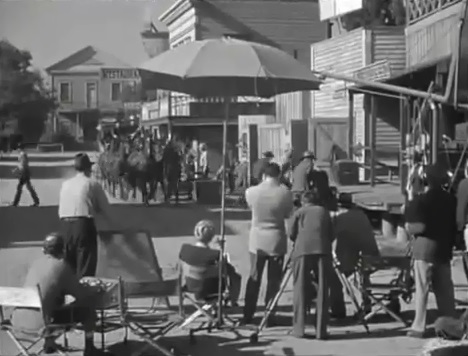 Question of composing "entertainment without problems" around Superba footage of the great bands (no music on the stands as a rule, emulated by Altman in Swing '34), Charlie Barnet (among whose personnel is Ralph Burns, piano, in the forest primeval for "Cherokee" on a Bluebird record played by an agent), Louis Armstrong behind the bar and out in front, Alvino Rey (white tie and steel guitar), Jan Garber (with Helen Englert), Teddy Powell (with Peggy Mann), Glen Gray and his Casa Loma Orchestra ("No Name Jive" at Danceland, where the writer goes for research with his "secretary", the hoofer with a nom de plume) et al., Al ain't here, he's aroun' inna back widda Pied Pipers, "right here on the Moviola."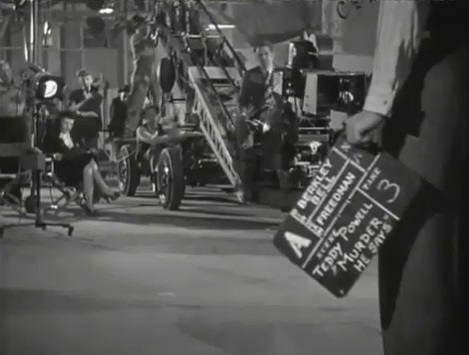 "The human brain is an unpredictable mechanism," says the writer. The studio head's assistant secretary brushes off the hoofer and her letter of introduction from a local "movie critic", the contest winner sees her chance and climbs aboard a stagecoach for a shot. "I've got an office full of blank sheets of paper that keep saying 'write on me, brother, write on me.'" A great picture of Hollywood at work (camera truck, crane for "Mr. Berkley Bell, boss of everything Terpischorean", screening room, editing room, prop room, Mr. Coletti "the best makeup man in town", screen test) and no mistake, the meeting of the minds is a thing of genius (cf. Kazan's The Last Tycoon), it ain't easy, "there are more great dancers in California than oranges, but a competent secretary is hard to find" (cf. Lloyd Bacon's Footlight Parade, from the same screenwriter and two others). "Into the valley of orchestras walked the brave writer—I wonder what size straitjacket I wear."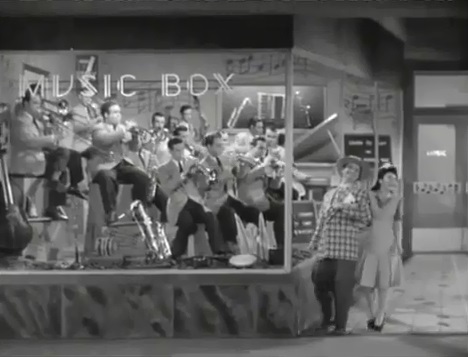 "Could be, I've never taken Hollywood dictation before."
"Authors are all alike, I tell ya, only some weigh more than others." Nan Wynn downtown in "Brazil", where the gold-digging agents come from.
Top musicianship is the sine qua non, top terping as Variety says, top moviemaking. "Complete tour for a dollar, ten famous stars, only ten cents a star." Newspaper headline, "Ocean at Last Yields Its Gold and Its Silver".
The one and only problem is addressed by the women in the war plants and all the Allied soldiers and all the girls back home around the world dancing the "Vict'ry Polka".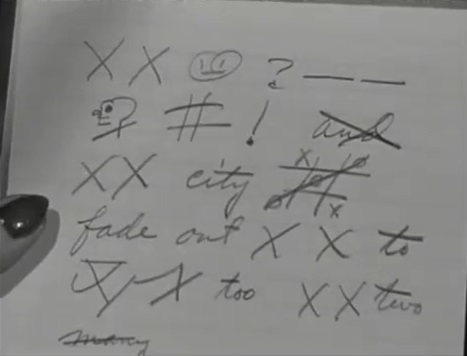 P.P.K. of the New York Times, "painless even to the point of pleasurable." Leonard Maltin, "mild". TV Guide, "just an excuse to allow some swing bands a chance to play." Hal Erickson (All Movie Guide), "brisk".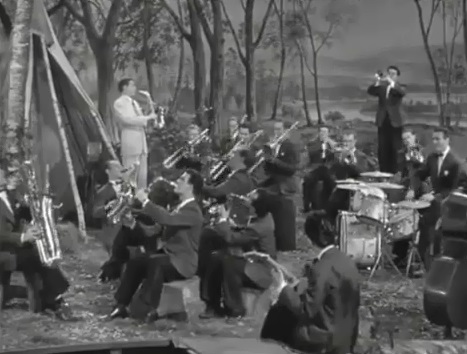 The Noose Hangs High
Gambler A owes bookie, who owes Gambler B. Two window-washers are mistaken for messengers and sent to pick up the dough from A, who's a sore loser. Fleeing his goons, the boys hit on an office mailroom, tuck the money away in an envelope, and mail it to the bookie, who's also a sore loser. It goes astray before it ever leaves the mailroom, the recipient is a matron's personal secretary, who spends the small fortune at once.
Rearranged from a Rogell film, with various numbers and routines served up in a vivid language most expressive. Not logic, as Niels Bohr would say, but thought.
Abbott & Costello Meet Frankenstein
Canonical, ominous, comical and no spoof (cf. Mel Brooks' Dracula: Dead and Loving It). The theme is set forth out of Siodmak's Son of Dracula and Kenton's House of Dracula.
From these considerations, a likely brain is sought for the monster in Florida, a brain less willful, more tractable. Count Dracula has a lady doctor there who has conned the pages of Dr. Frankenstein's book, The Secrets of Life and Death.
The heroes are shipping clerks put wise by Lawrence Talbot, a sympathetic, suffering figure before moonrise. As the Wolf Man, he leaps from a balcony of Dr. Mornay's island castle to seize the fleeing bat that is Count Dracula and plunge with it into the rocky surf below.
Africa Screams
A safari into darkest Abbott & Costello, a far-off cousin of Call Me Bwana (dir. Gordon Douglas), and a voyage back to their roots (or some of them anyway).
There's a West African folk tale known as "Anansi's Fishing Trip", which you may know in a somewhat stiff translation, but looked at more closely it's a very familiar piece of business.
ANANSI: You want me to take these fish and sell them in town?
ANENE: Naturally, and I'll sell whatever we catch tomorrow.
ANANSI: Hah! You must think I'm a complete idiot. You take these fish and sell them in town, and I'll sell all the fish we catch tomorrow.
ANENE: I don't want to cheat you, you want me to take these fish and sell them in town?
A precise, surreal comedy on love and money. A lady wants diamonds, yet pretends to be after big cats and the orangutang gargantua. Cannibals lay diamonds down as bait for greedy hunters.
The true orangutang gargantua or his lesser primate cousin quells the cannibals, keeps the diamonds, builds a skyscraper in New York with his name on it, and hires the greedy fool as his elevator operator.
Frank Buck and Clyde Beatty assist the hunt, Max Baer and Buddy Baer are the lady's Kafkaesque henchmen, suddenly appearing at the book counter of Klopper's Department Store to begin the adventure.
The Roman roots of Abbott & Costello are also seen or suggested in a variant of Shaw's Androcles and the Lion (dir. Chester Erskine, subsequently).
Dance With Me, Henry
Bud and Lou are partners in Kiddyland. Bud plays the horses, he's in to Big Frank for ten grand. Lou takes in strays, two orphans, an old lady, and a dog named Dogface, the Welfare Board is watching him.
The foster daughter, a well-trained soprano, cuts a record of the title song with a local bebopper in Kiddyland's 50¢ recording booth.
A giuoco delle coppie with a second record, Big Frank's confession (bank holdup, dead D.A.). The Guiding Light Orphanage gets a new wing, Big Frank and his gang go to jail.
The furioso plot complications and miniature scale have simply proven to be too much for the critics, who missed Lou sunning himself in the hot light of a third degree, and Bud's remark to a dead mobster he thought for a moment had shot him, "mister, that's the worst aim I've ever seen."
His Highness the Dog
Petticoat Junction
Hamlet, etc., "the most valuable dog in the advertising medium," not bright but looks good reading idiot cards.
The girls' dog takes it on the lam, then fetches the poor rich beast home.
Barton has a lark.