Keep Your Seats, Please!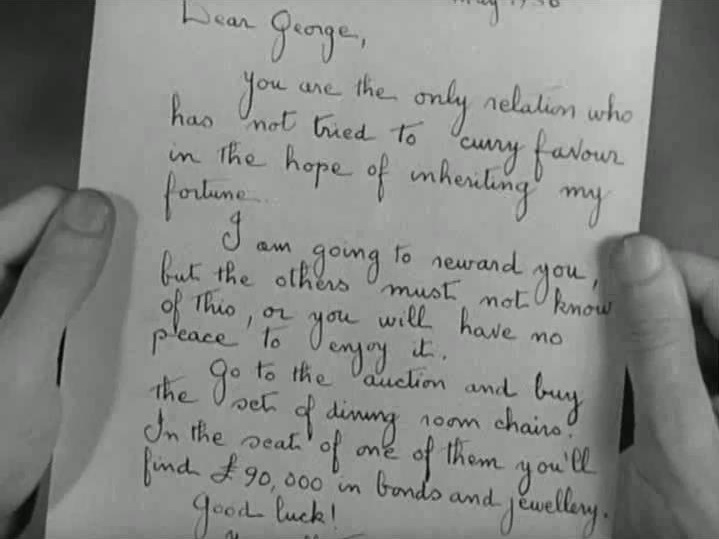 Aunt Georgina's ode to chairs, "and what do we find on the other side of the Atlantic?"
"America?"
"No! The electric chair. And on this side?"
"England?"
"The greatest chair of all! The throne." By Kimmins and Geraghty out of Ilf and Petrov, "the black sheep of the family, acts in a concert party or something," theatrical lodgings in Brixton, no rent money and it's raining. Cp. Confessions of a Window Cleaner (dir. Val Guest), You Must Be Joking! (dir. Michael Winner), The Wrong Box (dir. Bryan Forbes), Lachende Erben (dir. Max Ophüls), and of course Mel Brooks' masterpiece The Twelve Chairs, "I'm not as daft as all that!" Aunt Georgina's chairs are so dispersed by circumstances that one has the devil's own chance of finding the "bonds and jewellery" under the dull behinds of a teacher of Voice Culture with a very jealous husband, a F.R.C.P., Maraskino of the Kings Theatre, the two spinsters, the vicar and the goat, a drunken sailor and his pawnbroker, one step ahead of a solicitor off his own bat. The secondary theme of Baby Binkie goes into Ken Hughes' Chitty Chitty Bang Bang and no mistake. Cf. Richard Wallace's It's in the Bag! "Well, what's the matter with you, it's as broad as it's long, isn't it?"
TV Guide, "entertaining romp". Halliwell's Film Guide, "good".
"George, you're a grand fellow."
"Heh, am I?"
"Yes."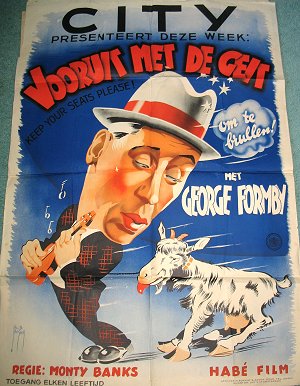 Great Guns
The opening scene tells it all.
Stan the gardener is sitting spread-legged on the lawn, trimming it with manicure scissors and applying a squirt from a hose. Penelope, his pet raven, is perched on his shoulder. Ollie the chauffeur is working under the hood of a car, he emerges in answer to a call and the hood slams down in his absence, he hardly notices.
"Penelope," Stan asks the bird when the postman walks by blowing his, "who's been teaching you to whistle?" The master is a wealthy protected invalid, Penelope flies off with his draft notice and delivers it to him in bed. Ollie and Stan join up to guard his health. He falls in love with a girl loved by the sergeant.
Maneuvers settle a lot of hash. It made no sense to T.M.P. in the New York Times.
An ultimate refinement of the material in Any Old Port (dir. James W. Horne).