Fireman, Save My Child
The double career of "Smokey Joe" Joseph Acumula Grant, star pitcher of the Rosedale Rosies and local fireman, he and his men lose a notable building before he accepts an offer from the St. Louis Cardinals for the money to marry his girl and bring his "fire extinguisher bomb" to fruition.
A couple of teammates unload a gold digger on him (she knows an expensive patent attorney), he shakes her like a bad cold and sells his invention to the Zenith Fire Extinguisher Co. of St. Louis and wins the World Series against New York and, in an honorary big-city battalion chief's hat, gets married.
His voice is like Goofy's, "a guy like I", his great flailing windup is seen advertising small businesses coast-to-coast in this latter day, a hero of the Middle West to whom baseball isn't "serious", his winning run is scored unconscious like Col. Nicholson in David Lean's The Bridge on the River Kwai.
Marcel Varnel's Where's that fire? followed in due course, as Halliwell's Film Guide would say, "thin" is its considered judgment, however. Leonard Maltin, "amusing".
"Five thousand berries," Joe E. Brown joyfully exclaims upon signing the contract, forefather to Steve Martin in Carl Reiner's The Jerk.
42nd Street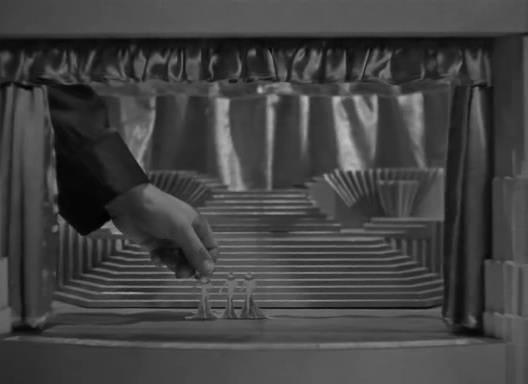 The great film masterpiece on a Depression hit and the making of a star strictly from desperation. Nothing, not even Ken Russell's Savage Messiah, like it for the artist (Warner Baxter) in the throes (cf. Truffaut's La Nuit américaine).
M.H. of the New York Times, "there was a time when spectators were satiated with backstage stuff, but here it is pictured brightly and with a degree of authenticity that makes it diverting," as Max Ophuls notes carefully in Divine ("nor I without you," noted in Kazan's The Last Tycoon). Variety, "as authentic to the initiate as the novitiate."
"So this is Philadelphia," under its Mahatma. Leonard Maltin, "definitive".
"So that's it, is it, you small-town big shot?" Geoff Andrew (Time Out), "a thin and hackneyed affair... mischievous dexterity." Exactly one year later, Hawks' Twentieth Century picks up the note.
Dave Kehr (Chicago Reader), "self-conscious and campy." The Boy Friend (dir. Ken Russell) of course, and famously, but also All About Eve (dir. Joseph L. Mankiewicz). TV Guide, "hard to beat." If truth be told, Serling and Frankenheimer have The Comedian for live television (Playhouse 90). Busby Berkeley. The critics.
Hal Erickson (All Movie Guide), "quintessential". Albee speaks of "swimming in polluted water with sharks," when was it any different? A film with echoes down to Altman's The Company. Halliwell's Film Guide, "archetypal".
Footlight Parade
The burden of musical prologues to the new talking pictures falls on Chester Kent, whose headache clues him in to mass production. There's a spy in his soup, and a cultured floozy, a censor's factotum, thieving partners, the ex-wife, dance directors, hoofers by the score, a tenor in the family business, a brainy assistant who gets her hair done and dances, and a personal secretary binding the wounds.
Big contract, three shows in no time, to beat the copycat competition.
Bacon & Berkeley, unbeatable.
"Dull and turgid," said Andre Sennwald, New York Times.
Brother Orchid
An incredibly funny shaft at the protection racket (Arturo Ui was in it, according to Brecht). The gags and the actors are met by Bacon's swift sure technique, the thing has no gravity beyond what's given it in perfect measure.
The year before Citizen Kane, Little John Sarto is the gull of Europe, his own mob try to rub him out, the Floracian Brothers make him one of their own, tending zinnias.
Class, that's what he's after. His hat check girl owns the joint now with a Western protector who's shy in front of ladies, "you have to feel your way," says she.
A clear case of evolution at work, the sun hits the slime, man walks.
Knute Rockne All American
Nowadays all sport is business, and America sends pros to the Olympics. "The past is a foreign country," where long ago football had to be invented in its various aspects. That's just the sporting side of it, which if it is meaningful has several connotations for academic life in that, properly speaking, there is a certain amount of study and preparation, and a certain amount of creative work as well.
Larceny, Inc.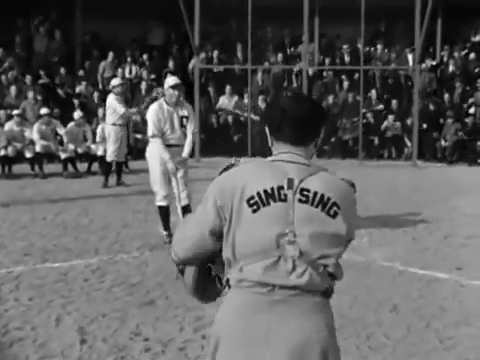 Bacon's baseball (Fireman, Save My Child) and his underworld (Brother Orchid) in a grand summation.
Crime doesn't pay, Sylvia Sidney proves it arithmetically in Fritz Lang's You and Me, anyway the business of America is business, isn't it?
J. Chalmers Maxwell to the world, "Pressure" to his intimates, who can con the pinstripes off a warden. Or say of him, in Sing Sing he plays ball, outside he's ready to play a part in society, costume and everything, "well, the suit was easy, it was the tie that was tough."
"Why, bank loans are the backbone o' the nation!" Collateral for a Florida dog track (cf. Wyler's The Best Years of Our Lives not long afterward), "well, that's the only way you can avail yourself of our funds."
"Brother, that's what you think... knifing business in the back, that's what they're doing, sabotaging American industry!" The subway is straight out of The Mad Miss Manton (dir. Leigh Jason), literally a hole in the ground.
"That hit-and-settle game" at Park Avenue and 57th Street for a down payment on the luggage shop next door to the bank (Spring 1942 premiere).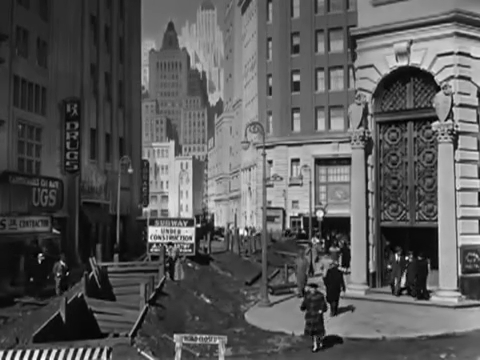 Small Time Crooks (dir. Woody Allen), even to the water pipe "and a very ass-toot businessman, too." From funny, Bacon is the whole hog. Business on Sixth Avenue is dying with the construction and turns to Pressure (cf. Bolognini's Arabella), a sort of would-be son-in-law in the industry wants to help the shop "zoom"... a comedy of the drug store counter and the barber shop, Main Street, "you should have been a senator!"
"Senator? Governor!" It's the sort-of daughter's idea to take up her suitor's offer and "keep that store busy every minute." The screenwriters, working from a Perelman play, put everything but everything in it.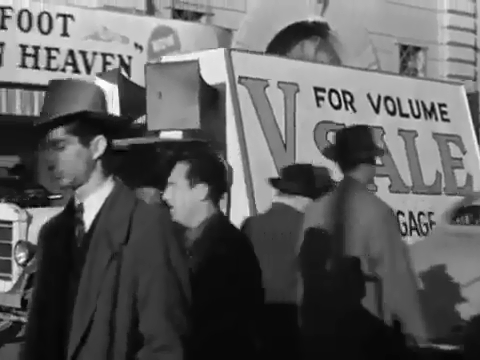 Dassin (Rififi) and his imitators remember the exploit, Becker (Le Trou) among them. A truly monstrous film in its picture of the times, but c'est la guerre. The initiator of the scheme breaks out to see it through, there's genius for you, "why, you guys couldn't steal a towel out of a hotel without my help." A deeply-studied film down the years, repaying every attention (cf. for example the ending of Raoul Lévy's The Defector). Homage to The Three Stooges (cf. John Ford's Up the River).
Bosley Crowther of the New York Times blamed the Perelmans, "it is somewhat forced, somewhat obvious and there are repetitious stretches here and there. Also the dialogue is not quite as brisk and clever as such farce dialogue should be. But the characters are whimsically assorted and generally well played". Leonard Maltin, "hilarious little comedy". Sandra Brennan (All Movie Guide), "parody of gangster flicks". Halliwell's Film Guide, "tepid comedy-drama".
Action in the North Atlantic
The officers and crew of the freighter Northern Star, torpedoed, sunk and rammed in their lifeboat, join the U.S. Merchant Marine on convoy duty in a well-armed Liberty ship bound for Murmansk.
That is the plain facts, the filming is incredibly elaborate, far beyond most efforts in this direction, above and beyond most films in general.
The directorial imperative takes precedence even over a cast such as this, no mean feat but a wartime exigency.
Bacon comes out of it with war supplies for the Russian ally and a long trip home contemplated in weariness.
The Fighting Sullivans
The principal reason is a historical one, but these are Rockne's Four Horsemen, or rather Five, in their offensive, spiritual materialization.
The ordinary things, the poetry of the backyard, the clothesline, breakfast table, dinner table, reading the Sunday funnies on the living room floor, the dog, adventures and escapades, the girl you marry, first child, all that and a hundred other things.
The Jap attack, enlistment, the Juneau, the Solomons, USS The Sullivans.
Miss Grant Takes Richmond
The other front office stunt, a receptionist who can't type or anything and too dumb to find out the real estate firm is a bookie joint.
Newlyweds and families are clamoring for low-cost housing, they get the brush, she perseveres on their behalf.
A thoroughgoing exposé of the building rackets generally, or how the postwar housing crunch was solved.
Ball at her best, Holden brilliant, Gleason and McHugh very dapper.
The Frogmen
After Iwo Jima, UDT men with a new commander.
Reconnaissance and obstacle-clearing.
The last mission is submarine pens near the home islands.
Admiring critics could not follow the plot, called it germane in an unnecessary way, and missed the point.
The jocular skipper late lamented left a portraitist among them, the "blue eyes" and "granite chin" cannot be captured but by determined effort, and so... "stress is on realism... story line is slight and rather commonplace" (Variety), which is the slight and rather commonplace realism of the philistine who thinks a work of art is very easy.