Oh! What a Lovely War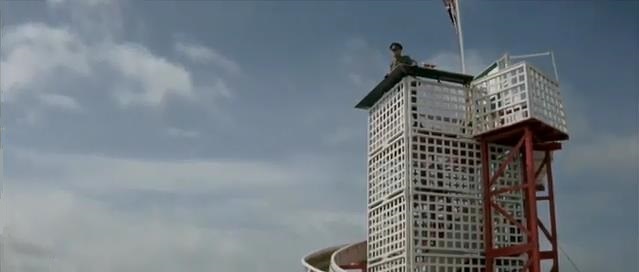 The experience of war poets, one of whom is represented, shows a vast incompetence laid at the feet of the General Staff here, and most particularly Sir Douglas Haig, with the tacit compliance of Lloyd George in the "war of attrition" left to account for grand strategy that accomplished nothing. In his next film, Attenborough shows Kitchener dropping Lieutenant Churchill's book in the rubbish.
At the beginning and the end, the powers (an Austrian design upon Serbia is the motus).
The British holocaust in World War One, its name is up in lights.
A specific war drama, most specific, comprehensively grasped by Variety at once, it seems, while Canby (who tells us the Broadway show was nothing like this) was off-put and dubious of it by dint of the "contemporary" dilemma.
Later critics have followed this split, so that the film is more fully understood by some and not at all by others.
The title sequence gives the form, a direct slide from proper politics and social ebullience into Flanders fields, as at Brighton.
Vincent Canby of the New York Times, "a big, elaborate, sometimes realistic film whose elephantine physical proportions and often brilliant all-star cast simply overwhelm the material with a surfeit of good intentions." Roger Ebert (Chicago Sun-Times), "the war as a British music hall review." Variety, "can be labelled with such debased showbiz verbal coinage as fabulous, sensational, stupendous, etc. It also happens to be dedicated, exhilarating, shrewd, mocking, funny, emotional, witty, poignant and technically brilliant." Time Out, "lots of contemporary songs." TV Guide, "not a flawless film but is thoughtful and enthralling." Catholic News Service Media Review Office, "ambitious but largely successful". Hal Erickson (Rovi), "an every-man-for-himself adaptation".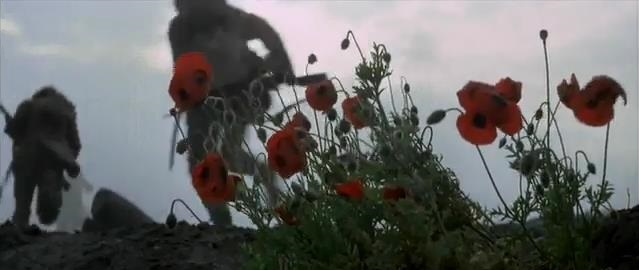 Young Winston
A round joke on the Prime Minister, delivered in the very best of styles, and that is saying nothing.
Except that he was a genius of sorts, by his own account, modest enough as these things go.
A biography as fine as any, a peerless film, except that the British were at this time making such films.
Variety is correct, "a brilliant artistic achievement and a fascinating, highly enjoyable film," adding effervescently, "a combination not always obtained."
Ebert was on the side of the offscreen press interlocutors in this film (onscreen in Chaplin) who wanted "the human being behind the historical façade".
Canby went rather balmy, describing it as "a movie for selected Tories—those who don't go to movies much."
And this also was the fate of other British film biographies at this time, critically speaking.
Time Out Film Guide is quite gaga on it, "a frightfully Boering biopic".
A Bridge Too Far
A mile away, which suggests Frend's Scott of the Antarctic.
The Longest Day is often brought in as a comparison, but note that here only the operational leaders are seen, not the brass at SHAEF.
A succession of images, Eindhoven-Nijmegen-Arnhem, Operation Market Garden.
The central sequence is a short masterpiece in its own right, the American sergeant who has "guaranteed" his captain against death.
The final image of a Dutch home turned into a lazaret and graveyard leads to the departure of its occupants across the screen in a long shot taken from Jewison's Fiddler on the Roof.
Critics were unanimously overwhelmed by the scale of incident and filming.
Magic
Ah, tricks, they're explained, you prepare them beforehand.
The art of the ventriloquist-magician is more than a talent agency (even William Morris), more than her husband (James Dean in his youth), more than the artist, who kills himself to leave behind a plaything for his high school crush, a wooden heart.
That's Magic, though critics have always thought it's quite something else, about a deranged puppet.
Attenborough's direction is truly extraordinary in its two grand displays of virtuosity, a seamless and imperturbable scenic construction, if one may say so, that affords a multivalency of all the images.
It takes things in its stride, "Gangrene" the agent ("that's why they call me The Postman, I always deliver") and Peggy Ann Snow the girl and Duke the husband get full measure and then some, not to mention Corky Withers the nervous performer whose dummy is Fats, a wag.
Gandhi
The first part of a satirical trilogy whose middle term is Cry Freedom, it ends in Grey Owl.
Attenborough's subjects are not mocked, but a certain mystique appertaining to them, and this we ascribe to the counterculture.
The magnificent technique has been noted, what are described as excusable or damning flaws in the telling are the missing element from all reviews, the satire.
So it will be noted that this is not an answer to Cukor's Bhowani Junction, nor anything to do with David Lean, but Attenborough's unique deadpan view of great events in the mind of men.
Another trilogy might be discerned, Young Winston followed by Chaplin and finally Shadowlands, where the figure of C.S. Lewis is evidently not a portrait.
A Chorus Line
They say Hair killed the Broadway show, the corpse is still Jazzercizing around the chairs in elimination rounds, Glengarry Glen Ross and La Cage aux Folles and Hurlyburly are right down the street.
The choreographer is like Nurse Diesel whipping out the fruit cup of fame or withholding it. If you wanted Phil Donahue scored by Marvin Hamlisch, you got it, sung with power, powersung.
Andrew Lloyd Webber, eat your whatever out.
Many, many, many, many, many tickets were sold, we're told, and it won the Tony and the Pulitzer, too.
Fosse and Fame go up the flume alike. Oh, Calcutta! in motley rehearsal togs, bared breasts and bare stage.
It's the sort of thing that gives dullness a good name, and maybe even a national tour.
That infinitely hollow triumph of showfolks, artistically the equivalent of dancing in the shower.
And then there's the joke about the arranger who went a bridge too far.
Those Springtime for Hitler auditions.
Very cleanly directed by Attenborough (screenplay by Arnold Schulman). Critics thought (Ebert didn't) it was better on Broadway, where (Canby says) there was a certain "implication".
Cry Freedom
Facts in the matter of Steven Biko brought to light by extraordinary circumstances. The material is treated as a primary document, a simple report. Biko might be this, that or anything. His death in police custody is not absolutely unequivocal. The subsequent "banning" of a newspaper editor provides the essential corroboration.
So for the form, the structure is the editor's personal account of his acquaintance with Biko, his tangles with the law, and the necessity of leaving South Africa to publish his book.
Critics generally disagreed with this structure and form, preferring to see a film called Biko.
The technique is to fragment the material in single notes that draw their meaning from the rest, not unlike Dmytryk's Back to Bataan. This is a characteristic of Attenborough's style, it sustains a great deal of discourse and meaning without any difficulty.
The liberal editor, beguiling Biko, throngs at Soweto casting off Afrikaans (schoolchildren ruthlessly murdered), a great hallucination.
Chaplin
Chaplin in the hands of his biographers, two points tending toward the work.
This makes for a film that is fundamentally half-assed for this purpose, to see the life (by Attenborough's art) and the Life at odds somehow.
A major work of art, to be sure, on a great artist in the decline of biography. Attenborough addresses himself to the problem between Fellini's Intervista and Harris' Pollock.
This meant nothing to the critics, absolutely nothing.
It is to be remarked how steadily the film advances toward its revelation of Oscar clips, less and less of the obtruding nonsense, more and more of the real Chaplin, as the point draws near.
Edgar Allan Poe is not so much thought of lately as deranged, and Shakespeare hardly ever as a poacher.
Shadowlands
Nary a critic has divined that this is mainly Goodbye, Mr. Chips, though many have noticed it also makes one weep. Losey's Accident, of which John Simon observed that it is "meaningless", actually provides the inner structure.
It gets to the lacrimae rerum, Baudelaire's nobility of which Mallarmé was so careful, by way of Cocteau's Orphée and other things it is not, Pollack's The Way We Were, for example, and the wedding of Sherlock Holmes, nor Ted Hughes and Sylvia Plath, and a satire of Oxford, which it partly is anyway by dint of exactitude, and so forth.
It is extremely refined and perhaps badly made expressly to get at the thing itself, which is another way of calling a spade a spade, except that there isn't another way.
No more can be asked of any motion picture, the fine performances have all been noted in reviews.
To give an idea of the extremely intricate nature of the workings would be very difficult, the title is one key. It's where the grass isn't greener, that Herefordshire valley in a nursery picture was Heaven all unseen when Mummy died and the light went out, Mrs. Lewis takes him there, a place misnamed from the Welsh, and so on, she dies, the fictional feisty C.S. Lewis takes care of her son.
"That's what they come here for, the ritual."
In Love and War
If you were to remove Hemingway's art from A Farewell to Arms, as an experiment, say, you would have Forrest Gump.
That is probably overstated, but the humor remains. Some effort was required to overcome the natural tendency of the material to resist such treatment, but that's the gusto and dedication of it.
Grey Owl
The phony half-breed from Hastings, who lived in the wild as an Ojibway and eventually wrote and lectured as a crusader for Canadian beaver, "The Modern Hiawatha".
Attenborough's sendups are always built on his proper technique, a dry porous sand that does not impede the action.
Herzog's Grizzly Man takes up the note, an openhandedness of stark incredulity.
George Fenton's fake music is the imitation maple syrup over it all.
Critics took it at face value and were, how should one say it? Disappointed.