Give My Regrets to Broadway
McCloud
The butler's name is Smight, because the script pays a great debt of homage to Harper.
Det. Harrington (Arthur Frantz) is murdered while taking McCloud's shift (the marshal wants to watch the playoffs on TV with Chris, who doesn't care for basketball). But it's no mistake, Harrington was investigating Malcolm Garnett (Milton Berle), who's producing Those Frolicking Forties on Broadway, with Harrington's daughter (Lane Bradbury) in the cast. Garnett has bilked the late Mr. Blanchard out of two million dollars, and the widow (Barbara Rush) needs the money to support her expensive tastes, including an athletic young artist (Jeffrey Pomerantz) who killed Det. Harrington at her bidding so as to force McCloud into reopening the unconcluded bunco case.
This whirling constellation is the essential situation, and Antonio is on for the ride. A striking image is produced by the "Boogie-Woogie GI Joe" dance number in rehearsal togs. Garnett's speech to the players is a small masterpiece in itself. "Wrong," he begins, interrupting the rehearsal, "wrong wrong wrong wrong wrong! This is nostalgia! Not parody! It's not burlesque, not camp! It's whimsy!" He elaborates. "Simple years, clean years! World War Two! A war with a heart! A war everybody could understand! This is a war you came out of the theater whistling from!" He expands. "America was clean and unpolluted! We were wonderful! Everybody liked us then!" He concludes. "What I am trying to say is, to make this look sincere," finally, "and make it look simple!" To McCloud, he describes his cast as "my sabotage group here."
A more amazing image yet is Rush up to her chin in a steam unit and sipping champagne from a glass held to her lips by McCloud. Dennis Weaver sings "Another Way" as the remorse-stricken marshal wanders the streets of New York following Harrington's murder. Later, he finds the detective had blackmailed Garnett into hiring his innocent daughter to star in the show.
All of this and a very funny cocktail party, at which frail and elderly Leonard (Arthur Malet) describes the new exercise regimen his young and lusty wife Susan (Barbara Rhoades) has him on ("he's everything I've always wanted in a man"), and McCloud tells the story of Dirty Dave's unusual daughter memorably peering down the barrel of a Winchester one hot day out amongst the cottonwoods and the mesquite, are accurately and briskly given under Antonio's direction.
To Steal a King
Banacek
A collection of rare coins is lifted by placing the owner in a hotel suite above his own and identical to it, while he sleeps the sleep of the drugged.
This is extraordinary enough, coming by way of Chaucer and Shakespeare, but two rival collectors try to cajole and intimidate Banacek into selling them the coins. "There's an old Polish proverb," he tells them, "that says, 'A wolf that takes a peasant to supper probably won't need any breakfast.'"
"You're not a peasant," they counter.
Showdown at the End of the World
McCloud
An ambitious junior executive in the mob uses fashion models to transport heroin into New York. This apocalyptic vision concludes at the site of the 1964 World's Fair.
The mob represented here puts likely prospects through college, builds (or anyway contemplates) shopping plazas, and keeps models at considerable expense in clothing, publicity and apartments.
The numbers on McCloud's lapels are explained, that's his badge number, 33.
As the adventure begins, somewhere between Friedkin's The French Connection and Nabokov's "Ode to a Model", McCloud and Sgt. Broadhurst are on stakeout at the airport, where cleanup crews are offloading Paris heroin.
It's a particular model the Marshal is after, but he rescues the wrong one on a runaway horse in Central Park during the shooting of a commercial. This is Jackie Rogers (Jaclyn Smith), who later is seen at the North Pole in a snowstorm selling perfume, until the camera pulls back and reveals it's another commercial being filmed downtown amid traffic.
McCloud is asleep, she's gone to Paris, he wakes to the sound of her voice, "did you miss me? I'm back," it's his television set, an aftershave commercial (she's coming toward him in slow motion).
Michael Dominick (Bradford Dillman), is running the operation. His dream is a shopping plaza with moving sidewalks. It's expensive, however, and what with the heat from McCloud, the project is nixed by big boss Montello (Lee J. Cobb), who tells Dominick, "I like people to move, and sidewalks to stay still."
The upper echelons of legitimacy are provided by a front company, Securitel, which runs Interaction Security, which owns the commercial film unit that in turn operates rental properties housing the models, all under the ægis of Summit Enterprises.
Antonio achieves a coup as the model calls her boss and is seen in profile, badly lit to find whatever flaws could be found in Jaclyn Smith's face, then he pans left to her reflection in the base of a table lamp, distorted.
The Solid Gold Swingers
McCloud
While answering a high-rise apartment burglary call, McCloud stumbles on a body, which then disappears. The case leads to a VIP madam under indictment, whose girls are apparently being murdered by a serial killer.
Michael Gleason's script is characterized not by independent strands (as often the case with McCloud) but shifting perspectives controlled by the overriding mystery.
McCloud's lead is a British interior decorator who turns out to be a paid escort from Philadelphia who's really a hooker from the Bronx. "Maybe next time," she says, "I'll try the Virgin Islands."
Karen Chandler, the madam, expresses the theme, "I spent my life scrambling to get off these streets, and just when I've got it made they're trying to take it away from me." She's also blackmailing several notable clients, including a senator, a television star and a football player, for sizeable sums.
The murderer is a traveling salesman who turns out to be a serial killer and drug addict who's really a hit man. He lives on Long Island in a comfortable suburban home with his wife and two children, "how horrible the city is," he tells them. His dream is to "get away" to Duchess County. He suffers from chronic headaches, for which he takes a morphine powder obtained in Chinatown. He's being paid through a detective in the D.A. Squad, who's on the madam's pad.
The key is a charming joke on Dante's famous courtesan Thaïs, "digitalis leaf" is supposed to induce a semblance of death that only a doctor can diagnose correctly.
Antonio's direction pays significant attention to rhythm and tempo in the editing (two editors worked on The Solid Gold Swingers), and there is a large amount of location footage, culminating in a genuine feeling of New York.
The Kirkoff Case
The Rockford Files
The plight of the modern businessman is depicted surrealistically à la Chandler, in two tableaus, with Rockford standing in for the man whose death he's investigating.
The wife has a gigolo she plans to enrich by divorce.
Negotiating with the union is like hiring a thug to kill your wife.
The final image is the son redecorating, he has murdered his father for killing his mother.
Antonio has a special virtuosity in these scenes, like a long conversation from a camera car slowly ascending to Pacific Coast Highway from the beach as Rockford walks alongside a red Mercedes convertible with his trout rod in his hand.
The Man with the Golden Hat
McCloud
Or, how a genius pays his debts, one of television's finest creations, leading from a superb incipit through a string of red herrings to a magnificent, rarefied conclusion of pure genius.
Hank, a pool-playing bank computer expert (Mills Watson) pursued, who secretes a slip of paper in McCloud's hat (or does he?). Attempts to purloin the hat. A prima ballerina (Jaclyn Smith) of doubtful loyalties. A ballet master (Don Ameche) denied a grant because of his Diaghilevian propensities for personal expenditure. The ballet company's attorney (Robert Webber) pulling various strings. A representative of the foundation (Roger C. Carmel) in on the plot, likewise a bank security guard (Rick Weaver), and a foundation security officer (Philip Carey) tracking them all down, or is he?
The plot and its Balanchine dichotomy are concealed and slowly broached with the greatest skill. At the end you have a sort of Mozartean exposition of the artist set up against the criteria of philanthropy.
Antonio takes care to point up certain matters. The ballet scenes (featuring the San Francisco Ballet under the direction of Christensen/Smuin, choreography by Balanchine and Christensen) are filmed with an eight-point star diffraction filter, and a four-point filter is used when McCloud takes the ballerina out dancing for the first time at The Daffodil Club (where McCloud interviews Hank's muse Linda, a blonde hostess with a red Corvette). Later, on the darkened stage of the ballet, McCloud strikes several matches to see by, and Ben Colman demonstrates the range of his lighting.
Love, Honor and Swindle
McMillan & Wife
It seems that Mac's sister is engaged to a con man out to diddle a mining company. Peter S. Fischer and Antonio gear this up rapidly in a sequence like Macbeth's "line stretching out to the crack of doom." First, the counterfeiter Pablo Xavier is killed, then the Interpol agent Mirabushi's death is described, then a black reporter questions Mac about some unseen protesters, then Megan's fiancé Randy is seen hawking his country club scheme to the Trans-Alaska Mining Corporation.
TAMCO is under surveillance, suspected of operating a Ponzi scheme using mostly foreign money to "re-open" gold mines it never does. Randy and his cohorts have a copper mine swindle to work on the company, which in turn is about to put phony bearer bonds on the market.
As the burlesque comedian Luther Dorfman observes, "when you're as old as I am, you learn to recognize a certain aroma. It's called the essence of fertilizer."
The complexities of the financial arrangement and various flim-flams make up the better part of the construction. Antonio's gift for filming action scenes is revealed at the end in a mad dash for the briefcase full of bonds worthless as anything but evidence.
Roundabout
The Rockford Files
The mob sign a girl to perform in a Vegas lounge, pay her more money than she's ever seen but keep the vastly greater share of her salary in a private account under her name, about which she knows nothing, thus laundering a small fortune. Rockford has the job of delivering her modest inheritance on behalf of an insurance company.
Antonio directs this on location authoritatively in straight, direct lines, often very effectively with a long lens. He tilts up from the base of Hoover Dam to show the distance covered by a chase on foot through its innards.
Rockford gets the mobster's real ledgers, rescues the girl (who's kept under wraps in a fleabag called the Monarch Hotel) and sees her signed to a new contract with a Japanese firm buying into the record company formerly used as a front by the mobster, a funnel of cash. "Buzz off," she says when Rockford counsels caution.
Fire!
McCloud
George Gaynes, who speaks very good French, plays a stockbroker who helps out his clients by running an arson ring enabling them to collect on insurance from the buildings they own.
His best client is Jason Carter (Robert Reed), an architect and speculator who just happens to own the building Chris Coughlin lives in. We see him in the stairwell, consulting with an expert arsonist (Robert Weaver).
There follows a pretty picture of the pro at work igniting a fast-moving fire that looks to all the world and the NYFD arson squad like an electrical fire caused by faulty wiring.
The fire is intensely filmed, with hair-singeing gags.
Carter's ex-mistress, a fashion photographer, confronts him and is found "face-down in a vat of developer solution."
McCloud assumes the role of an Albuquerque businessman, Jake Porter. The real Porter feels "flattered." He's to be portrayed as a colorful character. "Colorful," he says, "wow." Beautiful exteriors of Albuquerque belie the rather dismal city of today, but of what city can that not be said?
The establishing shot of a skyscraper is utilized by Antonio to exalt his theme, as dazzling shots preface each scene.
Later, McCloud again appears in mufti as Lonny Springer, a "top flame" from Texas and New Mexico.
At the end, the leading figures in what McCloud describes as "the top arson ring in the country" are playing cards at the Arthurian Club when the last call comes. McCloud pursues them across town in the only available transport, Fire Engine No. 3.
The script is a meticulous, tight construction allowed to breathe at points by McCloud's "wild surmise".
Foul on the First Play
The Rockford Files
The fix is in on a new sports franchise and as a result there's no game in town.
Actually a classic Chandler or Hammett game is afoot. It starts with a small bit of unpleasantness, a visit from Rockford's parole officer, Marcus Hayes. A great many lies, innuendos and frayed knuckles later, the athletics commissioner is taken out of the game, as it were, permanently.
Stephen J. Cannell takes the story by Dorothy Bailey and Chas. Floyd Johnson to a surpassing level of comic finish, superbly directed by Antonio.
Thirteen at Dinner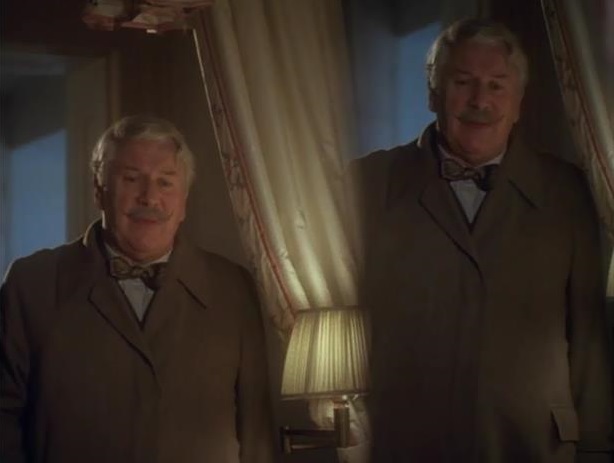 Death of Lord Edgeware, pronounced by Poirot "Hedgeware".
Death of an impressionist well-known for her Lady Hedgeware, the blonde American actress who pronounces the Belgian detective's name "Her Cool".
Poirot's fictional counterpart, played by Her Ladyship's leading man with a stunt double. "If only we had British actors like you," says the director after a gag scene on location. "Well," the American film star replies, "someday."
"Oh, sapristi," says the great Hercule Poirot, "I have been a fool, I have been an imbecile!"
Antonio plays an American producer at a London cocktail party who thinks Poirot has a miniseries in him. "Listen," says the latter taking French leave, "it's a most glamorous occasion, I haven't understood a word since I arrived here."
A great game of doubles and mirrors superbly directed, as when a Steadicam precedes Japp, Poirot and Hastings from the Inspector's office to his car, watches them climb in, and whizzes off beside it.
John Addison score, Neil Hartley producer.
David Parkinson (Radio Times), "glossy, efficient entertainment, with a highly contrived dénouement."