What's Up, Tiger Lily?
Twenty years after the war, "the definitive spy picture" (Gone With the Wind followed the same procedure).
Hardboiled eggs are the main ingredient of the Great Egg Salad, he who has the recipe shall rule the world.
Thus the Axis.
"Sustained reasonably well," thought Variety. "A jolly oddity," says Time Out Film Guide.
Take the Money and Run
A career criminal from infancy to eight centuries behind bars.
A tough environment, a weak nature, a no-good, a punk.
Cellist in the high school marching band, purse-snatcher, petty thief, holdup man, bank robber, a failure in every sphere.
Interviews with family, friends and associates, amidst dramatic scenes of his life.
And if it isn't raining, he'll escape from the penitentiary with a gun made of soap and shoe polish.
Bananas
The principal crop of banana republics, and the substance of their political acumen. The satire follows upon Corman's Creature from the Haunted Sea and Fleischer's Che!, Castro's visit to New York is the great provocation (it figures also in Hitchcock's Topaz). The focus is on his American cult, personified in a girl who leads Fielding Mellish by a course of memorable adventures to head the revolutionary government in San Marcos, which has ousted a fascist dictator whose military coup is covered live by ABC's Wide World of Sports, beginning with the assassination of El Presidente.
The point of departure is the New York or Chicago school of filmmaking. The mode of attack is the style of an independent with the construction of a wit (the budget is the same as Ritchie's Downhill Racer or The Candidate), and all the Marx Brothers rolled into one.
Bananas fulfills the promise of Corman's earlier film (even Last Woman on Earth) and Fleischer's, as a subtle and comprehensive political satire that leaves no stone unturned, for the pleasure of examining what crawls beneath it (cf. René Clair's Le Dernier milliardaire).
The so-called "rudeness" of New Yorkers is explained by the hoodlum assault on the subway, and in the next scene, Mellish calmly helps a fellow park his car by guiding him into a smash.
Someone, incredibly, once asked the writer and director and leading man why it was called Bananas, according to a well-known story.
everything you always wanted to know about sex*
*but were afraid to ask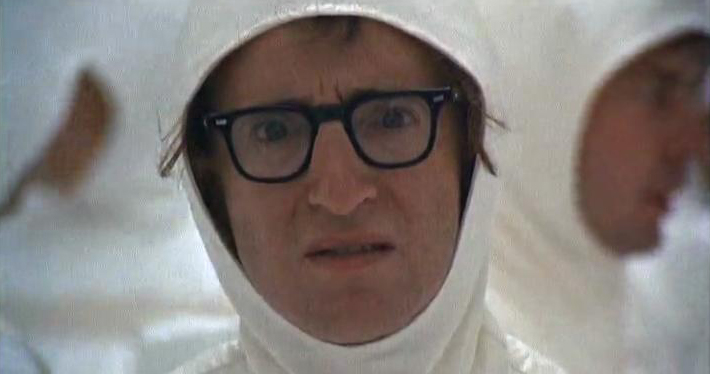 An inspiring set of questions and answers.
do aphrodisiacs work?
Mel Brooks, History of the World: Part I and so forth.
what is sodomy?
Edward Albee, The Goat, or Who Is Sylvia?
why do some women have trouble achieving orgasm?
Paul Mazursky, Scenes from a Mall.
are transvestites homosexuals?
John Cassavetes, A Woman Under the Influence.
what are sex perverts?
Ken Russell, Mahler.
are the findings of doctors and clinics who do sexual research and experiments accurate?
Steven Spielberg, Close Encounters of the Third Kind.
what happens during ejaculation?
George Lucas, Star Wars.
Sleeper
A logical extension of Bananas, even more so, since the point had been missed.
Variety went right along, thinking that Sleeper's ending was "fumbled", again missing the point. Canby thought it was "silly" and "terrific", as a film.
A capitalist technocracy run as a police state by a nose fights Bolshevik "wild animals" abetted by a shnook from the dark dim past of two hundred years ago, 1973.
The filming is very prodigious, and in whiteface as a robot the director resembles Harold Lloyd.
An ass-backward society poetess ("obviously influenced by McKuen") turned revolutionary gunboat and wrong on both counts is the best of all possible worlds.
Love and Death
Everyone knows what it is to be short-sheeted by a political candidate who appears as an angel to promise respite from the regime, here literally represented.
Napoleon, Shmapoleon.
Charles Chaplin, Groucho Marx, Bob Hope.
The loose sword goosing goes into Spaceballs, innumerable borrowings.
A film of immense labors to achieve such little gags, like a joke in Annie Hall.
Annie Hall
Annie Hall is explicitly a defense of New York, not the faux city that takes its literary magazines seriously ("oh, really, I heard that Commentary and Dissent had merged and formed Dysentery"). Alvy Singer personifies New York, Annie (from Chippewa Falls, Wisconsin) the Midwest tending toward the alternative faux sensibility of Los Angeles. This is perceived in cataclysmic terms, associated with The Sorrow and the Pity, but a rapprochement is reached, and that (as well as the structure) is indicated by the two jokes at the beginning and the end ("terrible food and such small portions", "I need the eggs"). New York not in fancy but in fact is the leading city of America, its eggs (such as they are) come from the rest of the country, in return for such light as it reveals.
Annie and Alvy's first drive, "a tad rapidly," parallels the Brooklyn Bridge by day in the background, and later in a romantic rendezvous it's lit up at dusk behind them (compare the bridge visible during the drive "back to the old neighborhood"), the point being that New York is a city of meanings in just the same way Los Angeles is to Cassavetes. The material relating to Chippewa Falls and L.A. in Annie Hall is figurative, the work (like many of Allen's films) appears to be casually made up of incidental materials on the surface but reveals a great artifice and a representation looked at more clearly.
Duane driving (with a track-left to his passengers) comes from La Règle du jeu.
Interiors
The two modalities are Whistler and Morandi for Eve (Geraldine Page) in herself and her métier respectively, hence her breakdown.
Arthur (E.G. Marshall) leaves her in the opposite direction, that is toward her, by marrying a somewhat more earthy type (Maureen Stapleton).
The pseudo-intelligentsia constitute a cottage industry ripe for the asking, Allen plucks it on the way to Manhattan after his brilliant defense of the city in Annie Hall.
The basis of Interiors is the opening text of L'Année dernière à Marienbad, Allen simply answers the critics by supposing a decorator of these "carpets so thick and heavy that nothing can be heard, these halls, these galleries."
Manhattan
A précis of Gershwin's Rhapsody, then the Academy of the Overrated, thus the city and its detractors (cf. Losey's Accident).
Kubrick's Lolita is another element of this "love affair with New York".
Vincent Canby of the New York Times, "what happens is not the substance of Manhattan as much as how it happens." Richard Brody (The New Yorker), "a work of delicious paradox." J. Hoberman (Village Voice), "solipsism reigns supreme," citing Andrew Sarris on American films of the 70s and Joan Didion on vegetable terrines. Halliwell's Film Guide, "bogged down in earnestness and half-comic despair," citing Richard Combs (Monthly Film Bulletin), "he has scarcely been able to decide on a form for his 'art'," and Sarris, "a masterpiece".
Stardust Memories
The ineffaceable image of fans, critics, scholars, family, friends and lovers, between bouts of the work.
It is harbored variously by a New York Philharmonic violinist ("I sit way in the back"), an English mental patient (who winds up married in Hawaii) and a French mother (Hollywood Ending).
It progresses as a train journey to the dump or (rewritten by studio executives) Jazz Heaven or (finally) a family outing.
A Midsummer Night's Sex Comedy
The inventor, the doctor, and the professor. The "spirit box" is a magic lantern (Bergman's, to look at nature seen by Allen and Willis, between Fanny and Alexander and Everyone Says I Love You), that reveals "the unseen world." Principally, it reveals an extra-marital affair and releases the wife from guilt, ensuring a happy marriage.
The Sleeper gag of the flying machine works both ways. After propounding his theme as characters, Allen gives you all outdoors to Mendelssohn's overture. The tenor is close to Russell's Women in Love, generally speaking.
A great scene takes place deep in woods, with the light changing as clouds pass overhead. Midsummer is evoked in sundry ways, as for example a tracking shot through the trees with sunlight flickering through in various degrees of round intensity.
Jose Ferrer gives a wonderful impression, twice, of a rusty singer warming to his song. "Ich grolle nicht," he sings, and then he says, "I feel like something devotional," and so he continues with "The Lord's Prayer". Lovemaking behind the scene evokes Everything You Always Wanted to Know About Sex.
Julie Hagerty in a brief chiaroscuro close-up looks like a portrait by John Singer Sargent. Woody Allen as the inventor is given glasses like Leslie Howard's in Pygmalion.
"There are no ghosts except in Shakespeare," says Ferrer, in a line that would have delighted Eugene O'Neill. There's a touch of Watteau in moonlight by the brook. The Katzenjammer Kids make a cameo appearance.
The script's bariolage is made up of a quick, few, fleeting assertions. The professor's dream is answered by this dab of Dickens, "Jesus, what did you eat before you went to bed?"
This was the year when American cinema lost its footing and fell from the precipice with the British and the French of thirty years previously. The studios went on making impossibly dull pictures, and all the wit was in the New Wave or the Nouvelle Vague, or Woody Allen.
They're "made to move up a little in the bed," these characters. After reconciling with his wife, the inventor feels he could perform "a healing." The flirtatious doctor grows wise, and the exceedingly rational professor discovers an unseen world.
Zelig
A fable for the ages. It stands for an hour, monotheizing the stands of conformism, then metamorphoses very abruptly into uncanned laughter at the sight of so many funny things abruptly situated "right and slightly to the rere" of Hitler's hindquarters.
The technical acumen is of the savviest. A sort of homage to Le Chagrin et la Pitié, like Take the Money and Run and Sweet and Lowdown.
Broadway Danny Rose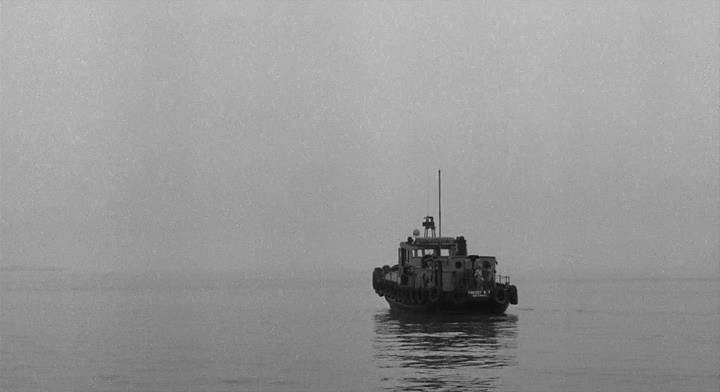 The Jewish theatrical manager and the Mafia.
"You believe in God?"
"No—no, but, ah, I'm guilty over it."
A mirror of the war, the whole ethnic underworld thing.
Janet Maslin of the New York Times, "one of Mr. Allen's more modest films but also one of his very best." Variety, "delectable diversion". Roger Ebert (Chicago Sun-Times), "loosens up and has a good time." Geoff Andrew (Time Out), "a delightful comedy". Dave Kehr (Chicago Reader), "tiny, anecdotal comedy". TV Guide, "the visual wit and the sentimental drama fall a bit short." Don Kaye (Rovi), "a lighter, warmer touch". Halliwell's Film Guide, "generally appealing".
Gordon Willis cinematography, Writers Guild and BAFTA to the screenplay.
The Purple Rose of Cairo
New York as the great capital Hollywood sends you to, the thing goes wrong with "character believability" and fandom, character and actor both appear to plead their case, an audience member understands at last the equity and consummation of art.
Marshall's Goldwyn Follies has the same idea, Eastwood's Honkytonk Man also. This streamlined variant of Stardust Memories goes right back through the cold æsthetes of Manhattan to the dilemma of Annie Hall and the resolution of Play It Again, Sam.
The failure of imagination that turns a great Thirties comedy (The Purple Rose of Cairo) into The Exterminating Angel is dealt with rather obliquely, but subconsciously at least a housewife in Jersey wedded to a no-good during the Depression knows perfectly well it's all about getting him to her.
Hannah and Her Sisters
This seemed romantic and simple enough, the religious jokes were easy, so the critics enjoyed themselves. The actual religious basis is quite different, and so is the structure, which in turn provides or anyway reveals the meaning, and that's why over the years the critics have greatly wearied of a Woody Allen they have never understood in the first place.
Let us be of what assistance we can. Roger Ebert is only one critic among many who still maintain an intense belief in "characters I can believe in," but there are no characters, Hannah is no more real than Hamlet (try telling that to a Yale man). When it comes to film critics, you can't just up and give the Norton Lectures all at once, you have to begin at the beginning.
To follow only part of one strand among many, Mickey's TV show gets censored over a joke about child abuse, he gets vertiginous with earache and thinks he's dying, he remembers dating his ex-wife Hannah's sister at some punk rock dive that hurt his ears, he begins to question the religious validity of his existence, and so on. It's the complexity of the total fragmentary approach to the material that daunts critics (oh, not that critics are ever, ever daunted, far, far from it), but the only reason for it all is to achieve a variety of articulation alluded to by Nabokov, "I like to fold my magic carpet in such a way as to superimpose one part of the pattern upon another."
In the meantime, the general technical knowledge displayed in location filming, Max von Sydow's easy personification of a European painter in New York, the 360° track for once done purposefully, Lloyd Nolan singing, these are a few of one's favorite things. In the meantime, which is to say, failing a proper analysis of the film that is hardly likely to be forthcoming because, if you could put your kids through school by eating popcorn, why wouldn't you?
The dramatic course is between A Doll's House and Othello by way of Jane Eyre, as indicated.
The object is to attain a free integer, à la Kandinsky.
Not so easy, bound up in artistic and non-artistic tentacles, but…
The old song, the old goose-chase.
Radio Days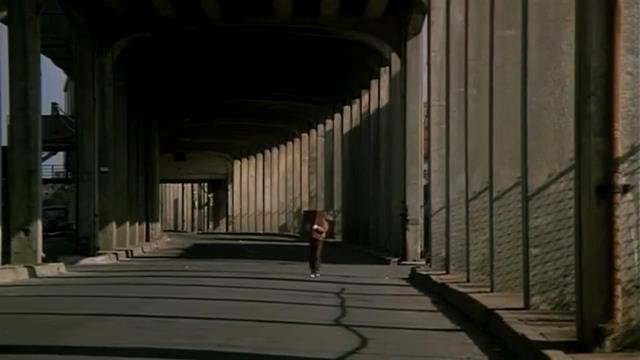 The idea of having burglars winning Guess That Tune for their victims is not only a proper sacrifice to the muse, it allows a quick summation of formal utterance to be uttered and dispensed with (the three tunes are "Dancing in the Dark," "Chinatown, My Chinatown" and "The Sailor's Hornpipe").
The two main points of piercing beauty are Radio City Music Hall and Dianne Wiest's Manhattan ensemble of green hat and dress. Radio City stands in for the movie palaces that are no more or stand unoccupied or occupied with swap meets and the like. Wiest's costume is a study in itself.
James Stewart, who taught Woody Allen how to stammer, is seen on the screen kissing Katharine Hepburn. The type of gag this is adds up to Mia Farrow as Jean Hagen in Singin' in the Rain suddenly dropping the other shoe after her diction lessons. There's a fine joke attributed to W.C. Fields, involving world leaders and horse manure.
Farrow sings in her Judy Holliday voice and strikes a vital note of unaffected sincerity (the scene and the film render homage to Fellini, with Sam Wood's The Stratton Story, Preston Sturges' Christmas in July etc.). Diane Keaton supplies an autumnal tone after the great business of the girl in the well (the unconscious tragedy of a wartime nation). The rooftop scenes succeed in giving an impression of the life of the city, with a nuance of The Night They Raided Minsky's, ending in "September Song" from Knickerbocker Holiday.
Vincent Canby of the New York Times, "unflagging, poetic exactitude." Variety, "lacking the bite and depth of his best work." Roger Ebert (Chicago Sun-Times), "like a revue in which drama is followed by comedy and everything is tied together by music." Rita Kempley (Washington Post), "we expect more from a master." Paul Attanasio (Washington Post), "immediately forgettable." TV Guide, "a host of anecdotes and remembrances of things past, but one wishes it could have been slightly more cohesive."  Geoff Andrew (Time Out), "formless narrative, larger-than-life coincidence, and rambling ruminations".
September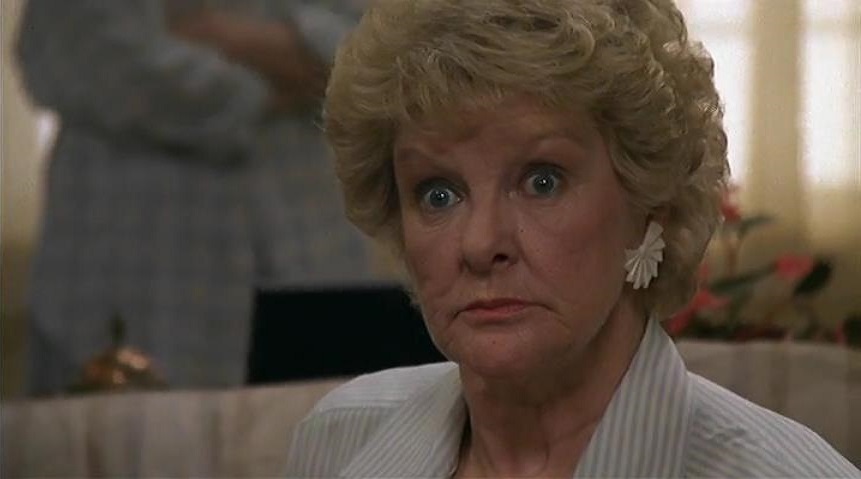 It's back-to-school month, the film takes place in August.
A "period of historical madness", with reference to McCarthyism and Mildred Pierce (dir. Michael Curtiz) or Where Love Has Gone (dir. Edward Dmytryk).
The grand consequences of the summer storm and power failure and two-sided seduction are quite grave, but left at the end a little up in the air, two days from September.
Vincent Canby of the New York Times, "like a possibly hypochondriacal, invalid ghost." Variety, "drenched with Chekhovian overtones." Roger Ebert (Chicago Sun-Times), "Allen almost seems to be making a modern-dress Elizabethan comedy. And that may be his point." Hal Hinson (Washington Post), "has a more tiresome collection of insufferable, navel-staring bores ever been gathered together on screen?" Desson Howe (Washington Post), "a heavy plate of inner struggles and mullings on the randomness of existence, with flirtatious shenanigans on the side." Geoff Andrew (Time Out), "rather familiar and schematic."
Another Woman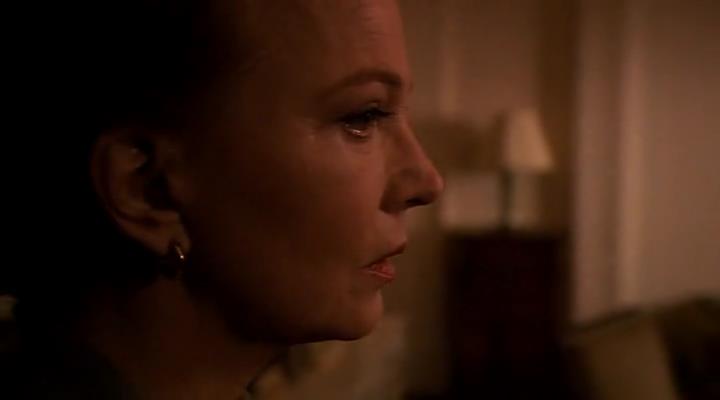 The writing of a book is so very strange, it would seem, requiring as it does first a kind of mental solitude and then a physical one, and entailing various symbolic procedures only to get at whatever can be found in a book, that it is bound if represented artistically to look like something else, this film, which ends in a review (cf. Bergman's Wild Strawberries).
Sven Nykvist in Central Park is Edward Hopper.
Vincent Canby of the New York Times, "Mr. Allen is becoming an immensely sophisticated director, but this screenplay is in need of a merciless literary editor." Variety, "in many ways fascinating." Roger Ebert (Chicago Sun-Times), "I expected another chapter." Pauline Kael, "the picture is meant to be about emotion, but it has no emotion. It's smooth and high-toned; it's polished in its nothingness." Joe Brown (Washington Post), "painstakingly composed and unrelentingly beige". Rita Kempley (Washington Post), "has less real emotional content than a lounge lizard's rendition of 'Feelings.'" Jonathan Rosenbaum (Chicago Reader), "an insult to intellectuals and a piece of posturing phoniness". Time Out, "in choosing a stylised approach, Allen too often obscures points in overstatement and intellectual posturing." TV Guide, "full of the hand-wringing and self-consciously intellectual exchanges that characterize Allen's Bergmanesque outings."
Crimes and Misdemeanors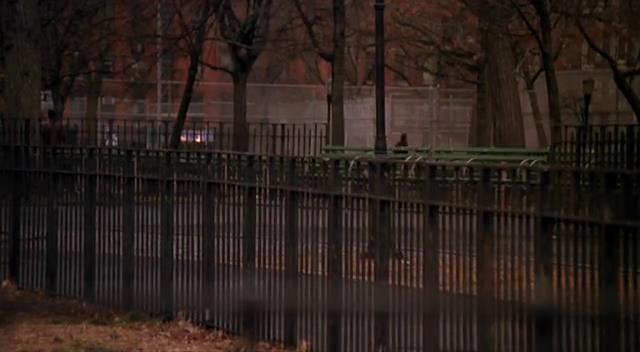 There's a prophetic line here about Hollywood endings, because you might just as well say this is about taking stock of your situation as an artist before you settle in to work. It has some large implications, and they're polished off very neatly with an escapade practically derived from 1984.
The beauty of the construction is brilliantly articulated. The sufficient analysis is carried out in Bullets Over Broadway.
Vincent Canby of the New York Times, "a memorable film." Variety, "mixed results". Roger Ebert (Chicago Sun-Times), "seems to argue that God has abandoned men, and that we live here below on a darkling plain, lost in violence, selfishness and moral confusion." Rita Kempley (Washington Post), "a disparaging word or two on the sorry state of the world today." Peter Travers (Rolling Stone), "the first American film comedy about the absence of God." Barry McIlheney (Empire), "marvellously entertaining and provocative". Jonathan Rosenbaum (Chicago Reader), "pseudoprofundities". Geoff Andrew (Time Out), "intriguing and patchily effective." TV Guide, "morality and murder".
Alice
The Shakespearean method is employed, marshaling two independent but distantly related works (Fellini's Juliet of the Spirits and Disney's Mickey Mouse cartoon, The Worm Turns) on a hierarchic field, freeing the quill of the writer to scratch the lines.

The exquisite shots are occasionally animated by a geometric do-si-do in the dollywork. The special effect is, if that were possible, an improvement of the classic vanishing act perfected in the Twilight Zone series.

The two-pronged finale (with a suggestion from The Cocktail Party), involving a bowl of eggnog and Mother Teresa, may be said to drop first one shoe, and then the other.
Shadows and Fog
It is generally thought by American reviewers that this has something to do with Kafka's The Trial.
The actual structure is a fairly straight line to the double punchline of Shakespeare's sonnets, the need to create as a permanence against death, and the nature of art.
The main character is in a swirling dilemma of nincompoops menaced by a strangler, and underlying this is Bergman's The Seventh Seal, even Sawdust and Tinsel if you like.
It's a dream within a dream, as Poe would say, with a very funny commentary on "the problem of evil", and characters often threatening to give the game away by talking in the dreamer's sleep.
The Trial can be analyzed this way, of course.
Husbands and Wives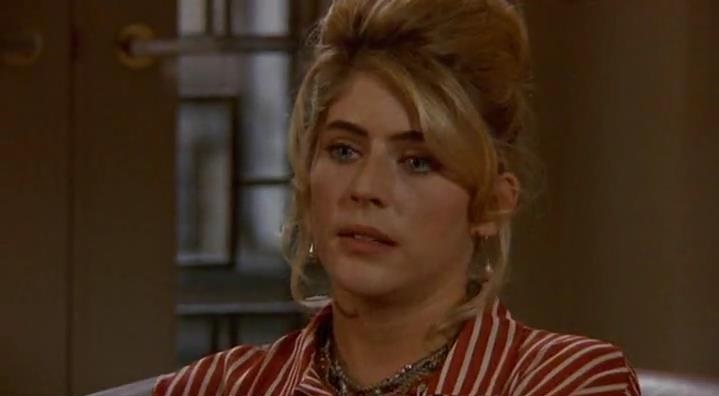 The metaphor is literature, an ideal of style is conveyed as a warm bed on a rainy night (cf. Bergman's Scenes from a Marriage), the falling away from this is toward the meretricious and epigonic or toward editorship.
"Boy, I'd hate to be your boyfriend, he must go through hell."
"Well, I'm worth it."
The capper is Mark Robson's Phffft.
Vincent Canby of the New York Times, "an ensemble piece acted to loopy perfection". Todd McCarthy (Variety), "Allen's style has undergone a radical change here." Roger Ebert (Chicago Sun-Times), "to some degree... his apologia..." Jonathan Rosenbaum (Chicago Reader), "just goes to show how superficial his style usually is." Geoff Andrew (Time Out), "so vividly drawn are all the characters that one becomes wholly caught up in their tangled whirl of emotional/psychological confusion: though not consistently hilarious, the film is engrossing from start to finish." TV Guide, "greatly indebted to the improvisatory, pseudo-verite style of John Cassavetes." Perry Seibert (Rovi), "seeminly biographical... seemingly influenced..."
Manhattan Murder Mystery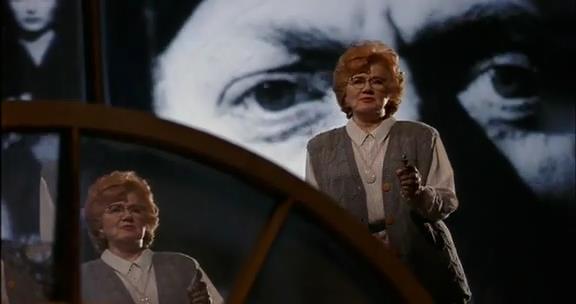 With a set of implications derived from Rear Window in a setting that leaves no doubt about it, a fervent force against big noise.
Hitchcock on television, "Mr. Blanchard's Secret" (dir. Alfred Hitchcock), "Don't Come Back Alive" (dir. Robert Stevenson), etc.
Cf. Michael Anderson's Chase a Crooked Shadow, John Cassavetes' A Woman Under the Influence.
Janet Maslin of the New York Times, "dated detective story." Todd McCarthy (Variety), "can be forgotten as easily as it can be digested." Roger Ebert (Chicago Sun-Times), "would make Miss Marple proud." Desson Howe (Washington Post), "intended to lightly engage and no more." Rita Kempley (Washington Post), "decidedly light fare." Geoff Andrew (Time Out), "as light and brazenly generic as Allen's early work." Hal Erickson (Rovi), "a real murder and a real mystery".
Bullets Over Broadway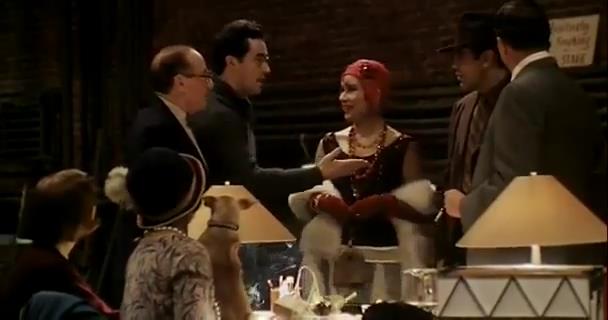 Great Expectations brought to bear upon the mystery of inspiration in a time of Canadian critical theory.
Pinter's screenplay of Fitzgerald's The Last Tycoon as directed by Elia Kazan is assuredly the basis ("'nor I you,' who says 'nor I you'?"), with a fine transposition of Sunset Blvd. (dir. Billy Wilder) and the central mystery of Bergman's Riten (cf. Hawks' Twentieth Century).
Janet Maslin of the New York Times, "sharp-edged farce". Todd McCarthy (Variety), "largely artificial piece". Hal Hinson (Washington Post), "the travails of the artist's life". Desson Howe (Washington Post), "it feels like Woody's good old days." Jonathan Rosenbaum (Chicago Reader), "a lively farce". Time Out, "Allen's fizziest piece in years." TV Guide, "a welcome return to straightforward comedy." Don Kaye (Rovi), "romp that, as the title suggests, combines gangsters with show business at the height of the Roaring Twenties."
Mighty Aphrodite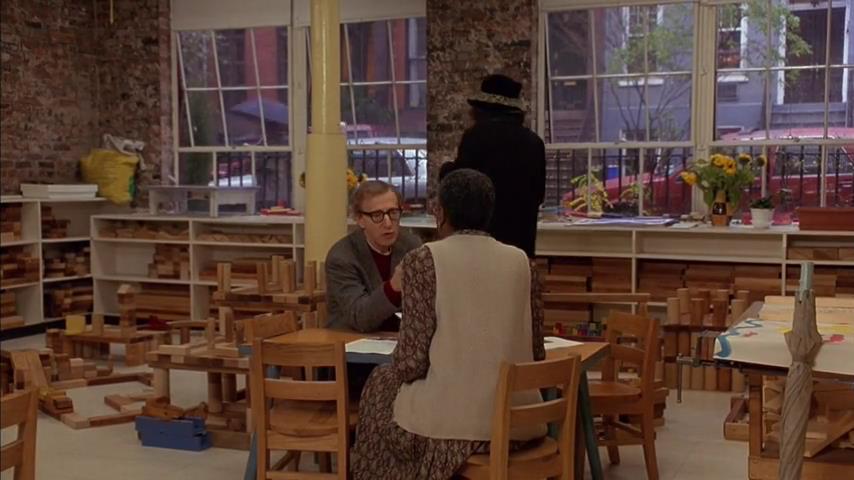 A schlepper's komœdia out-Heroding Sir Peter Hall introduces another consideration on the formal plane of, say, what constitutes genius with a heroic reference to Ken Russell's Whore, say.
Floating Weeds (dir. Yasujiro Ozu) for the town view before the arranged date, from A Streetcar Named Desire (dir. Elia Kazan).
Cinematography Carlo Di Palma, arrangements Dick Hyman.
The ending goes into Kubrick's Eyes Wide Shut.
Janet Maslin of the New York Times, "at this interesting juncture, Mr. Allen might have given Mighty Aphrodite more heft..." Hal Hinson (Washington Post), "like an elaborate intellectual rationalization for questionable, if not creepy, behavior." Desson Howe (Washington Post), "not a little scary". Geoff Andrew (Time Out), "rapidly palls." Harlan Jacobson (TV Guide), "tiresome apologia." Judd Blaise (Rovi), "not at the level of Allen's best-known classics."
Everyone Says I Love You
The musical cinema is a dilation of the camera upon a slick floor with the cooperation of Terpischore. This comes in handy when you want to trip the light fantastic with Baudelaire's "L'Âme du Vin".
The exceeding complexity of the film absolves the critical community from all responsibility for its failure toward Hollywood Ending, misunderstandings multiply until they efface perception.
The marriage contract is a theme provoked at the outset. The naturalistic approach (with unparalleled cinematography of New York and environs) evokes Minnelli in spirit as much as anything.
The Shakespearean dichotomies of Goldie Hawn/Drew Barrymore (each with her two men), Grandpa and Frieda, left and right, etc., set up mirror structures that are the solution of the work.
The thematic relationships are isolated in catchphrases, "a raid on the inarticulate," "this jailbreak which has succeeded," etc.
"Does this ring a bell?" The dance scene on the quay (which recalls, like the "Enjoy Yourself" number, Disney's heyday) looks like the same location as the suicide/birthday banquet in What's New Pussycat?. The Continent is approached by way of Le Capitaine Spaulding, "de l'Afrique l'explorateur."
"What is this, Noël Coward with hockey?"
Janet Maslin of the New York Times, "begins very quickly to feel like one more breezy Allen comedy with the occasional tuneful touch." Leonard Klady (Variety), "a cinematic oxymoron... unfettered sagacity." Roger Ebert (Chicago Sun-Times), "a freshness and charm that never ends." Time Out, "decadent as Fred Astaire." Film4, "partially successful". TV Guide, "misbegotten musical mishmash".
Deconstructing Harry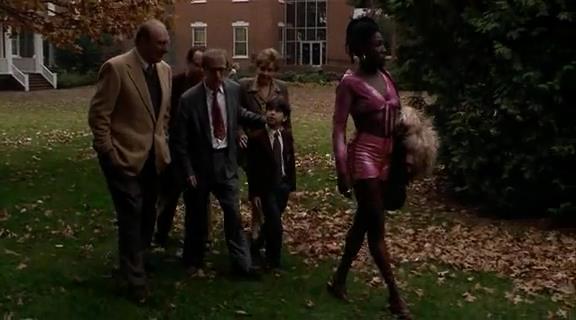 A very simple joke exhaustively realized, not Bergman's Wild Strawberries but Huston's Moulin Rouge.
It opens with another from Husbands and Wives, "Oral Sex in the Age of Deconstruction", Baisers volés (dir. François Truffaut) follows that, Domicile conjugal etc., down to Hell and Herzog on the Amazon.
Cf. Rapper's The Adventures of Mark Twain, Resnais' Providence.
"Careless filmmaking, desperate shtick, and vainglorious misanthropy", said Manohla Dargis in L.A. Weekly, on the strength of which she was hired by the Los Angeles Times as a film critic and then the New York Times replacing Janet Maslin, who also found it "misanthropic" but liked it.
Any resemblance to Harry Black and the Tiger (dir. Hugo Fregonese), or for that matter Ball of Fire (dir. Howard Hawks), is entirely fortuitous and "purely coincidental."
Celebrity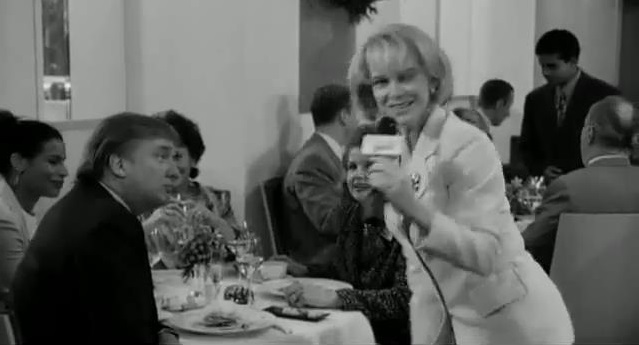 Woody Allen among the stylized lives of the famous and rich, as played by the director of Henry V, Frankenstein, Hamlet, As You Like It, The Magic Flute, and Sleuth.
A remake of Husbands and Wives, "very arty, pretentious, one of those assholes who shoots all his films in black and white" (Sven Nykvist cinematography).
"Look who's here—Donald Trump! What are you working on, Donald?"
"Well, I'm working on buying St. Patrick's Cathedral, maybe doing a little ripdown job and putting up a very very tall and beautiful building."
It begins with someone else directing The Liquidator, and ends at the premiere.
Janet Maslin of the New York Times, "but most of what you can tell from the funhouse mirrors of Celebrity is what you already know." Todd McCarthy (Variety), "even a 10-minute appearance by the world's hottest star, Leonardo DiCaprio, won't be able to lift this above Allen's usual low-level B.O. flight path." Roger Ebert (Chicago Sun-Times), "sort of a revue format in which a lot of famous people appear onscreen." Leslie Felperin (Sight and Sound), "feels like Allen on autopilot." J. Hoberman (Village Voice), "tired, sour and depressed." TV Guide, "this self-indulgent wallow in privileged malaise." Keith Phipps (All Movie Guide), "a crushingly obvious take on the subject."
Sweet and Lowdown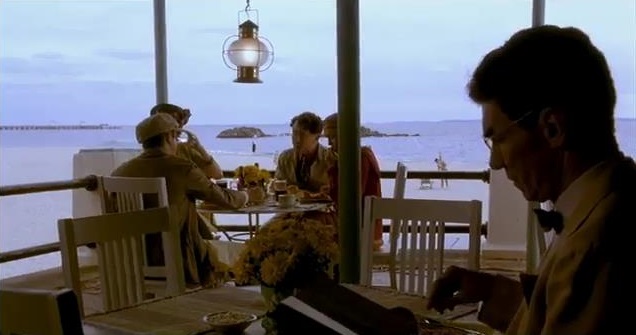 A musician's existence, "with no visible means of report."
He leaves behind the pleasant shores of mute admiration for high-toned wiseacreage ("astonish me", cf. Cocteau's Orphée) and this all but fabricated biography.
Janet Maslin of the New York Times, "a favorite jazz-lover's notion." Roger Ebert (Chicago Sun-Times), "like a man with a very large dog on a leash. The dog is his talent, and it drags him where it wants to go." Amy Taubin (Village Voice), "looks like peaches and cream with a dime-store glass of pale gold brandy on the side. It's the prettiest movie of the year, maybe of Allen's career... a spectacular performance by Sean Penn that's like watching someone doing back flips on a high wire with only a worn-out safety net below him.
"The net is the film itself... the there-is-no-there-there effect is quite deliberate. It's what you could call a formal tendency... Related to this aesthetic is the notion of an art object whose formal perfection is recognized only by a handful of connoisseurs. The problem for Allen is that, as a form, the feature film, like the novel, is too unwieldy for perfection... an attempt to make the film equivalent of an album of music, where the scenes are like separate tracks. You can have soaring moments and occasions of grace without worrying too much about how to hold the thing together... narrative sleight of hand—or maybe just slighting of narrative... the apolitical artist par excellence.
"The film is also a wish-fulfillment fantasy about the kind of artist Allen could be if he were not a celebrity...
"This is great material, but Allen is so careless in developing it that the film is more interesting to think about after the fact than it is to watch... Penn reveals the insecurities and delusions-of-grandeur of a pathological narcissist who has no idea what figure he cuts in the world...
"Sweet and Lowdown is too slight to accommodate more than one ego—a larger-than-life model of the filmmaker's own." George Perry (BBC), "lots of great musicians led terrible lives like this."
Small Time Crooks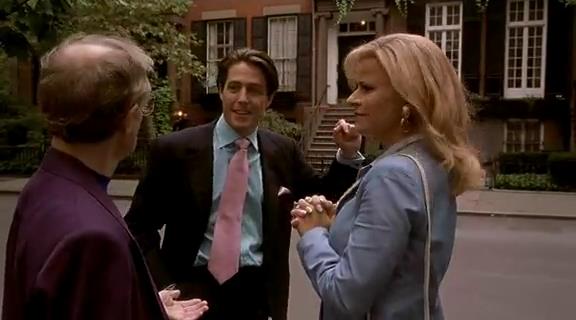 The Painted Word writ large, for the silver screen. And at that, funnier than the original.
Larceny, Inc. (dir. Lloyd Bacon) stops on the dime of "franchise". For the rest, knowing what's what is from Born Yesterday (dir. George Cukor) on the basis of Siodmak's Lured, a by-product is Wyler's Dodsworth, the Chi Chi Velazquez Potter caper is Monicelli's Risate di gioia, the real finish is Fabergé.
Stephen Holden of the New York Times, "sweet, funny wisp of a movie." Roger Ebert (Chicago Sun-Times), "a flat-out comedy". J. Hoberman (Village Voice), "doesn't pretend to be anything more than a well-executed caper." Andrew Sarris (New York Observer), "may not be the least funny, most joyless and most mean-spirited movie the Woodman has ever made, but it comes very close. But that may be just me... a witless caper plot distantly derived from an old Edward G. Robinson programmer... His take, therefore, on the vast mass of mankind is, at the very least, uncertain, if not unpleasantly condescending... flat and obvious dialogue... hopelessly out of date and out of touch with everything that is going on... period quaintness... use of Elaine May as an afterthought kind of character is the only interesting element of the film." TV Guide, "thin, clichéd comedy of crime and social climbing packs a lot of padding around its laughs."
The Curse of the Jade Scorpion
A satire of the war. It all comes down to office politics, in a way, that end in marriage. The psychological functions that govern this are well represented in jewel heists under hypnosis.
The Hitler-and-Mussolini Vassar girl is an efficiency expert who wants the boss to leave his wife.
The grubby little insurance investigator is her bête noire, she despises him as the scum of the earth.
The settings are authentic and useful. Color cinematography is simply introduced into well-known film sets, like a second unit.
Exteriors achieve the rare sense of the contemporary.
Sounds From A Town I Love
Cellphones in New York. Everything but long-distance sex with the White House.
Hollywood Ending
The construction is a beautiful set of scrims leading from Godard's Contempt (with Mark Rydell in the Fritz Lang position) and Pinter's Tea Party to Fellini's 8½ and the Book of Job, the point being to isolate and convey the artist's experience in creation, with a result that is remarkably close to Hawks' His Girl Friday or Twentieth Century, all in a style that doesn't part ways with a technique rather like Cassavetes. It's the sunniest picture in some time, running the gamut through fog and the lemon light of a New York bar to lemon sunlight on Manhattan.
The film-within-a-film suggests Bullets Over Broadway, that Dickensian view of inspiration, and the film as a whole is a further development of Sweet and Lowdown, which isolated musicianship as such.
Téa Leoni mirrors the theme in her Hillary hair and Sessue Hayakawa suit (with Hitler tash underneath?). Debra Messing updates a perennial mine of laughter, as, for example, Marilyn Monroe in Mankiewicz' All About Eve.
It's a startling thing but perhaps inevitable, Hollywood Ending has finally put the critics on their mettle to see what their assessment of Woody Allen's films is. They have all failed miserably. So bad, so ass-backward has the critical response been, that Allen himself had to acknowledge it in Rome recently. "I'm mediocre," he said, agreeing with his critics, "less than mediocre."
Because to make a spoof of Hollywood around a director who's blind, which is what all the critics take Hollywood Ending for, would certainly betray a mediocre imagination.
But that's our critics for you. The purblind leading the totally dumb.
Anything Else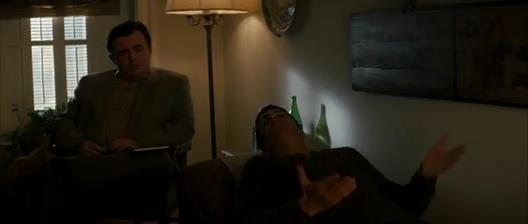 Nothing to do with Annie Hall but a suite of jokes giving the title, everything with Charlie Bubbles (dir. Albert Finney).
The surprising trick is the ease with which at length one is extricated from a monstrously-conceived trap. The pure surrealism defeated the critics.
An admirably quiet film, even in Greenwich Village, beautiful setups and a beautiful technique all the way, beginning with an invocation of Hans Christian Andersen.
"Tell me about your dream. You dreamed the Cleveland Indians all got jobs at Toys R Us?"
A.O. Scott of the New York Times, "at least Mr. Allen has found the wit to portray younger New Yorkers with something other than contemptuous indifference." David Stratton (Variety), "a mid-range Allen, pic is sharper than his latest offerings, but very far from top form." Roger Ebert (Chicago Sun-Times), "an exercise of neurotic bravery, a defense against fear and insecurity." Desson Howe (Washington Post), "doesn't have the energy to be truly horrible." Michael Atkinson (Village Voice), "post-teen rom-com". Time Out, "a pinched ageing misanthrope whose wisecracks about the Holocaust are screechingly inappropriate."
There are two main precedents (not mentioning Strauss's Capriccio) for the premise, Buñuel's That Obscure Object of Desire (the conversational presentation) and Donen's Movie Movie (the double feature).
Anna Karenina is the basis of the anecdote, or rather a variant in which the abandoned mistress has killed her lover. Many films are cited in ways that are very subtle, refined to the nth degree, and it would make a great game or a fine study to reveal them. Mankiewicz figures in a sense by way of the décor at least of A Letter to Three Wives, there's a famous Preston Sturges shot (camera dollying back around corner on two people walking and talking), with an added Gogolian sense of dramatic interest in the incidentals (a couple conversing, hotel guests departing, sidewalk café waiter with tray), which doesn't vie in brilliance but in depth, and there's Brooks' The Last Time I Saw Paris.
It's a complicated film with a deep structure, and this usually indicates a simple key. Comedy and Tragedy debate the issue in the form of two playwrights. Funny, it's Will Ferrell as Woody Allen with a happy ending (they find true love). Sad, it ends up being suicidal, and barely prevented.
Both stories are interlaced as each writer relates his version, sometimes flagging, cast with audition regulars (the film is an extension of the playlet in Annie Hall, if you will), well-acted, well-costumed and remarkably well-designed, it follows various lines as indicated, bobs up and down with the playwrights' imagination, and without a lot of kibitzing.
Naturally, the tragedian thinks life is funny, the comedian that it's sad. The film concurs that it's serious in an ultimate sense, and this constitutes the witness it bears.
That being said, it's a furious masterpiece handled with such virtuosity as to give an impression of relaxing ease. The two-sidedness is Renoir's, everything (everyone) is ridiculous and sublime by turns or at the same time. A romantic comedy or a domestic drama, laid in the present but intermittently in the style of, say, Now, Voyager or Mildred Pierce or something more precise on the one hand, and on the other My Favorite Wife or Manhattan. And among the countless jokes is the one about comedy and drama in the films of Woody Allen.
A second fine shot frames Laurel entering the apartment in a wide rectangular perspective, articulating the wide screen with a pillar in the foreground right of center and a flowerpot at its base resting on the bottom of the frame, she comes through the door in the background right of this, it's perfectly composed, then it pans left to Lee at the table answering her.
Apart from this and the bit of Sturges, it's a matter of resonance and ambience in the pictures sustaining and developing the fluctuating inflections of the imagined dramatic construction, so that if you like Melinda and Melinda can be regarded as a tribute to the cinema, but the far more complete analysis it provides only has such a thing as another of its incidentals.
"Melinda had a reputation for being Postmodern in bed." The judge may have unfairly denied her custody of the children, but "it's all who you know, Laurel, life is all networking." Now, Melinda is ready to start over. "I'm an art historian, at least that's what I majored in at Brandeis."
Match Point
A devastating satire of Yuppies as a class identified with old money and the New World Order. The entire apparatus is analyzed and presented more thoroughly than ever before, with the clear prism of An American Tragedy a great help in these proceedings, and more clearly by dint of the extraordinary labors expended by Allen on Melinda and Melinda.
He begins with a slow-motion shot of a tennis ball striking the top of the net and bouncing straight up. It's a matter of luck, explains the tennis pro in a voiceover, whether it will go over or fall back. The shot is repeated identically when Mrs. Eastby's wedding ring is hurled toward the Thames by her murderer and strikes a railing.
The exposition is perfunctory with a purpose. The Anglo-Irish pro gets a London job and digs, one of his pupils has a wealthy family and a sister. Allen simply follows all this, gradually introducing one or two startling elements. The pupil's fiancée, for example, is first seen quite like Lana Turner in The Postman Always Rings Twice, and there is just a hint of The Go-Between. Where all this patient realism and quiet skill leads eventually is a truly grand vision, the American fiancée in white shirt and jeans viewed from an oriel window as she walks disconsolately out in the rain through the garden of an English manor house. The smitten pro follows her to a field suggesting yellow wheat in the American Midwest.
Now the drama, which has but little to do with England, is between working at Global Infrastructure & Finance for the father-in-law in the Gherkin (classes are provided in the rudiments of business), or pursuing the vision thus made manifest, and for a time there's a question whether Dreiser and Stevens considered in this way will prevail.
These Yuppies have one common characteristic, they don't know themselves. Allen films them without comment, all strongly resembling famous actors (this is perhaps from Resnais' Mon Oncle d'Amérique). The pupil thinks he's a witty bon vivant, his sister acts the part of dutiful normality, the fiancée auditions at the Royal Court Theatre, but they are really a lout, a philistine and a raw Coloradan, somewhat coddled and altogether pets. The satire consists not in sending them up, but in taking them at face value in a London of careful appearances, then revealing the actual drama of their lives, to which they are not privy.
The sedate Postmodern flat overlooking the Embankment and the city is equipped with daubs of the view. The Saatchi Gallery and the Tate Modern afford a similar picture of mediocrity (though when the sister opens a gallery of her own, she finds room in the office area for a small Patrick Hughes). A few notes of Andrew Lloyd Webber's The Woman in White are enough to show the composer is a silly ass, while Caruso singing "Una furtiva lagrima" is heard several times with quite different effect.
The murders are filmed mainly off-camera, with great matter-of-factness. The lovers' flat is evocatively seen with a pot of flowers and sunshine, or snow on the balcony.
Scoop
Scoop is akin to Eastwood's True Crime and Welles' Touch of Evil by its "nose for news" as a matter of instinct. A vague surmise on circumstantial evidence leads a dead reporter to jump ship en route to Hades and swim back to this nearer shore where, by the fortuitous intervention of a stage magician called Splendini, he briefly meets a college journalism major so green she sleeps with an interview subject after drinks in his hotel room and can't remember what happened, let alone the interview.
But she takes the assignment given onstage in a London theater as she volunteers from the audience to participate in an "experiment", Splendini's Dematerializer (the disappearance illusion).
A wealthy businessman's secretary has died unexpectedly after connecting her employer to a string of murders by the Tarot Card Killer. The journalism major meets and falls in love with him, finds more evidence but not enough, the real killer is caught. Splendini, whose real name is Sid Waterman, joins the search as her father and uncovers still more evidence. At last the suspect admits to being blackmailed by a prostitute whom he murdered by imitating the Tarot Card Killer. The journalism major escapes an attempt on her life, The Observer gets the story.
It's the grain of truth in the original yarn that eventually bears fruit despite all the obstacles. Waterman goes door to door among the prostitute's neighbors down from Royal Albert Hall a few paces, armed with a pencil and paper. "Did you see All the President's Men? I was the short one." There is a profusion of very funny material rippling from the two big jokes (the dead pro leaping from Charon's ferryboat and the live amateur who has "a little problem with promiscuity") which are borne witness by Richard Johnson and John Standing as partygoers listening intently to Waterman's gags, such as, "I was born into the Hebrew persuasion, but when I grew up I converted to narcissism."
The advantages of filming in London are a sense of detachment polishing the mirror of America, and one should say a revelation about Allen's technique acquired from long study of the French. British workmanship is acknowledged in a tracking pan along the lake that stops on the open boathouse of the family estate and immediately dollies in, a shot adapted from The Third Man and 2001: A Space Odyssey.
The businessman's London flat is a study in tasteful elegance around a Ben Nicholson on the wall. Downstairs beside the wine rack is a vault of musical instruments, Blake's Job with a vengeance.
London is mainly seen on the intimate level at which it might be Paris or New York. This produces striking effects when the locality makes itself known, as at the swimming pool of the Governors Club, in the cumulative sense of atmosphere, and also in the Architectural Digest layout of the manor supplemented by views of the garden and grounds.
After her failed interview at the Dorchester, the journalism major bewails the comparison to Katharine Hepburn and Rosalind Russell. Her attempted murder at the lake is a fine study of reflected light and color on the surface of the water, after the manner of Hollywood Ending.
Cassandra's Dream
The whole story of globalization and its peculiar attractions and its rather odd mission. The basis of the anecdotal construction is a variant of such a useful theme as elegantly deployed in a Columbo called "Double Shock" (dir. Robert Butler, twin brothers kill uncle, one conservative and the other not). In this London tale, uncle is a plastic surgeon living in Los Angeles with ties to Switzerland and Hollywood, his new clinic in China is a great success but a witness to his practices in business and foundation has to be eliminated lest he testify. Fortunately, two nephews have a need for help, one to escape loan sharks and the other to become a Los Angeles hotelier. The garage mechanic knows about zip guns but is reluctant. The murder is done, his conscience assails him.
The descriptive labors of Match Point and Scoop have reaped a benefit in simple formulation and direct expression. The tortured mind of the recalcitrant nephew gives him no peace, he must be eliminated in turn yet this does not come off. His brother berates him for spoiling the crime with talk of confessing, the two wrestle, one falls dead. Instead of going to the police, the unfortunate perpetrator kills himself.
The direction is perfect, the performances no less so. The drama is laid in London settings as an elaborate artifice amid verisimilitude. The city of traffic jams and riparian entertainments has its pomp and circumstance, a view of Tower Bridge leading farcically to the Gherkin, a shot or two of umbrageous timeless dockside London where, under all the gaiety of the New Economy, bodies is buried as ever (cf. Douglas Hickox' Brannigan).
Zsigmond's cinematography gets arching clouds over water and subtle, luminous landscapes on outings in the country or aboard the boys' small craft, named for a greyhound that wins at sixty to one, the title, as beautiful as Freeman's Hawaii Five-O. Glass finds his adjunct to film composition in Bernard Herrmann and writes a perfect score.
The slight stutter and mixed purpose of various scenes are so lifelike that they accomplish a unity of droll foreground action and well-observed city background. The incredible scenery requires no explanation, the café-theater and industrial wrap-party are taken for what they are without heightening of effect. The would-be hotelier's mistress is a would-be starlet, the mechanic has a down-to-earth blonde very concerned about his mental health toward the end, he wakes from nightmares out of Boorman's Deliverance, evidently.
A trip to Brighton, last seen in Stardust Memories or first seen there. The beautiful camerawork finishes a movement in an extraordinarily precise cadential view, as at Lord Eisley's garden party or outside a pub overlooking the Thames (where a perfect vertical on the right sets off the dockside view described).
Action is taken with a furtherance of the understanding evolved in Match Point that it must be filmed with dry verisimilitude. The zip guns are tested at the garage, the sound doesn't ring but flatly conveys instant death, the tussle on the boat ends with a crash just as plain. Without dramatic artifice the effect each time produces a stunned, quizzical and above all even reflection.
The plastic surgeon has tacitly committed a perfect crime, police have the bodies and the boat, the girls are out shopping. "Life is nothing if not totally ironic," the strange unity works out as divide et impera.
You Will Meet a Tall Dark Stranger
The ultimate paradox of Surrealism is that nothing looks so much like lack of faith as faith itself.
Christ is the title character, he appears as a struggling novelist called Strangler (a character identified with Luke publishes the nearly posthumous work under his own name).
Jehovah divorces his wife, who is Israel, and marries the strumpet Jerusalem.
One has been Cleopatra and Joan of Arc, says the divorcée, now married to the proprietor of an occult bookshop. Enmity is put between mother and daughter.
The perfection of mundane technique is peculiarly engrossing, tilts-and-pans, fine compositions.